With a 71% increase in the new stores that have been created on Shopify, the eCommerce business has seen a huge boom. But what comes as an opportunity to businesses, is also a clear indication of the rising competition for customer attention. With typical online shoppers getting to choose between at least ten brands for anything they want to purchase, turning visitors into customers is going to become challenging.
So how do you set your Shopify store apart and equip yourself with multiple strategies to convert every visit into a conversion? By using the best Shopify apps.
To give you a headstart, we've listed out some of the best Shopify apps that are a must-have for online stores now!
Best Shopify apps that will increase your conversions
1. Klaviyo
Email marketing is one of the oldest and most effective online marketing tactics. With email, you can speak to your shoppers personally, without all the digital noise surrounding them. The channel has time and again proven to help engage customers and nudge interactions, driving an ROI of $44 for every dollar spent. But only when strategized right!
Klaviyo is one of the best Shopify apps to set up your email marketing campaigns. The Shopify app lets you build highly-targeted audience segments you can send personalized emails to and set up automated emails for different goals you have on your Shopify store. For instance, promoting an upcoming sale or recovering abandoned carts.
The app is also known for its extensive analytics that helps you identify campaigns that work the best to optimize your approach for higher conversions.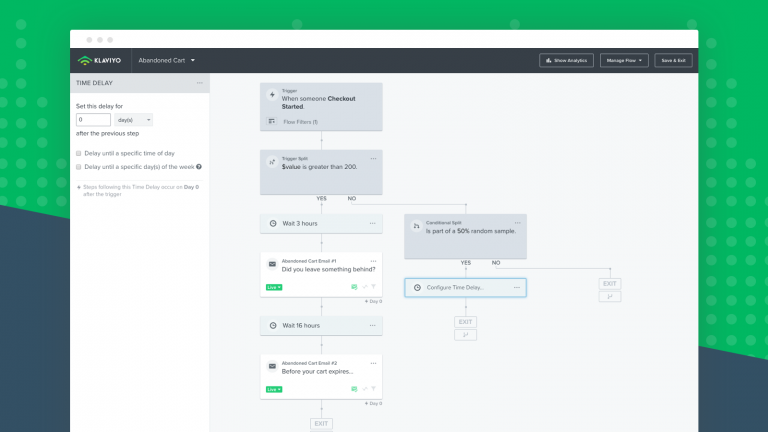 2. PushOwl
If you have store visitors who are sceptical about subscribing to your messages using their personal details like a phone number or email, web push notifications are the next best marketing channel to set up. With web push, you can capture store visitors as subscribers through the web browser and later send them promotions to increase purchases.
Set up web push notifications using PushOwl. The Shopify app lets you capture subscribers through your store, set up automated notifications for cart recovery, price drop alerts and more. The automated messages can be customized and set up like a sequence to ensure that your message is conveyed to every subscriber.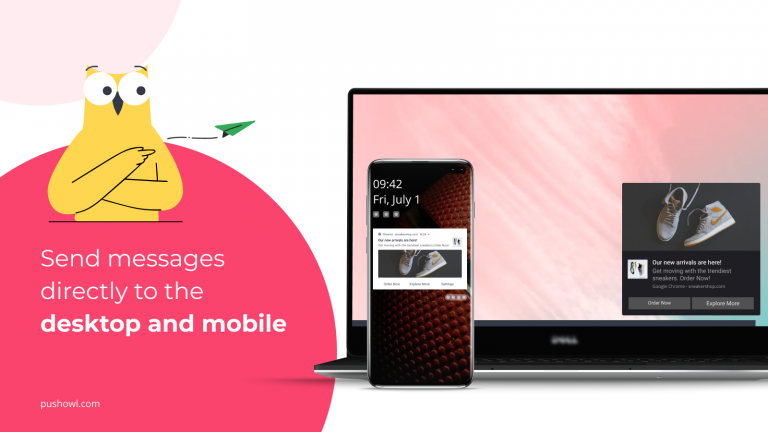 3. TxtCart
With open rates as high as 98%, SMS is a great channel for merchants to reach out to their shoppers almost instantly. SMS is a highly personal channel, allowing you to reach your shoppers and subscribers directly – even when they're not online!
TxtCart is one of the best Shopify apps for SMS marketing built to help merchants send personalized text messages to recover abandoned carts, promote ongoing discounts and more. Unlike other SMS marketing apps, TxtCart is not robotic when it comes to making conversation. While the app allows you to set up Text Marketing automations and segment subscribers based on previous purchase data/ shopping behavior, this is one small benefit of what they do.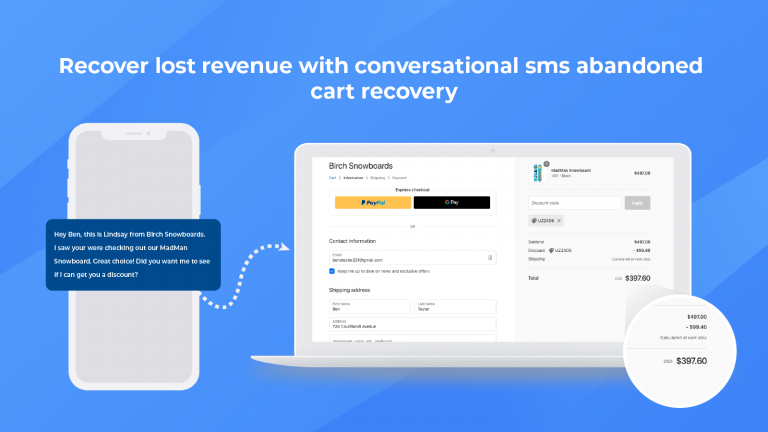 Where TxtCart really sets itself apart is with a team of real living humans, striking more meaningful and personal conversations, allowing your customers to connect to your brand in a way not possible before.
For example, a typical automated cart recovery SMS campaign will push out a discount when someone leaves their cart behind.
But with TxtCart, they initiate the conversation to identify why they left the checkout without making a purchase, answer any looming questions and then close the sale by offering a gentle nudge in the form of a discount; typically 20% off!
You can also segment your SMS subscriber list based on the shopper's previous purchases and shopping behaviour to send targeted campaigns.
Install TxtCart to set up a smart SMS marketing and generate more revenue.
4. Carthook
Customers who have already purchased from you are highly likely to shop again if they've had a good purchase experience. You just need to send them the right incentive to nudge that purchase. CartHook allows you to send post-purchase upsell offers, helping you increase your revenue and boost your average order value by driving more repeat purchases.
These upsell campaigns are customized to the product that the customer has previously purchased from your store. So you're technically recommending a product that they're more likely to be interested in, increasing the chances of conversions. You can also customize the upsell page to match your brand's visual identity.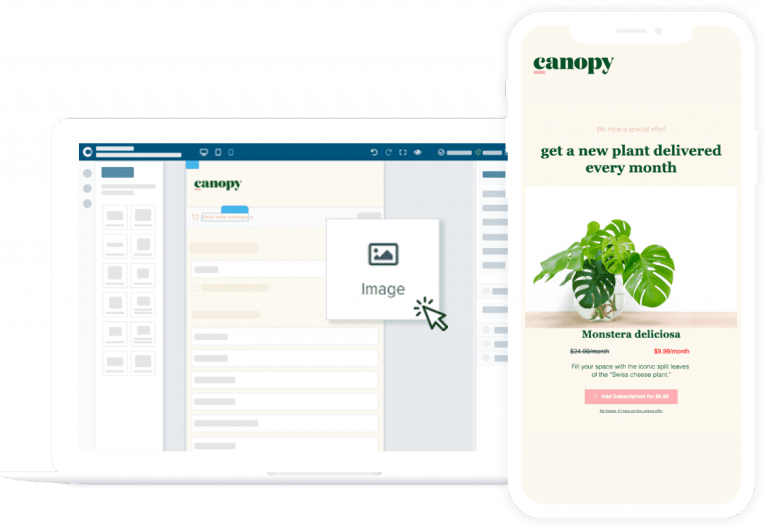 5. DelightChat
About one in three people (30%) say the most important customer service aspect is speaking with a knowledgeable and friendly agent. Moreover, 7 out of 10 U.S. consumers say they've spent more money to do business with a company that delivers great service.
Needless to say, great customer service can have a positive impact on your store's growth. Now, to dole out exceptional customer service, you need a tool to manage it efficiently. DelightChat, an omnichannel customer support software for Shopify stores enables you to respond to customer queries from every channel – Facebook Messenger, Facebook post & ad comments, Instagram post & ad comments, WhatsApp, Email, and Live Chat – in one screen. No more switching back and forth browser tabs. It also lets you monitor all your team members and their interactions with customers and even jump in if they need help with a particular conversation.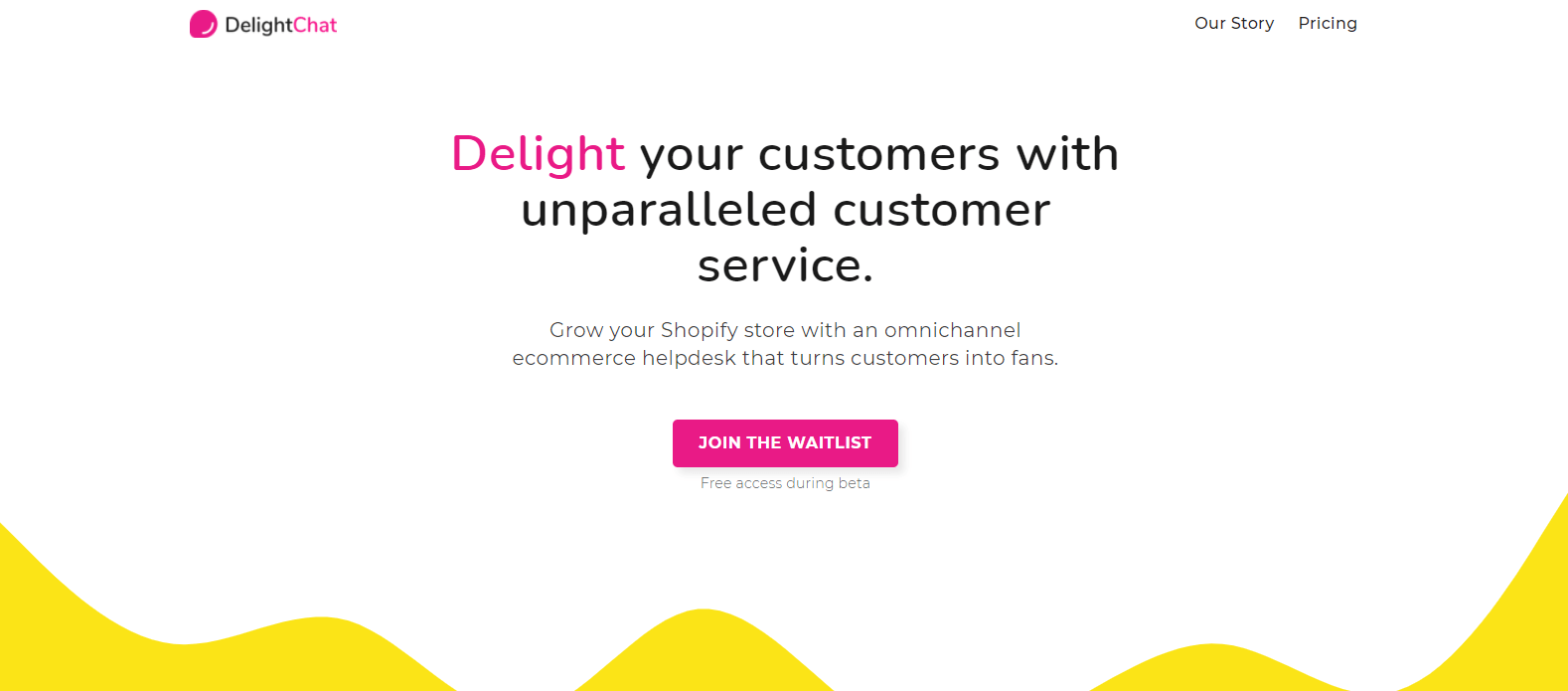 6. RevTap
As an online store, you can't just set up different marketing and sales strategies and assume it'll bring in the success you need. You need to be able to analyze your efforts, compare them with each other, and use your analytics to refine your strategy. The first step to doing this is to understand which channels work the best at driving traffic to your store, and which ones get you actual conversions.
You can tap into your store and marketing data using RevTap, an integrated Shopify analytics app. The app pulls in data from your store, marketing and analytics tools onto one dashboard to create actionable reports on marketing, product performance, customer segments and your conversion funnel to help you identify opportunities to increase sales.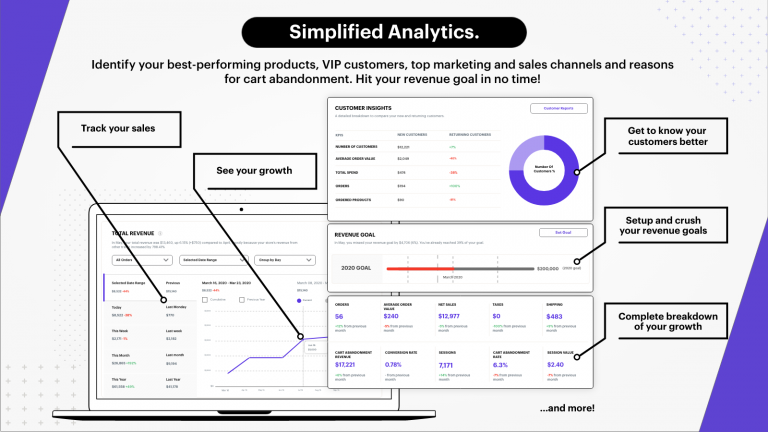 7. Recart
Who isn't using Facebook Messenger these days? There are 1.3 billion Messenger users globally, making it a great marketing channel. You can enable Facebook Messenger as a channel by installing Recart on your Shopify store.
You can capture subscribers without asking them to fill in any details; they just need to click a button to subscribe to your store updates via Messenger. Besides sending campaigns about your sales and one-time promotions, Recart lets you send automated, conversational messages that are triggered based on your subscribers' actions and behaviour on your site.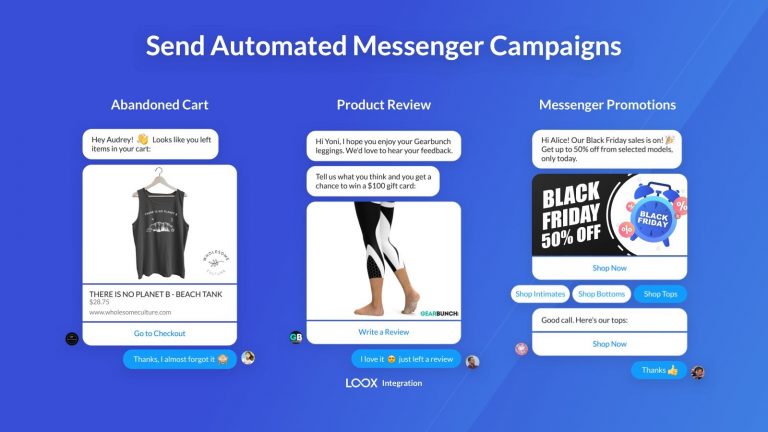 8. Smile.io
81% of consumers are more likely to engage with brands that have reward programs. A reward program incentivizes shoppers to buy from you, building loyalty and helping you capture repeat purchases. A well-structured rewards program ensures that your shoppers choose you over your competitors, which is exactly the goal of suggesting some of these best Shopify apps here!
You can set up a rewards program with Smile.io. The app is used by top Shopify brands to help them bring back past customers, upsell to shoppers with reward tiers, and provide a unique shopping experience to them. When you set up the app, you can customize your rewards program to make it unique to your brand.
This way, you can provide an experience that is memorable and make shoppers eager to visit your online store again.
9. Justuno
With a 2.58% global conversion rate across devices, it's obvious that you are losing a large number of visitors who land on your store. Sometimes, all it takes is a little initiation on your part to convert these visitors. That's where a timely strategized popup comes in.
Justuno is another one of our best Shopify apps that enable you to capture these visitors, nudging them to subscribe to your newsletter by offering a discount, free shipping or a promise to deliver upcoming offers to them first. The app helps you grow your email list, which you can later nurture by setting up email marketing campaigns.
You can also use the pop ups to prevent cart abandonment and recommend more products to increase the average order value. The best thing is that all their pop ups are optimized for mobile!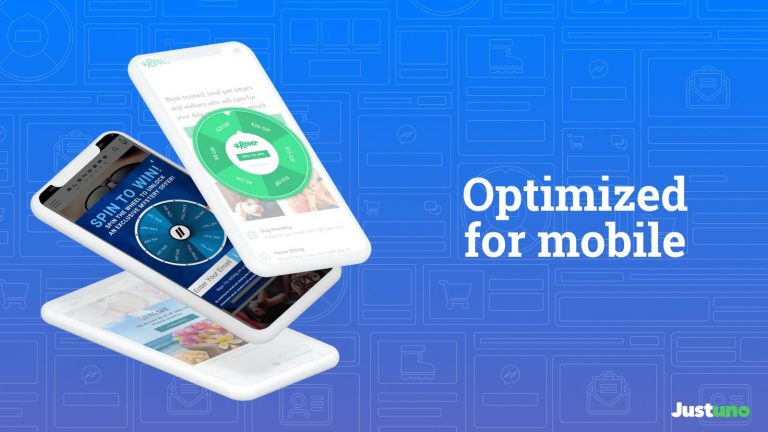 10. ReCharge
For many brands, subscription models are helpful since their products are worth multiple purchases. Products like nutrition, haircare and skincare products need to be bought more than once. By setting up subscriptions, you can ensure recurring revenue without having to promote and market to these shoppers time and again.
ReCharge allows you to set up subscriptions for your shoppers, making it easier for them as well to have their regular essentials well-stocked. You can offer multiple subscription models to give shoppers the flexibility to choose what works the best for them. For instance, a 3-month plan and a 6-month plan.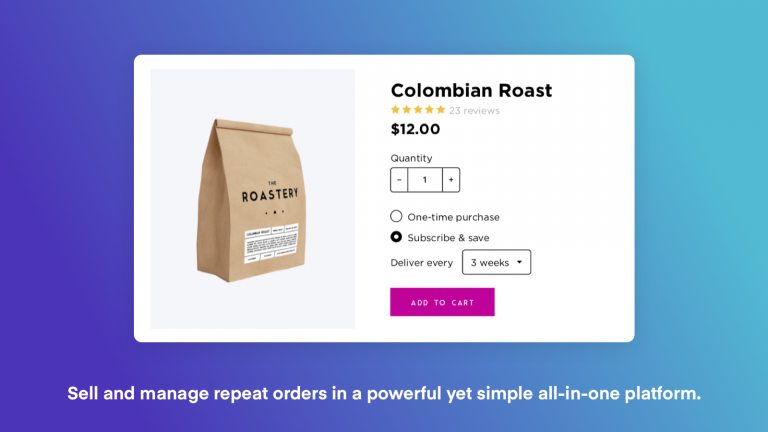 11. Wiser
Product recommendations account for up to 31% of eCommerce site revenues. In fact, Amazon uses a powerful recommendation engine to successfully increase purchases from their shoppers. This recommendation strategy can be set up on your Shopify store too!
Wiser for product recommendations is a Shopify app that allows you to show personalized recommendations on your store. Their AI-powered product recommendation engine allows you to display products that are inspired by a visitor's browsing, their previous purchases, ongoing trends and more.
This allows you to introduce visitors to more products on your store, increasing the chances of conversions during the visit and also your average order value.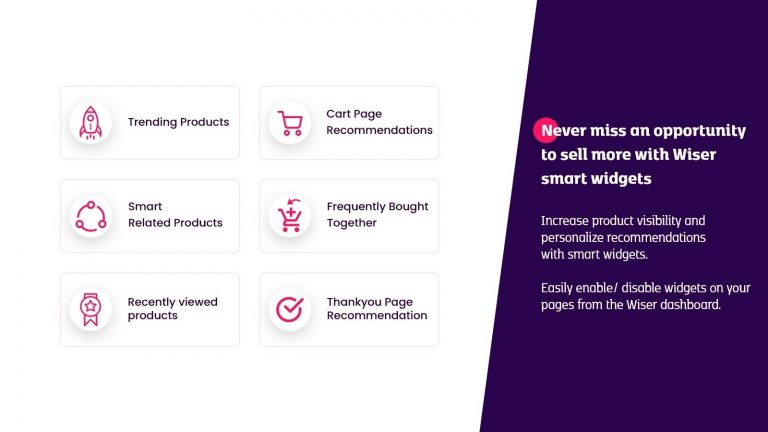 12. Gorgias
Having a customer support team is crucial to ensure your store visitors get the help they need with your products and have a positive shopping experience. You can set up live chat and help shoppers on your Shopify store by using Gorgias.
The app lets you manage conversations from email, live chat, phone, and social in one helpdesk. You can manage your entire customer live chat and message history in one place. What's more, you can integrate Gorgias with your favourite loyalty and payment apps so that you can reward shoppers directly from the live chat and even help shoppers to cancel, refund, or duplicate orders.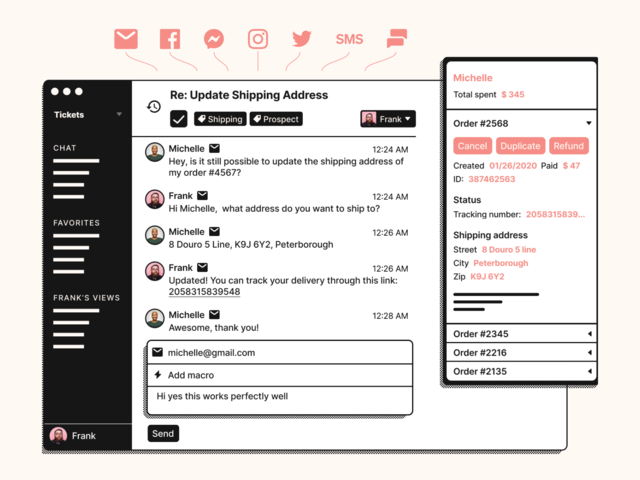 13. Candy Rack
On-site sales strategies like upselling and cross-selling are important to ensure that you have opportunities to make your store visitors buy more and increase the average order value. But to do so, your campaigns need to look lucrative enough to the shoppers.
Candy Rack is a Shopify app that allows you to upsell & cross-sell to your customers by offering extra services, free gifts and/or related product bundles. These offers are shown to customers via a highly visible one-click upsell popup window which is responsive even on mobile devices.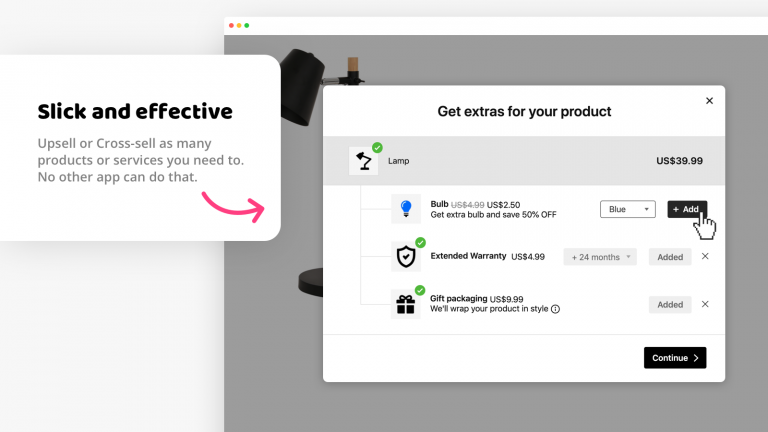 14. Referral Candy
One of the best ways to acquire new customers in a competitive market is to reach out to them through your existing customers. By nudging your customers to refer your brand to their friends and family, you increase the chances of reaching a more qualified audience that is highly likely to find your products valuable.
But referrals don't come on their own and you need to ask your customers to participate.
Setting up referral marketing on your Shopify store is easy with apps like ReferralCandy. With the app, you can set up a referral program wherein you can also include what each of the customers gets – the referee and the referred, encouraging more participation.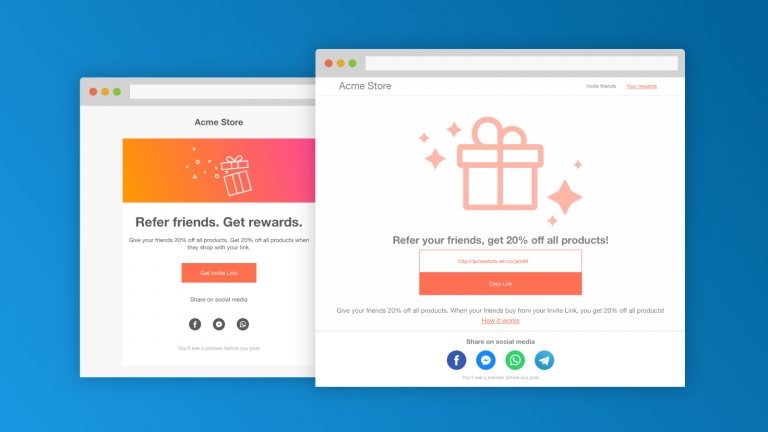 15. Rise.ai
Want to provide your shoppers with store credits and gift cards? Rise.ai is the Shopify app for you! Rise allows you to set up a rewards program that goes beyond the conventional loyalty point by implementing a store credits functionality instead.
You can assign which shopper actions on your store gets a credit, allowing you to customize the rewards program to make visitors interact with you more often.
For example, you can offer store credits for creating a customer account on your store, or you can offer store credits on every purchase they make, encouraging them to come back and make another.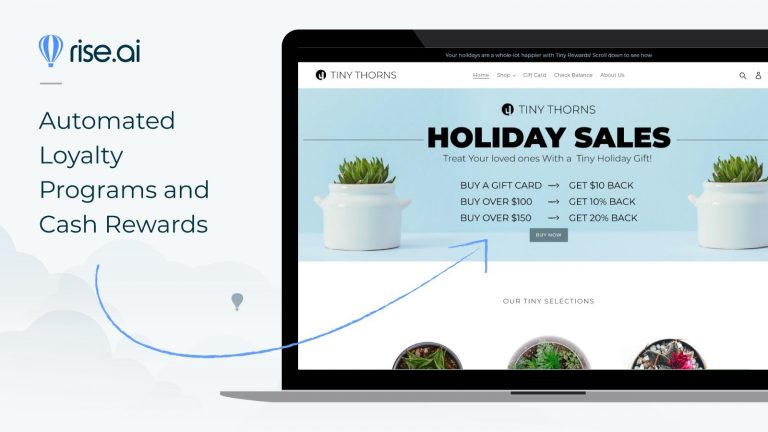 16. SuperLemon
With 2 billion users worldwide, WhatsApp is one of the most popular messaging apps in the world. If you haven't already tapped into this channel to communicate with your shoppers, you could be losing out on a lot of potential sales.
SuperLemon is a Shopify app built for WhatsApp marketing. This Shopify app is one of its kind, allowing you to send automated messages and promotions to your customers using WhatsApp. You can use it as a live chat function as well, providing support to shoppers on your Shopify store and helping them make better purchase decisions.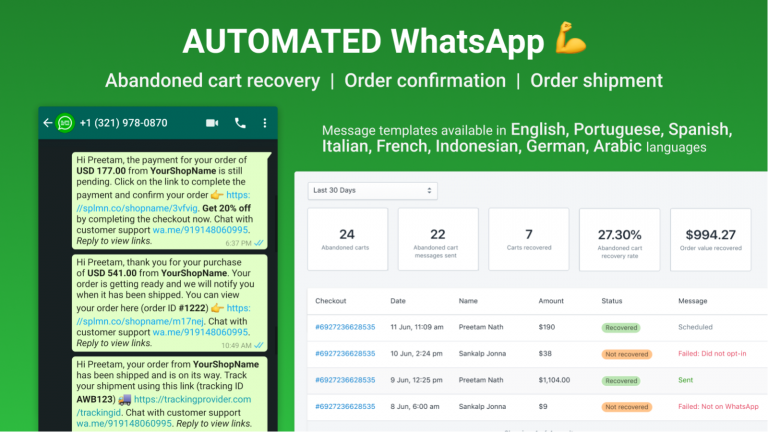 17. Optimonk
97% of visitors aren't ready to buy on the first visit to your Shopify store. No matter how well-optimized your website is. This is one of the biggest challenge Shopify merchants face every day, but luckily there's a solution for that.
OptiMonk is a conversion optimization tool trusted by thousands of Shopify stores. It helps you to delight your visitors and personalize their experiences while growing your sales. You can launch popups, side messages, and notification bars in minutes, without coding. Whether you want to grow your email list, recover abandoned carts, upsell products with personalized recommendations, or promote special offers, OptiMonk makes it easy.
18. Growave
Loyalty programs are used by all well-known brands such as Starbucks, Chipotle and Ulta. And it is all because loyalty programs help retain your customers, increase engagement and encourage more referrals. In fact, retaining old customers is much more cost-effective rather than acquiring news shoppers. Growave can help you create a top-notch loyalty program to build a loyal customer base for your brand.
Growave is the all-in-one marketing platform for photo reviews, wishlists, loyalty programs, referrals, and UGC. Such rich functionality of Growave makes it the ultimate platform for online store conversions and sales, with it being 6 times more cost-effective than any of the alternatives on the market.

19. iCart Cart Drawer Cart Upsell
If you're not optimizing your cart page, there's a high chance that you're leaving sales worth thousands of dollars on the table. With iCart, you get complete control over the look and feel of your cart page, that can be customized to display upsells, cross-sells, time-sensitive offers, product recommendations and much more.
The app comes with advanced analytics to track and measure the impact of every customization you make on the cart page. You can track impressions, clicks, the click-through rate (CTR), conversions, conversion rate, orders and revenue and the change in your average order value for every widget you implement.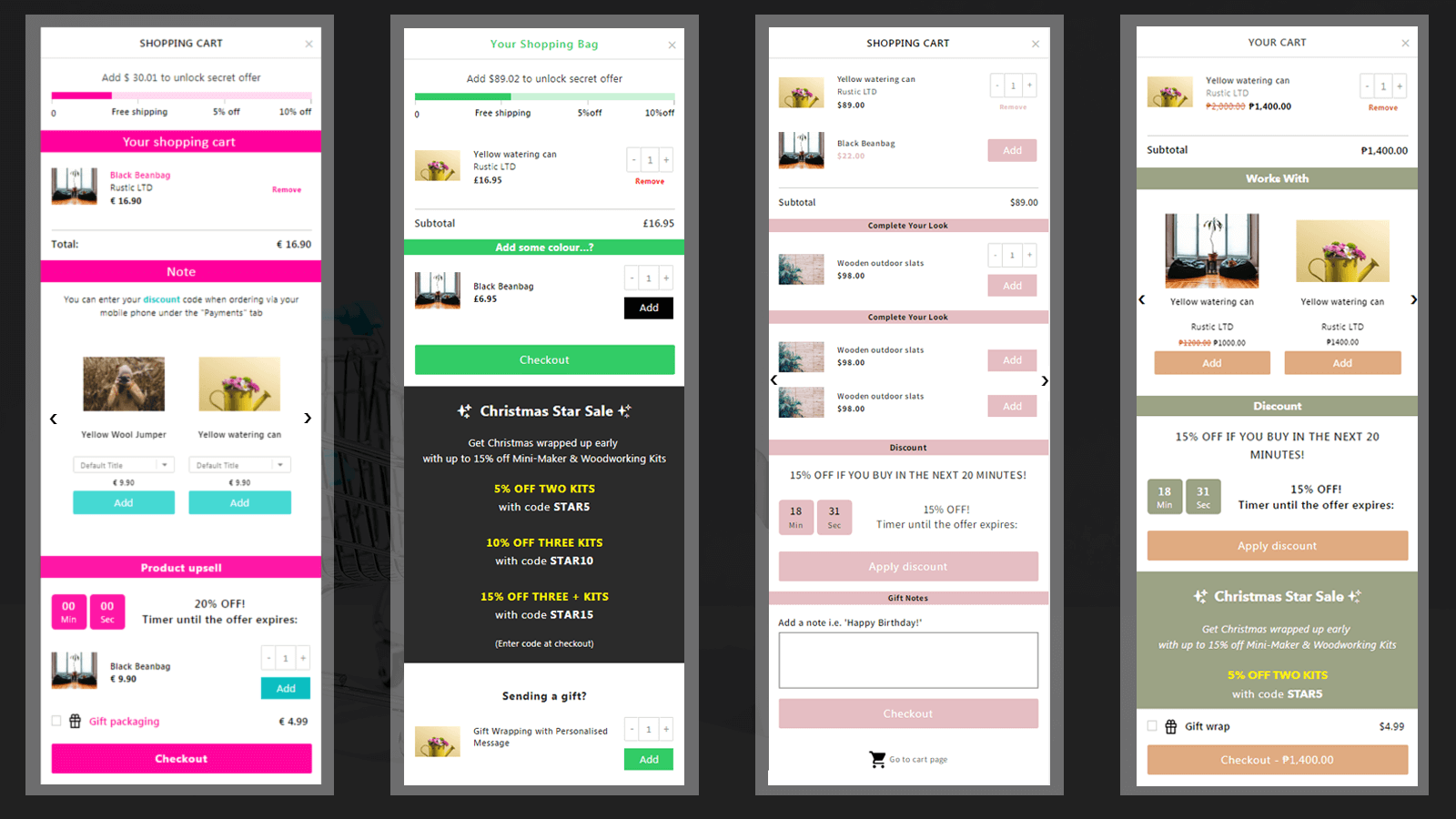 How many of the best Shopify apps do you need?
Your Shopify store's needs are going to evolve with time. The idea is to start off by covering the basics you need to keep turn visitors into subscribers, subscribers into customers and customers into repeat purchases. That's where the best Shopify apps listed above come in.
So based on where your store is, what your goal looks like and how your target audience prefers to engage with your brand, choose one of the best Shopify apps accordingly. You don't need to install everything together. If you're still experimenting with strategies and marketing channels, take a step-by-step approach so that you can measure the impact each of these apps makes on your store's growth.
We hope this extensive list helped you find the best Shopify apps for your store. Whether it's for your marketing strategy or smart sales tactics, these apps will surely help you achieve your goals!
Worried about not being able to convert visitors once they go offline? It's time to tap into the power of SMS marketing to start conversations.