When shopping online, consumers want a smooth and frictionless experience. Browsing interruptions, unoptimized stores, lack of credibility, and difficulty finding accurate information are a few reasons that consumers would abandon your Shopify store and choose your competitors instead.
By optimizing your website and providing the right information at the right time, you can provide a positive shopping experience to on-site shoppers and increase Shopify sales.
With this blog, we'll help you set up 8 on-site strategies that are crucial for any Shopify store to improve their online shopping experience and increase conversions.
Increase sales on Your Shopify Store with these Conversion Strategies
1. Avoid negative experiences on unavailable products with back in stock alerts
Many shoppers start browsing a store, finding the product they were looking for, only to find that it is out of stock. Stockouts create a negative experience for shoppers, making them less likely to come back to the store and driving them to your competition.
The Back in Stock Alerts app lets you set up a subscription form on stocked out products and send automated messages across different communication channels like email, SMS, Facebook Messenger, and web push.
This way, you can give shoppers an option to subscribe to unavailable products and easily be notified once it is back in stock, helping you recover sales that you would have lost to these stockouts. Install Back in Stock on your Shopify store to recover sales lost to stockouts.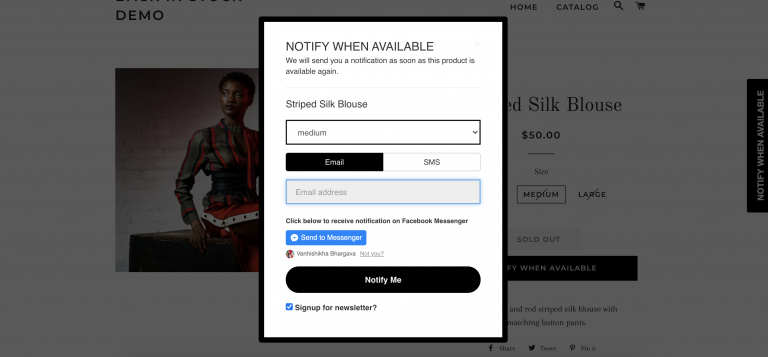 2. Improve search experiences with search filters and autosuggest
When shoppers are looking for a product on an online store, they don't want to spend time browsing the entire catalog just to find that one product. You need to make it easier for them to find what they are looking for with better search functionalities like search filters and autosuggest.
Searchanise is a Shopify app that lets shoppers narrow down their product search by filtering their search based on rating, color, type, and gender. These search filters simplify how the shopper finds the product they are looking for, letting them checkout more quickly.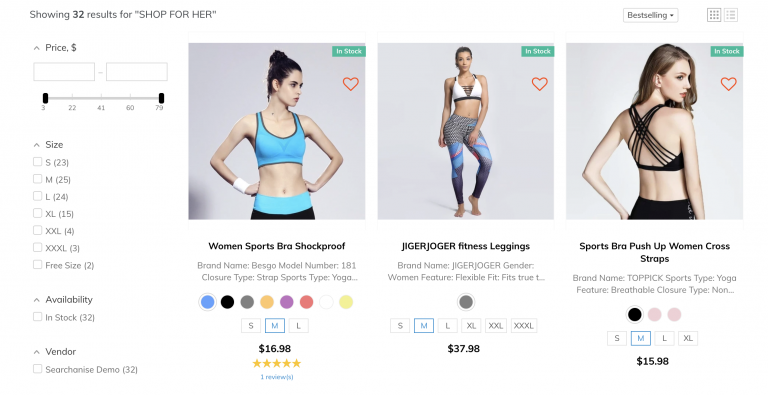 3. Capture subscribers for direct communication using text marketing
A large number of store visitors end up never visiting the store again. However, many online consumers are open to receiving promotions from a brand, as long as they have opted in. By setting up a subscription for SMS promotions and letting your store visitors subscribe, you have a higher chance of bringing them back to the store and increasing conversions.
An easy SMS opt-in can deliver a positive experience to shoppers while also increasing your subscriber list.
TxtCart is an SMS marketing app for Shopify. Using the app, you can send promotions and messages to your shoppers about new products, sales, abandoned carts, and promotions to upsell products based on their past purchases. What's more, the app comes with the ability to instil real conversations with a human-powered team.
Install TxtCart to grow your subscriber list and promote your store using text marketing.
4. Provide instant help with live chat
One experience that shoppers lose out on when shopping online is the ability to get help. In stores, shoppers can get the attention of a sales executive and ask them questions about the product, refund policy, and other details.
With live chat apps like Tidio, you can easily provide this assistance for shoppers on your Shopify store. You can add templated responses for common questions like sizing and refund policy so that your chatbot can automatically respond to these questions.
A live chat can increase credibility for your brand and make shoppers less hesitant about purchasing from your store.
5. Display personalized recommendations
One of the best on-site strategies to deliver a positive and personalized experience to shoppers is personalized product recommendations. Product recommendations can be placed on different parts of your Shopify store to increase engagement, reduce drop offs, and increase sales.
For instance, you can place 'Similar Items' recommendation widget on your product page to reduce drop offs or add a 'Frequently Bought Together' recommendation widget on your cart page to increase the average order value of the cart.
You can display personalized recommendations using Wiser, an AI-powered recommendation engine that displays relevant recommendations to your shoppers to nudge more conversions.
Using the app, you can add personalized recommendations to your store like 'Recently Viewed Items' and 'Inspired by Your Browsing History'. You can also add more context to new shoppers with recommendations like 'New Arrivals' and 'Bestsellers' on your storefront.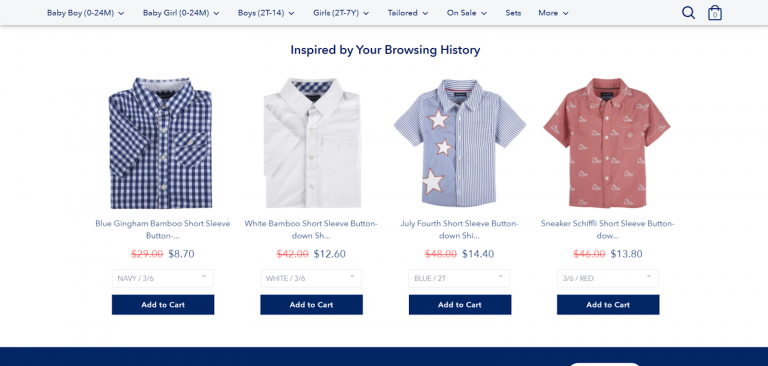 6. Add trust badges
17% of shoppers abandon their cart because they don't trust it with their credit card information. When selling online, you need to make it clear to shoppers that you are a trustable brand and that you have secure payment gateways. Many Shopify stores enable trust badges within their store footer as well as within their checkout page. This on-site strategy makes consumers perceive you as a trustable brand and they will be more likely to check out.
The Trust Badge app is a free Shopify app that you can add to your Shopify store to increase trust and lower drop offs.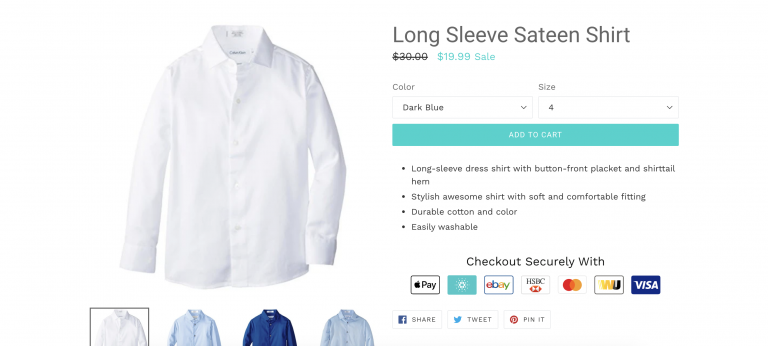 7. Provide a localized experience with local languages and currency
More than 50% of all queries on Google are in languages other than English. This means that if you are frequented by shoppers from specific regions across the world, localizing the shopping experience to these customers is important to increase your sales.
By providing a localized experience with the local currency as well as the local language, consumers will find it easier to shop from your store.
Geolocation is a Shopify app that recommends the best language and currency for your visitors based on their browser preferences and location. These language and currency switchers are displayed as a bar or a popup within your website, fitting seamlessly and letting visitors change their language and currency at any time.
8. Display photo reviews to show how products are used by customers
When shopping online, there isn't any way for consumers to understand the product quality or touch and feel the item. This is why product reviews are crucial for online shoppers, helping them understand the items better, and building credibility for them. In fact, 77% of customers read product reviews before making a purchase.
Loox is a Shopify app that lets you collect reviews and display them on your Shopify product pages. You can incentivize shoppers to leave reviews with pictures of them wearing or using the product by rewarding them with loyalty points or credits.
These reviews can be added to your Shopify store and customized to be displayed according to your store design. This way, shoppers can easily see how the product looks in real life, making them more confident about their purchase.
Provide a positive shopping experience on your Shopify store with top on-site strategies
How your store visitors interact with your Shopify store is important to bring in higher sales. By optimizing your on-site experience, you can increase the time spent on your store and make it easier for online consumers to shop from you.
We hope this list helps you set up smart on-site optimization tactics and increase Shopify sales.
---
This is a guest post by the eCommerce experts at Appikon. They are the team behind the one and only back in stock notifications app on the Shopify store that caters to restock alerts on all channels including text, email, web push notifications and Facebook Messenger. You can get the app here.