With the price of digital advertising rising for many e-commerce brands, building your "owned audience" is one of the main difference makers in whether a company makes it in today's internet economy. 
What is an owned audience? It's the people who have given you permission to market to them, essentially always either prospective or current customers. The good news is you can start gaining new email or SMS subscribers for very little time or money in exchange.
What good are customer accounts anyway?
Enabling customer accounts in Shopify is a free and easy way to encourage your customers to come back and shop from you again. If you think of your customers as fish and your marketing strategy as your fishing nets… enabling customer accounts and letting customers sign up is like the fish are jumping into your boat! (Not sure how? Read: How to enable Customer Accounts on Shopify.)
Another problem is most Shopify registration forms look exactly alike. You've seen it before, and chances are your registration form has the same 4 fields, that is, if you have customer accounts turned on at all:
First name

Last name

Email

Password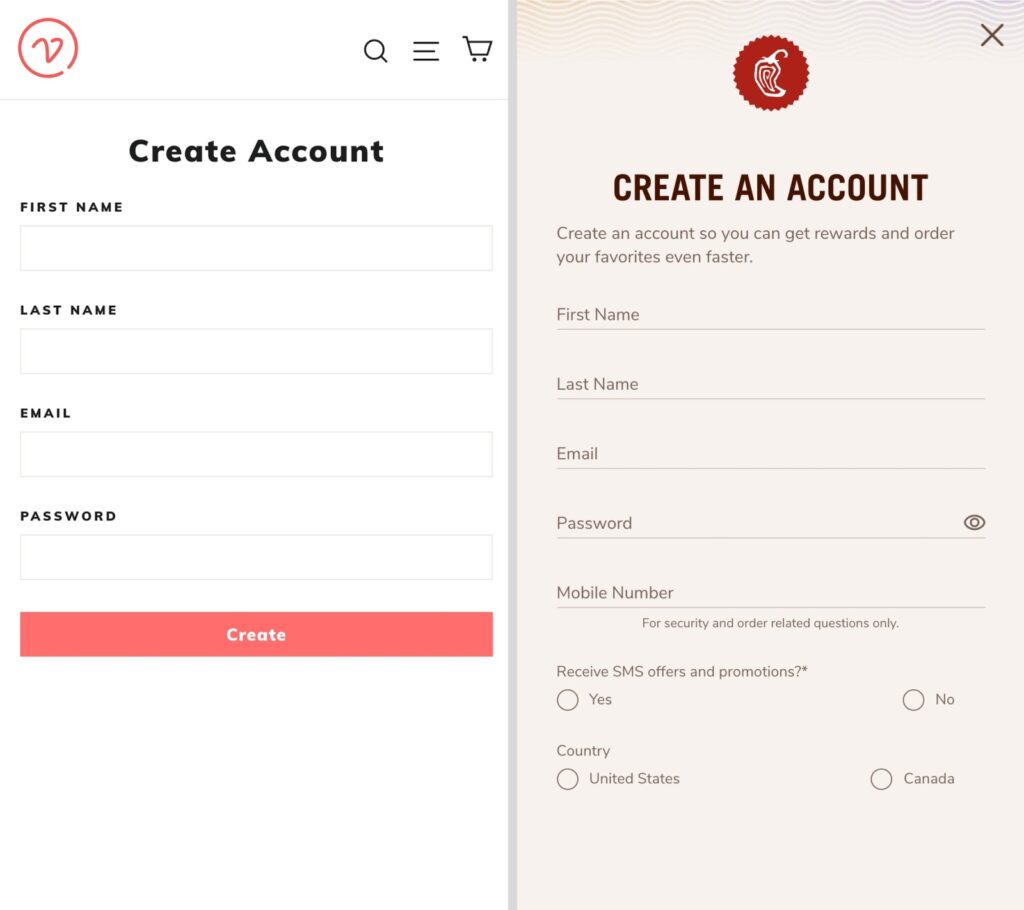 Basic Shopify registration form (left). Registration with SMS marketing opt-in (right).
How to customize your store's registration form
Shopify provides a great tutorial on adding a checkbox that lets your customers opt-in for marketing while they create an account; however, this is only for those who are comfortable editing the Liquid theme code.
For a simpler solution, we recommend using a third-party app such as Customer Fields to add new fields to your registration form. You can start with a template that adds a phone number field and a checkbox to "Send SMS deals" and then add any other fields you want to know about your customer such as their birthday, shirt size, etc.
Special promo for TxtCart customers
Try out the Customer Fields app today with a special 10% lifetime discount exclusively for TxtCart users. Just follow this link to the Shopify app store and the discount will automatically be applied when you start your 14-day free trial: https://customr.heliumdev.com/billing/referral?code=TXTCART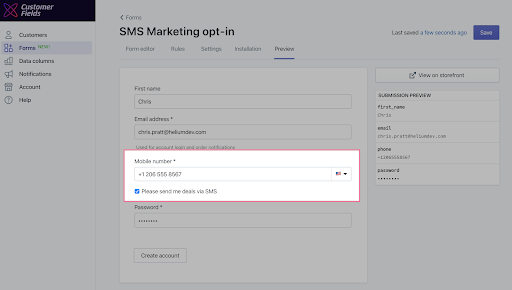 SMS Marketing opt-in template