With over 5 billion mobile users worldwide, SMS has exploded in popularity and is becoming an increasingly powerful marketing channel for eCommerce brands.
What was predominantly used by friends and families to connect with each other is now turning into one of the profitable mediums, giving shoppers the chance to interact with businesses — from the palm of their hands.
SMS boasts a 98% read rate within five minutes of hitting send, making it one of the fastest methods to reach out to customers. And since 90% of people open text messages within the first three minutes after receipt, they are excellent for time-sensitive offers, such as flash sales or end-of-day sales.
But how do you get people to subscribe to your Shopify store SMS list?
Since a phone number is more personal information than an email address, you need to give a solid reason to them to actually sign up for your SMS list. After all, no one will give you their contact details unless they can see what is in it for them.
Imagine being spammed by promotional messages that have nothing to do with what interests you.
Now you'll see most Shopify stores offering discounts and deals to entice buyers into subscripting to their SMS marketing list.
But how long do you compete with the discounts everyone is offering?
Well, there's a way out of this rabbit hole.
PS. If you don't have a Shopify SMS marketing app yet, install TxtCart first. 
Grow your SMS marketing list without offering discounts
Remember there is no one-size-fits-all approach to appealing to online shoppers. You need to first understand your target audience, ideal buyers and what motivates them to engage with you before implementing a strategy to grow your SMS marketing list.
But here are some of our absolute favorites.
Run SMS-entry only contests
People are competitive and love winning something for free. And businesses love to see their brand grow — both in terms of awareness and value — by attracting new customers and increasing engagement with existing ones.
Since contests have a 3.7% higher conversion rate than other engagement methods, they are a powerful tool for marketers to connect with customers worldwide. And if you're running them through simple text messaging — it's even more fun.
SMS-entry only contests can be joined by shoppers only via SMS — exclusively through their phone numbers.
Make sure the prize is both desirable to the consumer and relevant to your brand goals.
For example, if you sell laptops, you shouldn't be running a contest that says:
"Enter your phone number to get a chance to win a 2 nights/3 days trip to Dubai."
You could instead say:
"Enter your phone number to get a chance to win a laptop or a year of free laptop service."
This will attract the shoppers who're actually interested in your product or service and not just the contest gift.
Remember to promote your contest on your storefront, social media, email list and other channels of course!
Tell them they get to join an exclusive club
Online shoppers love to feel valued, even in small ways. Positioning your SMS list as an exclusive club is one way to do just that.
Don't ask your customers to subscribe to your SMS list. Instead, tell them they're joining an exclusive club where they'll be the first one to receive new product information, limited-edition collections, and more.
Plus, you can offer exclusive coupons to them on special occasions like festivals and anniversaries as a caring gesture.
Here's an example: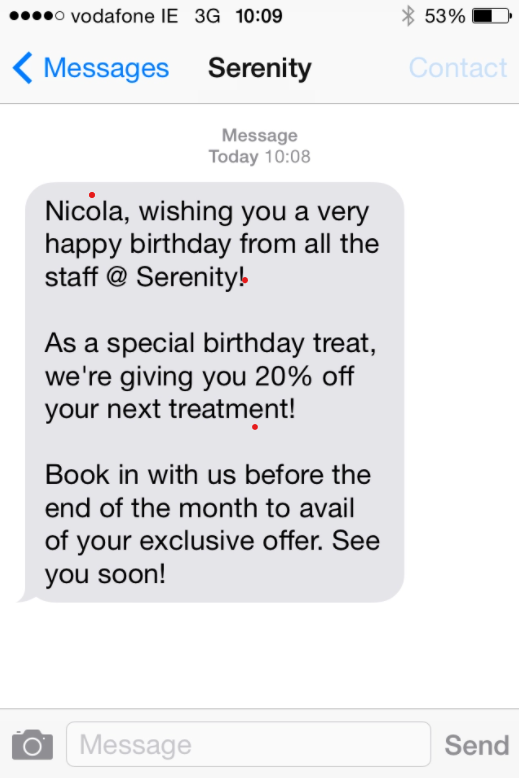 This will attract shoppers who are interested in your product and want to connect with your brand on a deeper level. And by deeper we mean a longer period of time!
From the very first touchpoint, make them feel that they're joining a club only meant for VIP customers. For example, say, "Join the XYZ revolution" instead of simply "Subscribe to our SMS list".
Give a name to your club for more legitimacy. Structure your copy in a way that makes your customers feel they're out on a huge opportunity.
Lastly, don't go overboard with your registration form. Ask for enough information to segment and personalize your texts, such as phone number, zip code, birthday, and interests.
Offer added benefits
Not every marketing message is about limited-time discounts, sales, and other promotional offers. There are endless other added benefits that engage the online shoppers interest, get them to your store and drive revenue for you.
Here are some examples:
Free shipping
According to 9 out of 10 customers, complimentary shipping is the top benefit to shopping online more. Shipping cost is one of the key factors when deciding to buy from a store. While the high cost can make shoppers abandon their orders, low or free shipping can bring them back to your store.
You can also use it to get visitors to subscribe to your SMS marketing list. Let them know how joining your SMS list gives them access to low shipping rates or even limited-period free shipping.
Product launches and recommendations
Everyone wants to keep watch on what's new in the market. And about 80% of online shoppers also want brands to personalize their shopping journey for them. You can leverage both to grow your SMS marketing list.
Entice your store visitors or even your existing customers to subscribe to your SMS list. Let them know how you'd use the channel to communicate the best of recommendations to them, and how you'd not want them to miss out on any of the new launches.
Abandoned cart reminders
69.57% of the digital shopping carts are abandoned, which means for every 100 customers, 70 of them don't purchase anything. While some people abandon carts deliberately, others might get distracted while shopping and forget to complete their purchase. This is where you can use SMS to bring back their attention to the products they liked.
Reach out to them on email, seeking the reason why they abandoned the purchase. Then move to asking them for their phone number to notify them of deals and discounts that may come up on the product they left behind.
If they truly liked it, they will surely subscribe.
Promise to send them relevant content
You don't always have to focus on selling. Treat text messages as your way to enrich the customer experience with relevant, value-driven content delivered straight to their mobile phones.
In fact, 84% of people want brands to share content that entertains, tells stories, provides solutions, and directly relates to your product or service – while indirectly influencing purchases.
When reaching out to your store visitors, let them know how you'd send them valuable content that piques their interests, lets them keep up with preferred trends and more, if they subscribe to your SMS marketing list.
For example, a clothing brand might send:
"We've rounded up ten chic ways to wear your favorite white shirt."
Or, if you're a homeware brand, you could send:
"Did you get a chance to decorate your dining table? We think you'll love these decorating tips."
Either way, such text messages are great for year-round content and aim to educate your customers and prove to them you're an expert in the industry.
However, these don't have to be linked only to blog posts. You could also send links to lookbooks, YouTube videos, guest posts on third-party websites, or podcast episodes – whatever type of content you're creating.
Offer to send order updates on sms
When customers complete a purchase, they expect immediate confirmation and order updates, so they know where their package is. This is where SMS notifications can come in handy.
According to research, customers like to receive three types of SMS — shipping status (75%), order receipt status (65%), and scheduling reminders (46%).
Hence, using SMS to send alerts, such as shipping status, delivery time, and more, provides a level of transparency your customers crave for. Plus, it delivers immense value to customers and keeps them engaged and coming back for more.
On the 'thank you' page, provide an option to shoppers to get notified of the orders via SMS. Once subscribed, send them alerts of every important action. Also, try offering a coupon or referral discount code. Lastly, craft a creative SMS and watch how positively it impacts your sales.

Offer to send product restock alerts on SMS
Picture this: You saw a beautiful red dress in an online store. But, as soon as you click the 'BUY' button, three dreaded words pop out in front of your eyes – OUT OF STOCK.
Then, you provide your email address for product restock alerts and wait for a few weeks only to never receive any email – it probably landed in your spam or promotions folder. So, you find and buy that same dress from another store and forget about the whole incident.
Why does the retailer miss out on a potential sale despite restocking the dress? Simple, because the average email open rate is between 15-25% only.
However, with an open rate of 98%, text messages are an excellent communication channel for ecommerce brands to bring back the customers to the store via restock alerts. And being more personal and quick, you can get your message across instantly.
By sending restock alerts, you not only recover the lost revenue but also add a delight to their shopping experience.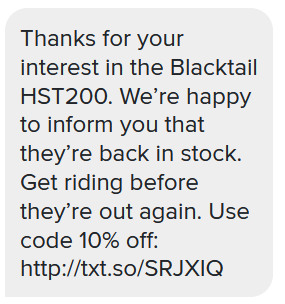 What's more? It's the most subtle way to get your Shopify store visitors to subscribe to your SMS marketing list.
QR code sign up
86.6% of mobile users had scanned a QR code at least once in their life. Further, 46.81% of people feel QR codes make life easier in a touchless world. So, if your ecommerce store also has an offline presence, Quick Response (QR) code sign up can work wonders to grow your SMS list while driving customer engagement.
When a customer purchases from your store, ask them to scan the code, which will take them directly to the sign-up form. Don't forget to include the offer next to the code, so people know what they're opting for.
Not only does this help drive new subscribers, but it also fosters a strong relationship with your customers.
To make the best use of a QR code, you can place it in:
Offline ads, print ads, press releases
Bills and receipts
Business cards
Name or price tags
Exhibition stands, checkout counters, and so on.
Ask your social media followers to subscribe to your SMS marketing list
Social media following is one of the most prized possessions for a marketer. So why not reach out to them while building your SMS marketing list?
Social media has become a powerful marketing channel with a user base of above 3.8 billion. If there are people who don't often visit your store but follow you on social media, converting them into SMS subscribers can be the best bet. And since your followers are already interested in your brand, they would also be interested in signing up for your SMS list.
You can invite your Instagram, Facebook, or Twitter followers to opt for your SMS list. Create a landing page and then post the link to the page on various social platforms. Or, you can also create a post using attractive visuals and engaging copy, giving your followers a solid reason to subscribe to your SMS list.
Ask email subscribers to sign up on SMS
Growing your SMS list is not an easy feat. But, you don't always need to start from scratch. If you have an existing community of email subscribers who find value in your content, nudge them to sign up to your SMS list as well.
A study found that brands can convert 10-20% of their email subscribers into SMS subscribers — which means for every 1000 subscribers, you can expect to build an SMS list of 200 over time.
SMS is an excellent tool that enables online stores to send concise, instant messages to shoppers. Combined with emails, it can create an unparalleled customer communication experience that's reliable and results in higher open and click-through rates.
All you need to do is ask your customers to text a specific keyword, such as "JOINSMS", to a short code like 78899.
Loyalty program
Loyalty programs are an excellent way to keep customers coming back for more. They come in all shapes, sizes, and budgets and give consumers rewards such as purchase points, free merchandise, coupons, discounts, or VIP access.
However, according to research, the average consumer belongs to 14.8 loyalty programs but is active only in 6.7. To drive participation and engagement to your programs, using text messaging can work wonders.
It ensures your customers love your loyalty program instead of signing up for them and never returning to. Plus, redeeming rewards is easier when using texts – your shoppers don't have to spend much time to find what they're looking for.
Not only that, you save a lot of time, money, and effort by messaging only the ones interested in your rewards. Because shoppers will sign up for your program, only if they're eager to receive rewards via SMS.
Here's how it works:
Customers sign up online by giving their phone numbers
You offer to send loyalty reward updates on SMS
You start sending SMS with loyalty rewards
Customers purchase more frequently to redeem the rewards
Start growing your SMS marketing list
There's no denying discounts are valuable for driving customers to become text messaging subscribers. But, they're only part of a well-rounded SMS marketing strategy.
We hope this guide helps you understand the other options you can use to turn your Shopify store visitors into subscribers of your SMS marketing list.
However, the right choice for you depends on the nature of your business and what message resonates with your audience.
Also, seek permission from them to send text messages, just like you would for email. And don't forget to refrain from showing up on people's phones every day!
Ready to grow your SMS marketing list?