Learn how to use BFCM SMS marketing for better customer engagement and retention.
BFCM and holiday season sales are one of the most profitable events for eCommerce retailers. Every retail brand wants to make the most of this time. And so, many brands try to acquire new customers.
However, the hack is to retain your existing customers. Did you know, 20% of your loyal customers bring 80% of your revenue? It's true. And to retain customers, you need to constantly keep them engaged. 
But how do you engage customers during the BFCM period with so much going around on the internet, and so many brands trying to grab your customers' attention? 
We share 10 effective SMS strategies that can help you jog your existing customers' memory and engage them.
10 ways to use BFCM SMS marketing for customer retention (+ SMS templates)
There are several ways to use BFCM SMS marketing during the sale season to reach and engage your customers. But let's look at some of our tried and tested strategies for BFCM SMS marketing campaigns:
1. Send thank you messages
Thank you texts may seem like a small thing but they make a big impact on building long-term customer relationships. When you respond to customers' actions with a 'thank you', they feel good, valued, and it leaves a good impression on them.  
You can send a thank you SMS after these actions:
Send it after customers make purchases

When customers answer polls/surveys

When customers write a product review

When customers share referrals

When customers sign up to restock alerts

When customers reach out to you with queries
Here's an example of the BFCM SMS marketing campaign: 
Hi Lola, thank you for purchasing the Luxe Bag from www.shopbfcm.com. We hope you like it and we look forward to seeing you back at our BFCM sale.
2. Request feedback
After customers make a purchase from your BFCM sale, there might be a gap until they return to your site again, either to buy or browse products. Hence, during this gap time, you could request them to share feedback on the product they bought. Do this via SMS.
It helps in many ways — to engage customers, to build stronger connections with them, and to gather insights to understand what they like or don't like. 
It could even help you bring back customers to purchase more from the sale. For example, you could offer a shopping voucher in return for the feedback that can be redeemed only during the BFCM sale.
Here's what you should do in your feedback request BFCM SMS marketing campaign message: 
Request the client to share feedback about their shopping experience in your store

Ask them to rate the item they purchased

Ask them how likely they are to recommend your brand to their friends

Request them to fill out a small feedback survey

Make your feedback request specific; avoid generic requests. That way you can gather specific information that will help you 

Add an incentive in return for their feedback
Here's an example of the BFCM SMS marketing campaign: 
Hi Max, We've delivered your product early. We hope you like it. We'd love to hear about your experience: http://shopbfcmsale.com/ – Thank you!
3. Request product reviews
Just the way you ask customers to share feedback, you could also ask them to share reviews. The reviews could be in the form of text, an image, or a video, too. 
You could display customer reviews on your different channels as social proof. It can help you boost sales.
To put things into perspective, when a product has five or more reviews, the probability of its sale increases by 270%! 
In short, you could skyrocket your revenue with minimal investments required for sending a product review request via SMS.
Here's what you can do:
Ask customers to review the items they purchased

Ask customers to review a specific aspect of the item

Request customers to review a whole collection

Offer them an incentive for sharing the review
Here's an example of the BFCM SMS marketing campaign: 
Hey Smith, we hope you're enjoying using your new MXT firebrand. We'd love it if you shared your review. You can unlock a surprise by sharing your review here: (link)
4. Send personalized product recommendations
There are many different ways to use the product recommendation SMS strategy around your BFCM sale. 
Before the BFCM sale: For your loyal customers, you'd have data from their past purchases. That data could give you insights into your customers' likes and interests. Based on that data, share product recommendations before the sale begins. Let them know they could buy those products at discounted rates during the sale.
During the BFCM sale: This is a good strategy for the new customers you acquire during the sale. Send them recommendations based on their recent purchase. This way, you can increase the chances of them buying more during the sale.
After the BFCM sale: The period after the BFCM sale ends is usually quiet and there's no activity on your site. Sharing recommendations is a good way to increase traffic to your site after the sale and increase sales.
Here's an example of the BFCM SMS marketing campaign: 
Hey Flavia, We've curated a special selection of shoes you'd like. And guess what? They'll be on discount in our BFCM sale. Check them out here: www.shop.com 
5. Give a discount on wishlist items
40% of consumers prefer to have the wishlist feature on eCommerce sites as it makes their shopping experience better. They can easily save products that they like on the wishlist and revisit the list later to make their final purchase decisions. And you can create engagement strategies related to wishlists on SMS.
Here are some ideas for your BFCM SMS marketing campaign: 
Send an SMS to intimate customers about items in their wishlists that are on sale during BFCM 

Personalize your marketing and promotional offers based on items in customers' wishlist and send an SMS

If items in the wishlists are low in stock, let customers know via SMS so that they can make their purchase decisions

Enable wishlist sharing via SMS. Send the message to customers and ask them to forward the wishlist link to their friends and family
Here's an example of the BFCM SMS marketing campaign: 
Hey Simon, the coffee brown leather belt on your wishlist is now on sale in our BFCM sale. Buy it before it's sold out, from here: (link)
6. Send 'We miss you' message
Consumers are spoilt for choice on the internet. No matter the product or service, there are hundreds of options available online. And hence, it's possible that they stop visiting your site from time to time.
But that doesn't mean they're gone forever. You could bring them back through SMS campaigns around your BFCM sale. One such simple SMS campaign is 'we miss you'. 
When customers don't visit your website for a long time, you could send them a 'we miss you' SMS before the BFCM sale. 
Offer them a special discount or an incentive to make a purchase during the BFCM sale. Personalize the incentive. 
Here's an example of the BFCM SMS marketing campaign: 
Hey Mili, we've missed you. To make your shopping experience enjoyable, here's an extra 15% off on any one item from our BFCM sale. Check out the sale here: www.shopbfcm.com Text STOP to opt-out
7. Send early sale access message
Your most loyal and VIP customers expect the best experience from you. They want to feel special and expect to receive all the benefits. One such perk that can add to their experience is exclusive early access to sales and discounts.
As soon as your sale goes live for your VIP customers, send them an intimation via SMS. Make sure you share a link to the sale in your message. Give them exclusive access as well as special discounts. Keep these benefits out of the reach of your regular customers.
Here's an example of the BFCM SMS marketing campaign: 
Hi Ron, as our SMS club member, you have exclusive first access to our BFCM sale for 24 hours. You also get an extra 5% off on your bill. Only for 24 hours. Shop now: www.shopbfcmsale.com Text STOP to opt out.
8. Share sale updates 
Nothing beats a FOMO or urgency message during the BFCM sale period. It's an effective tactic to create engagement. There are excellent deals available and customers don't want to miss them. And one of the best ways to engage customers after the BFCM sale begins is to send them updates during the sale.
Here's what you can do in your BFCM SMS marketing campaign: 
Send messages to let customers know about flash sales

Create FOMO by having limited period discounts

Create a sense of urgency by mentioning limited stock and the number of items available

If you add more products to your BFCM sale, send an SMS to inform customers

Show scarcity by letting customers know the products are getting sold out fast
Here's an example of the BFCM SMS marketing campaign: 
Hey Marrie, the clock's ticking fast! The last 3 pieces remain from our latest collection of bags. Check them out now before they're gone forever. Shop here: www.shopbfcm.com 
9. Share social proof via messages
We human beings are wired to follow other humans. When we look at others doing something, we tend to do the same with confidence. And that's why social proof works well for eCommerce marketing. 
Showing that other customers bought a product or how they're using it or how many other customers have a product can help to influence other customers' purchase decisions. 
Here's a graph that shows how social proof impacts customers.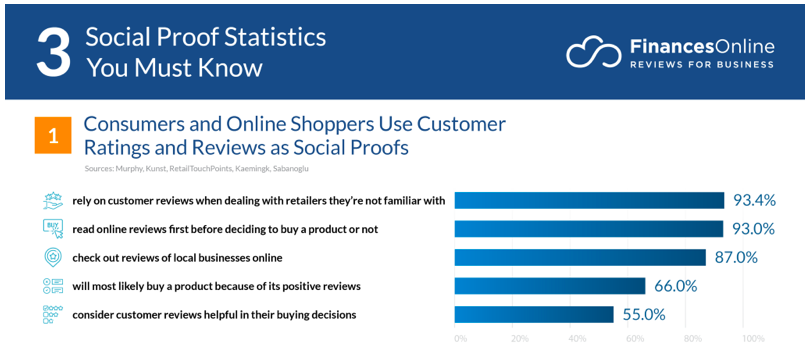 Here's what you can do in your BFCM SMS marketing message: 
Share social proof via SMS

Send a message showing how many people bought a particular item from the BFCM sale

Personalize social proof sharing. For example, show social proof about a product that's in customers' wishlists

Share links to customer videos, customers' posts on your social pages, etc.
Here's an example of the BFCM SMS marketing campaign: 
Our new supersonic clothing collection is being loved by all. Here's what some of our customers had to say about it: (link)
10. Share testimonials through messages
Another good way to create customer engagement around the BFCM period is to show your testimonials to customers. For example, if you got a mention in or got covered in a news feature, magazine, etc., you should share it with your customers. You can easily do so via SMS.
Here's what you can do:
Share articles and features about your brand by sharing a link via SMS

Share current and new testimonials

Revisit old testimonials by sharing them with customers
Here's an example of the BFCM SMS marketing campaign: 
We're thrilled to be featured in GoodShop magazine. Read the article here: (link) and share it with your friends, too!
Are you ready with your BFCM SMS marketing strategy?
BFCM is a super profitable time for all eCommerce brands. Your competitors are going to grab your customers' attention. Are you ready with your marketing strategy? 
You could use some or all of the above SMS marketing strategies for your BFCM sale. However, you'll need a partner to help you take the load off you. That's where TxtCart comes in.
TxtCart can help you with all your BFCM SMS marketing and automation needs to ensure a seamless experience for your customers and you.
Install TxtCart on your Shopify store today!
Recommended reads on BFCM SMS marketing: