Irrespective of the number of channels coming into play for DTC brands to stay in touch with consumers over, SMS continues to be one of the most preferred. With an open rate of almost 98%, text messages are still the most promising way to get a promotion across and noticed!
But to be able to send out personalized SMS marketing campaigns at the right time to the right person, DTC brands need a Shopify SMS marketing app.
Over the last few years, there has been a surge in the number of SMS marketing apps for Shopify stores – each one promising to solve the problem of SMS marketing automations, compliances and turning text messages into a revenue channel. But just how many of them are succeeding at it?
In our years of experience in working with Shopify and Shopify Plus brands, we have noticed that most businesses don't see the promised results from their SMS marketing campaigns. While some are not able to crack the right SMS marketing strategy, others are struggling to set up the right automations to reach different segments of their customer base.
That's exactly why it is important for Shopify stores to choose the best SMS marketing app.
In this blog, we're going to talk about the different aspects your Shopify store must look into when choosing an SMS marketing software for eCommerce.
Choosing the best SMS marketing app for your Shopify store
We have created this list based on the key parameters that matter for an SMS marketing platform, keeping in mind the evolving requirements of eCommerce businesses.
1. Compliance
There are set rules, regulations and compliances set for sending text messages from businesses. They may vary from one state to another or based on the country your customer is located in. Either way, not adhering to these compliances can result in heavy fines and your business getting banned.
So the very first thing to look for is the compliances – the best SMS marketing app for Shopify stores will be GDPR and TCPA complaint. These are rules set by the Federal Communications Commission (FCC), Federal Trade Commission (FTC) and Cellular Telecommunications Industry Association (CTIA).
2. Segmentation
Just like email marketing, the only way to get results from SMS marketing is when you create campaigns contextual to your target audience. This requires active segmentation of your SMS subscribers based on their point of subscription, previous purchases, demographics, and other similar parameters.
The best SMS marketing app for Shopify will let you upload segmented lists of SMS subscribers to help you create separate campaigns for each. This enables you to also monitor which of the segments tends to actively respond to your text messages.
3. Automations
The role of an SMS marketing app is to ease automation of campaigns across the customer lifecycle. This includes the point of subscription wherein you send them a welcome message, campaigns for promoting your deals, abandoned cart recovery notifications, restock alerts, order and shipping notifications, and more.
Remember that the best SMS marketing app for Shopify will make it simpler for you to set up these automations. This is where they create easy-to-use and customize workflows for automations which can be used to set up campaigns in no time.
4. Discount generator
Having to create discounts on one app and using them in another can result in confusion and lack of attribution. But discounts do play an important role in SMS marketing campaigns to entice buyers into coming back to your Shopify store – so you can't skip on them either.
A good SMS marketing software for Shopify will come with a feature to create unique, one-time discount codes for every customer. This enables you to also prevent misuse of coupon codes and avoid online frauds that can cause harm to your business revenue.
5. Integrations
No marketing channel should work alone. In a world of omnichannel selling, it is important to use all the key customer touchpoints and campaigns in tandem. This is where it becomes important for you to ensure customer data is able to flow from one app to another for ease of use.
The best Shopify SMS marketing apps come with strong integrations with other eCommerce marketing and conversion solutions. This includes CRMs, email marketing tools, Facebook Messenger tools, customer loyalty program apps and more.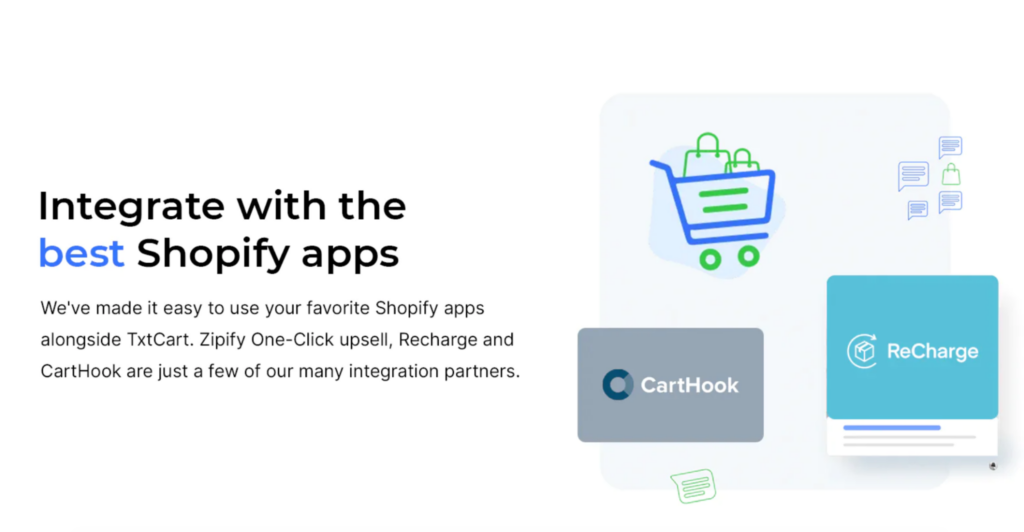 6. Analytics
For a business to know how much value SMS marketing brings to them, it is vital for them to be able to measure successes. This is where looking into the number of messages sent per campaign type, automation workflows triggered, open rate, click through rate, response rate and sales generated comes into play.
The best Shopify SMS marketing apps like TxtCart have built a powerful insights and analytics dashboard. It helps brands see what type of campaigns see the most positive outcomes, enabling them to double down on the strategy.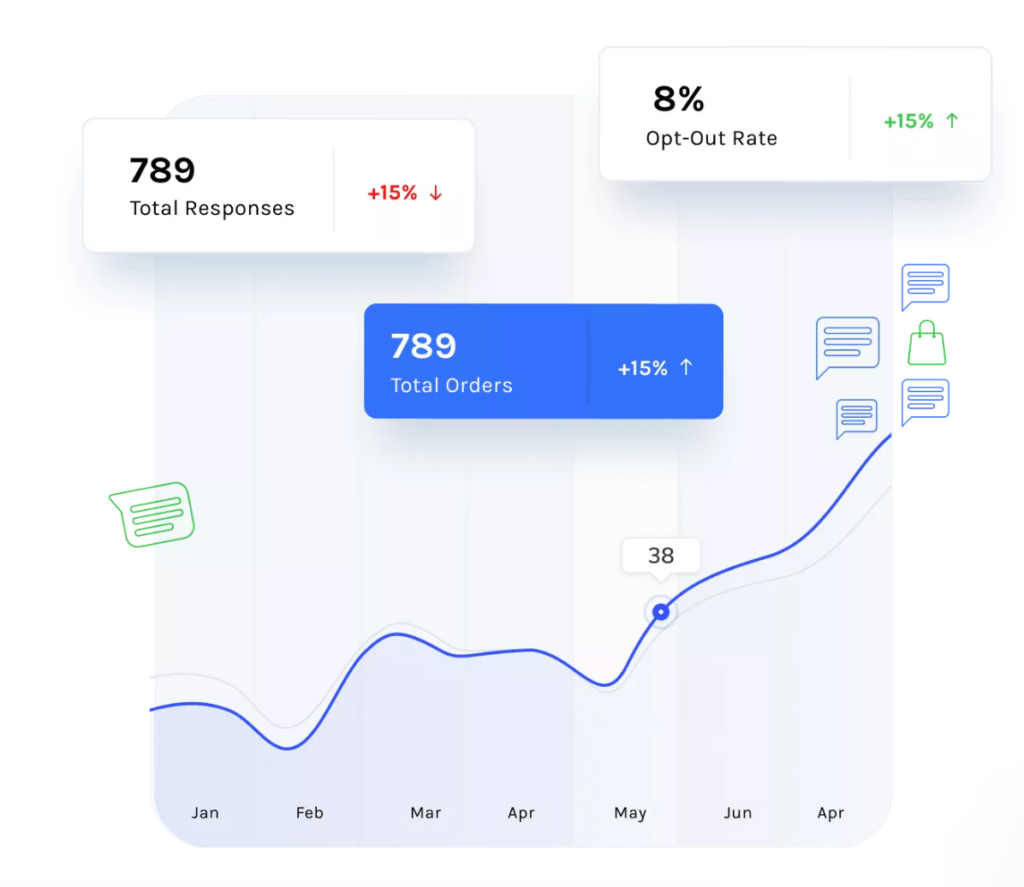 7. Conversational capabilities
Most SMS marketing apps on Shopify enable businesses to set up text message marketing campaigns – but it ends right there. They forget that automation alone is like a one-way broadcast of messages, which does not tap into the natural use of SMS – which is to have conversations.
The best SMS marketing app for Shopify comes with advanced conversational capabilities. This includes having a team of live agents to tackle incoming queries and turn every reply on an automation into an opportunity to converse with customers. For example, TxtCart has enabled eCommerce businesses to set up two-way SMS marketing campaigns that help understand buyer intent, interest and upsell and cross-sell products.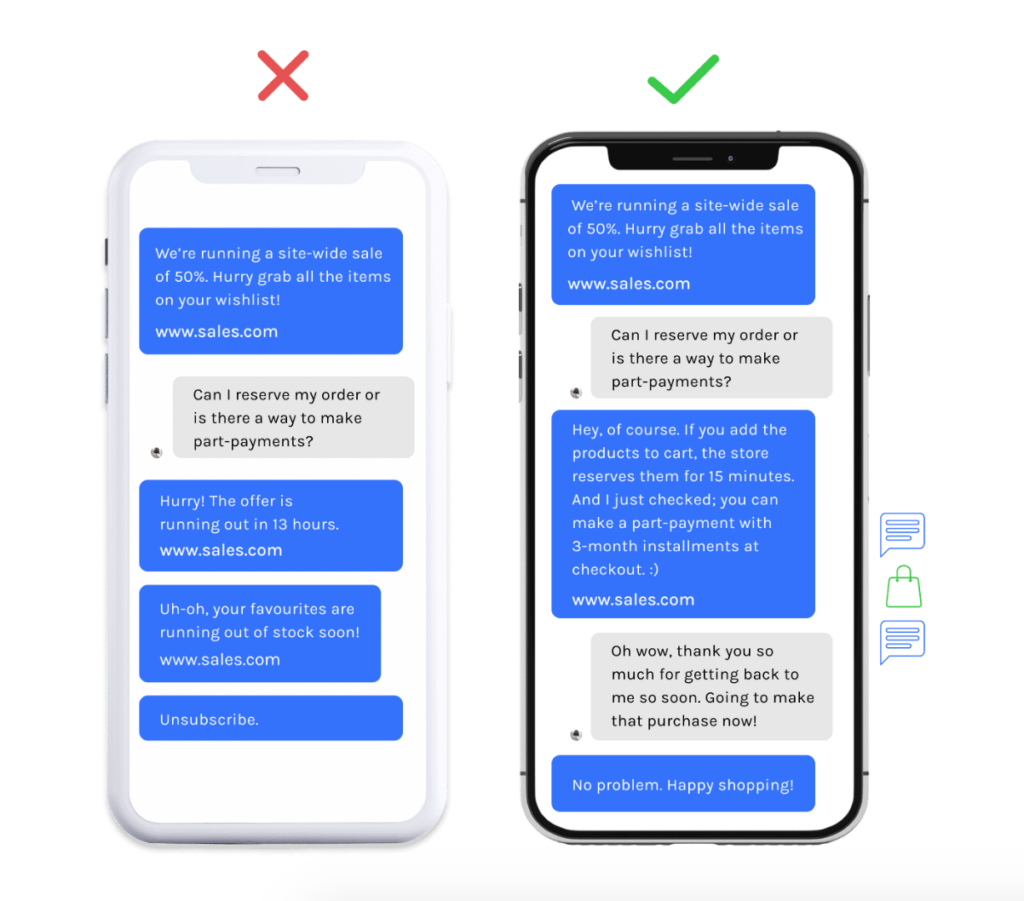 8. Custom branded URLs
The number of frauds and data breaches happening online have increased over the last few years. This has made consumers wary of clicking on links that even get sent by businesses if the URL does not look branded.
The best SMS marketing app for Shopify stores will ensure that your branding gets carried forward in your URLs as well. They will let you customize the URL structure and include your brand name for easy recall, authenticity and security.
9. Customer support and success
Shopify stores need an app that can evolve as rapidly as their growth. This may include setting up new campaigns, automation workflows or being able to build out a custom growth strategy.
So the SMS marketing app you choose for your Shopify store must come with a reputation of providing timely customer support and success services. While support is for when something does not work or you need customizations and new integrations, a success team is one that works closely with you to ensure the right SMS marketing strategy is in place for your brand.
10. Pricing
And then of course, there is the pricing element.
As a Shopify store, your needs may change over a period of time. This includes the number of SMS marketing campaigns you need to set up or the integrations you need to use, and other aspects. The pricing for SMS can then quickly increase as you scale the functions you want it to serve.
The best Shopify app will give you an SMS marketing pricing that can scale as you go. This enables you to easily upgrade or downgrade depending on your current business needs, helping you manage cash flow and billings of apps in a more streamlined way.
11. Templates
Creating SMS marketing campaigns from scratch can be tedious and requires a lot of creative work. If you don't have a marketing team, this can turn into a blocker and stall your campaigns infinitely.
The best SMS marketing app can help you by providing ready-to-use and customizable message templates. This enables you to quickly tailor the message to suit your branding and get started with your first campaign in no time!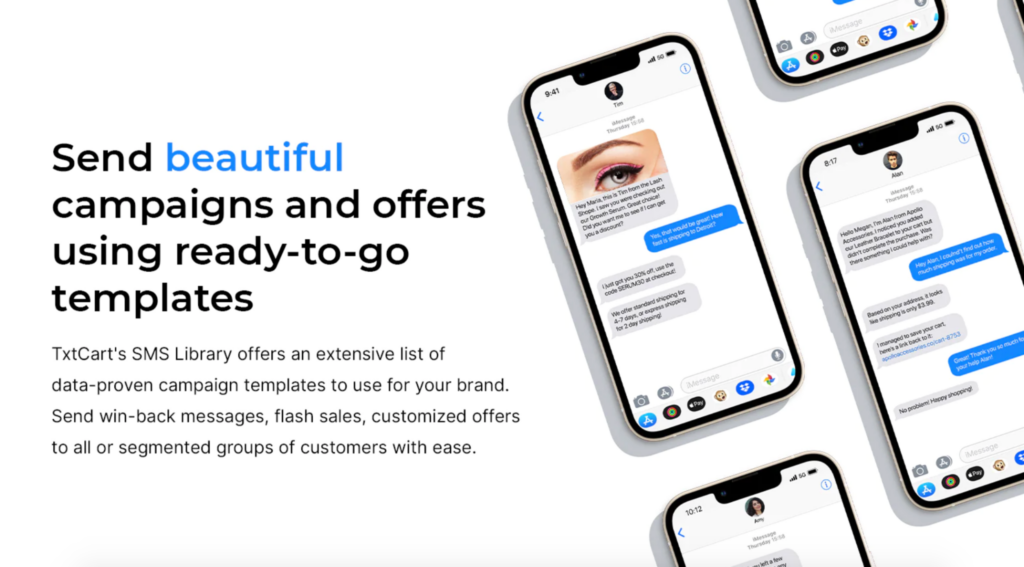 Are you using the best SMS marketing app for your Shopify store?
We understand that when you are just getting started with SMS marketing, you may want to choose an app that gives you the easiest way to set up your first message campaign or has the lowest pricing.
But it is important to understand that as you scale your business, it can become difficult to remain compliant and be able to keep track of your customer data. That's why paying a little more attention to the app you choose is important.
If you haven't been able to turn SMS marketing into a channel that grows your business, it is time to change the SMS marketing app your Shopify store is using.
Whether you're someone getting started with SMS marketing or someone who needs to migrate their data to a better solution, book a demo of TxtCart today. 
Compare the best SMS marketing apps on Shopify