With open rates as high as 98% and engagement rates 6-8 times higher than email marketing, SMS marketing continues to be one of the most preferred channels of communication among Shopify marketers. Even though it is quite a traditional form of marketing, SMS has proved its efficacy in driving engagement and conversions time and again, which is why it remains indispensable in any eCommerce marketing playbook.
However, engagement, conversions, response rates, and click-through rates are not the be-all, end-all of SMS marketing. In fact, not even close. To be able to effectively leverage SMS marketing, you need to comply with a certain set of privacy and security rules so you stay well within the legal guidelines laid down to protect customers' data and privacy.
SMS marketing compliance rules and regulations are laid down by TCPA, CTIA, and CCPA (we shall go over in detail about each of them). While it may sound overwhelming at this point, compliance isn't complicated to understand and the laws aren't difficult to adhere to.
If you're not sure your SMS marketing app adheres to all compliances or are looking for a reliable partner, install the TxtCart app on your Shopify store today.
So, let's dive right into understanding more about these acts and the organizations responsible for them:
What is the TCPA?
The Telephone Consumer Protection Act (more popularly known as TCPA) was passed by the US Congress in the year 1991. It was signed to put a check on unregulated and unsolicited telemarketing calls, faxes, and text messages. The aim was to ensure that no business gets to harass customers with repeated unsolicited prerecorded voice or text messages.
A set of stringent rules and regulations were published that businesses have to adhere to when communicating with customers without their explicit consent. Businesses were also responsible for adhering to the Do Not Call Registry which allows people to opt out of receiving any telemarketing calls. As per the Federal Law, if any business fails to comply with the regulations listed in the TCPA or violates them, the receiver has a right to sue.
What is the CTIA?
CTIA or the Cellular Telecommunications Industry Association (until 2004) / Cellular Telecommunications and Internet Association (post 2004), is a non-profit trade association that represents the wireless communications industry of the United States. Headquartered in Washington, D.C, and established in 1984, the CTIA is a group of mobile manufacturers, developers, telecom businesses, wireless carriers and suppliers, and even wireless service providers.
The aim of the association is to foster best practices that ensure development, growth, innovation, and investment in the wireless industry, as well as set up and promote compliance and regulatory measures around data privacy and security. Their in-depth guide – Messaging Principles And Best Practices details out the frameworks that enable robust and dynamic wireless exchange of messages, while safeguarding consumers from unwelcomed ones.
What is the CCPA?
The CCPA or California Consumer Privacy Act came into effect in 2018 and aims to safeguard the data privacy of the residents of California, United States. It empowers consumers to have more control over their personal data and businesses that use it for marketing.
As per the CCPA, consumers have a right to know how their personal information collected by a particular business is used and shared. They also have a right to delete any personal information they have given out, the right to opt out of sharing any personal data, as well as the right to non-discrimination while practicing their CCPA rights.
This act is applicable to citizens and businesses based out of California, as well as to anyone who does business with them, and gives Californians the right to ask for a report of all their personal information a particular business has collected and/or shared.
How to make sure you're complying with all SMS marketing compliance?
Following are some tips and best practices to adhere to so as to ensure you comply with all data privacy rules and regulations and avoid violating any law:
Get prior consent from subscribers
When it comes to SMS marketing compliance, consent is everything. You need prior consent to send out automated marketing text messages. Customers must explicitly opt in to receive marketing communication from your brand and legally share their phone numbers with you. As Shopify store owners, there are several ways to gather customers' phone numbers as well as ask for their consent. Some of these include the checkout page, the thank you page, or even a text message that asks receivers to send in a reply if they wish to receive updates regarding offers and so on.
Make sure to explicitly specify –  "By signing up, you agree to receive recurring automated marketing messages at the phone number provided. Consent is not a condition of purchase. Reply STOP to unsubscribe. Your phone number will be removed from the program after you receive one final message confirming your removal. You will not receive future messages unless you opt back in."
Checkout and thank you pages are a great place to welcome users to sign up for your text marketing list as they have recently trusted you by making a purchase on your Shopify store. You can add a simple sentence along the lines of – "Receive regular updates about ongoing sales and offers by signing up to receive text messages."
Never, ever mislead customers
Your text message must not mislead the receiver, instead, tell them exactly what they are signing up for. For instance, instead of "SMS I am in to receive a free skincare sample of your choice", be clear and say "SMS I am in to join our exclusive mailing list and receive a free sample of your choice". Customers will appreciate your efforts to be honest and accurate.
Misleading is highly unethical and only results in more percentage of opt outs and a higher unsubscription rate as sooner or later, customers see through the marketing lingo and do not appreciate it.
Be as transparent as possible
Try being as transparent as possible in all your text messages. Promise exactly what you intend to deliver and avoid trying to trick receivers into expecting something completely different just to get them to improve your click-through rates. Such practices only frustrate customers and end up costing you mean meaningful customer relationships that took months or years to build.
Be careful and considerate when timing your messages
You don't want your customers to receive a promotional message at 3 am, do you? Therefore, while scheduling your text marketing messages, make sure you are mindful of your subscribers' time zones and accordingly time your campaigns so that you don't end up annoying them no matter which part of the world they are in.
Avoid using ambiguous or vague phrases
Even though the number of words is a constraint when crafting a text message, you want to make it as comprehensive as possible, leaving no room for confusion or ambiguity. Respecting your subscribers' privacy and decisions by offering all details possible will only help double down your open and click-through rates.
For instance, instead of saying "Reply to this message with your name to join the exclusive rewards program", be explicit and mention "Reply with your name to join the exclusive rewards program by signing up to receive promotional messages."
Always offer an opt out/option to unsubscribe
In order to comply with CCPA and GDPR regulations, make sure you always explicitly offer an option for subscribers to opt out of receiving promotional emails from your brand. This can be offered on your Shopify store itself or even over a text message wherein you highlight that receivers can reply with "Stop" to opt out of your marketing lists.
This will also help provide customers with a certain degree of reassurance that their personal information is safe and they have an option to opt out of receiving SMS marketing communication whenever they would like.
Avoid prohibited words or phrases at all costs
Words that suggest or provoke any kind of illegal or violent behavior, phrases that constitute adult content, or politically incorrect language must be completely avoided. A business could suffer a heavy penalty if such an SMS is reported or in most cases, these end up in the spam folder.
Secondly, to avoid your SMS from getting sent to the spam folder, steer clear of spam words or phrases such as "earn money", "win cash", "get paid", "guaranteed", "free gift", "increase sales", "extra income", "cash bonus", "act today, "limited time", "congratulations", and so on.
Never overdo it with too many messages
Sending too many marketing messages in a day or over a week can be overwhelming for your subscribers, or even worse, extremely frustrating. You don't want to overdo it by sending too many messages, but instead, restrict the number of promotional messages you send to a particular user over a particular period to increase its impact in grabbing attention.
To avoid spamming customers, have a minimum cooldown period before which you can shoot the next one. This could be 18-24 hours to 2-3 days.
Make sure you have a conversation too
SMS marketing automation is great. It lets you reach your customers just in time. But then, if you're not going to use a text channel to actually talk to the customer, is it even texting?
This is where you should explore using SMS marketing apps like TxtCart Plus for your Shopify store. The app leverages the power of marketing automation and live eCommerce agents to strike a conversation with subscribers to understand them better.
Want to know how this works? Try the TxtCart app for free.
Why have SMS marketing compliance in place?
Black hat marketing, unethical marketing tactics, and malpractices in digital marketing are way more common than we may think. With roughly 12 to 24 million eCommerce stores in the world, competition for customer attention is ruthless, and often times, marketers tend to ignore the line between being pushy and spamming. Therefore, a set of rules and regulations that govern the entire SMS marketing ecosystem is essential to minimize malpractices and ensure customers' security and data privacy.
To put the interest of consumers above that of businesses, the existence of such laws and associations that make and govern them is paramount.
Why use SMS marketing?
It's natural to feel a tad overwhelmed after going over SMS marketing compliance regulations. You might also want to ditch SMS marketing altogether to avoid having to educate yourself about it. However, allow us to remind you that while compliance might be the boring aspect of SMS marketing, the competitive advantage it offers is still unparalleled, thus making it an irreplaceable marketing channel for eCommerce businesses. Let's take a step back and revisit some of the benefits that SMS marketing has to offer:
It is a direct and personal customer communication channel
SMSes offer a direct, one-on-one communication channel with customers through highly targeted messages which is not possible in a lot of other avenues. It is a personal form of reaching out to your customers with offers or updates that are exclusive to them. This is probably why SMS boasts such impressive open rates.
It surpasses other marketing channels in terms of performance
Whether it is open rates, click-through rates, engagement levels, response rate, or even average response times, SMS marketing outperforms all other channels in terms of how it performs. This alone should be reason enough to incorporate the same into your marketing strategy.
Here's a look at some of the powerful SMS marketing statistics, as per Digital Vidya: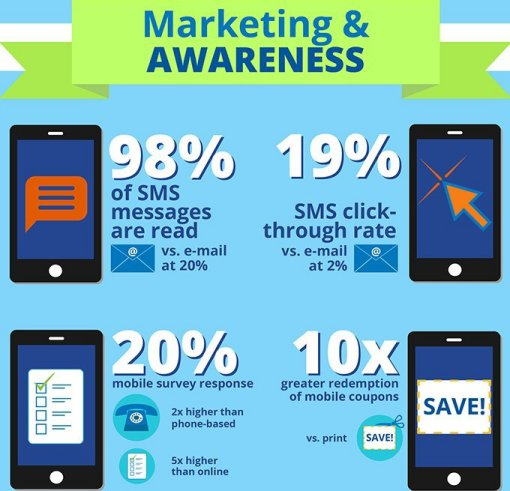 Ideal for the mobile-first world
It's the era of mobile-first and it's going to remain that way. SMS marketing allows eCommerce businesses to stay connected with their dynamic, on-the-go, always on, mobile shoppers. SMS marketing is truly meant for the mobile-first world and for consumers who spend way more time on their mobile phones than other devices. Moreover, given that more than 50% of online traffic comes via mobile, there is really no reason to doubt the reach of mobile and SMS marketing.
Instant delivery
Imagine sending out details of a time-sensitive offer being run on your store over email. There's a good chance that the receiver views it once the offer no longer exists. With SMS, you can literally reach any customer in any part of the world in literally seconds, thus making marketing time-sensitive situations extremely effective.
It is inexpensive
Digital marketing today requires brands to set up their presence across all channels, thus causing marketing budgets to rise rapidly. And with such diversity in the target audiences, marketers cannot really afford to miss out on any avenue that might get their store any amount of traction.
Therefore, it is only logical to include a cost-effective marketing channel in your overall strategy that works, but also doesn't burn a hole in your pockets. SMS marketing is exactly that. It is extremely affordable when compared to traditional marketing channels as well paid ones such as Facebook or Google ads.
Need more reasons to use text marketing on your Shopify store? Here are some text marketing statistics you absolutely need to know of. 
Ready to start using SMS marketing for your Shopify store?