2020 has changed the way consumers shop, where they shop from, and their preferences. With more retailers moving online, your Shopify store needs to stand out to reach consumers among the noise. Text marketing is one of the best marketing channels, communicating with your shoppers instantly, even when they are offline.
But, with these changing trends, you also need to adapt your text marketing strategy to fit how consumers are buying in 2021. We put together an extensive list of texting marketing statistics along with actionable ideas to help you plan your 2021 marketing strategy.
Text Marketing Statistics To Help You Plan Your Text Marketing Strategy in 2021
Five billion people in the world have access to sending and receiving SMS.
SMS is the most common marketing channel, used by 5 billion people across the world (or 65% of the population).  This is mainly because of 2 reasons:
Receiving SMS is built into every smartphone. Shoppers don't have to install an app to be part of an SMS subscriber list.
Shoppers don't need to be online to receive text messages. Texts are sent even when shoppers are offline, avoiding usual limitations that other marketing channels face.
As a Shopify store, you must have SMS within your marketing arsenal to be able to cater to a larger audience and reach your shoppers better.
Get started with TxtCart now to send personalized marketing messages to your shoppers.
Marketing message volume will increase by 40% next year as brands try to hold on to customers and drive new purchases.
Brands plan to gain momentum through their virtual presence in the coming year, bringing back consumers and building loyalty to increase sales. To do this, they would use different marketing channels, from SMS to email, and send marketing messages more frequently than ever before. In fact, there will be a 40% increase in the number of marketing messages being sent in 2021.
With fuller inboxes and higher unsubscribe rates, your marketing messages might get lost in the noise if you aren't a brand that shoppers are eager to hear from.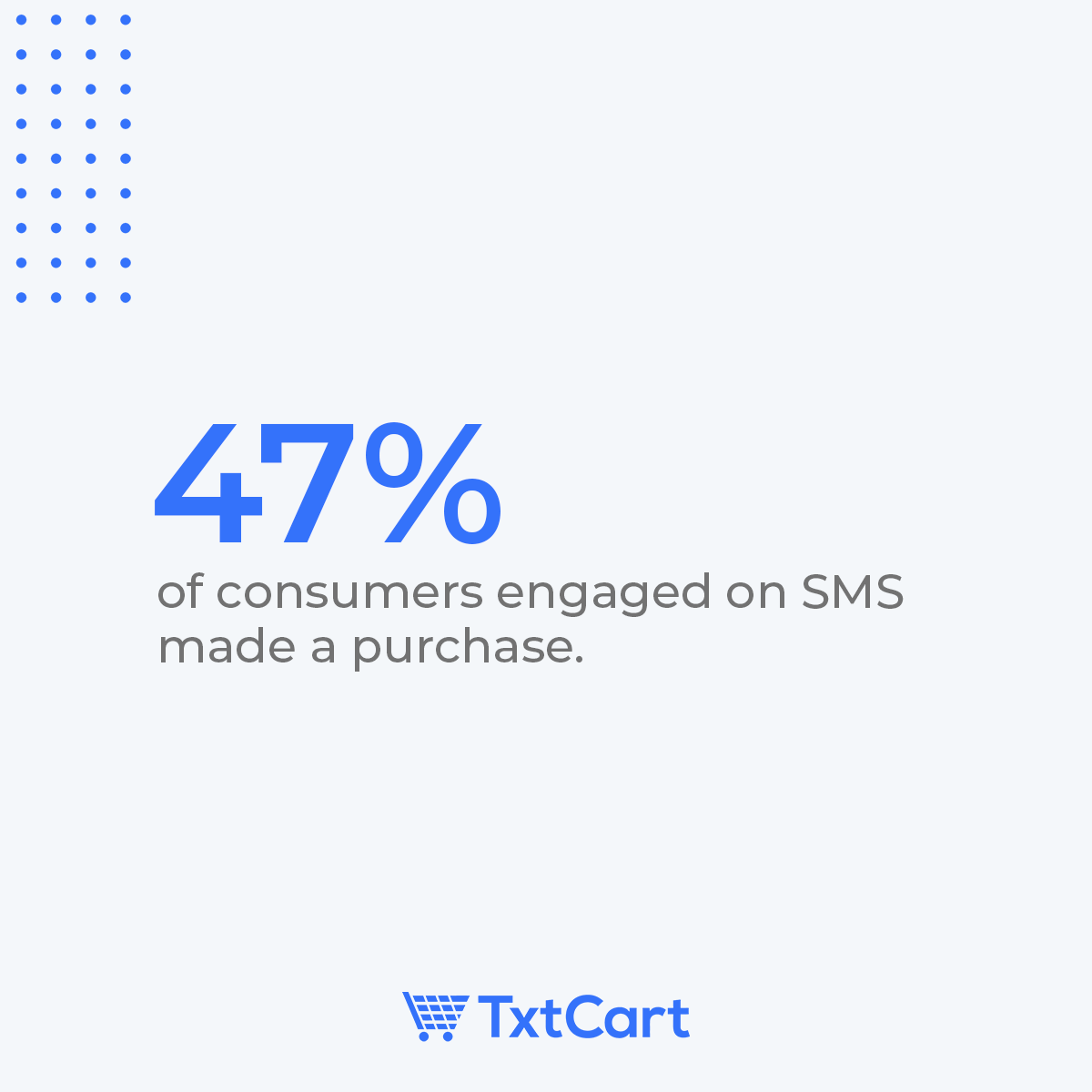 What can you do to stand out and ensure that shoppers open your messages as soon as they receive them?
Create marketing messages that are value-adding, unique, and tailored to your shoppers.
Use personalization elements and send triggered promotions based on your shoppers' browsing and purchasing trends.
Use human-powered text marketing to provide real-time assistance to shoppers and incentivize them to buy.
SMS marketing that uses human-automation has a 2,482% Return on Investment.
Conversational marketing is on the rise and merchants who set up marketing that is relatable and humanized are winning more sales. In fact, brands that set up a human automated SMS marketing app have been able to earn $2482 USD for every dollar they spend.
If you aren't familiar with human-automation, we'll give you an easy explanation. Human automation allows you to engage with shoppers in a more conversational manner, tailoring your message and offer to the shopper and their needs. With this technology, you can assign live agents to chat with shoppers who respond to your text messages, answering queries and finding the best way to motivate your shoppers to purchase.
Human automation is the future of marketing, making your messages more conversational and converting your shoppers better.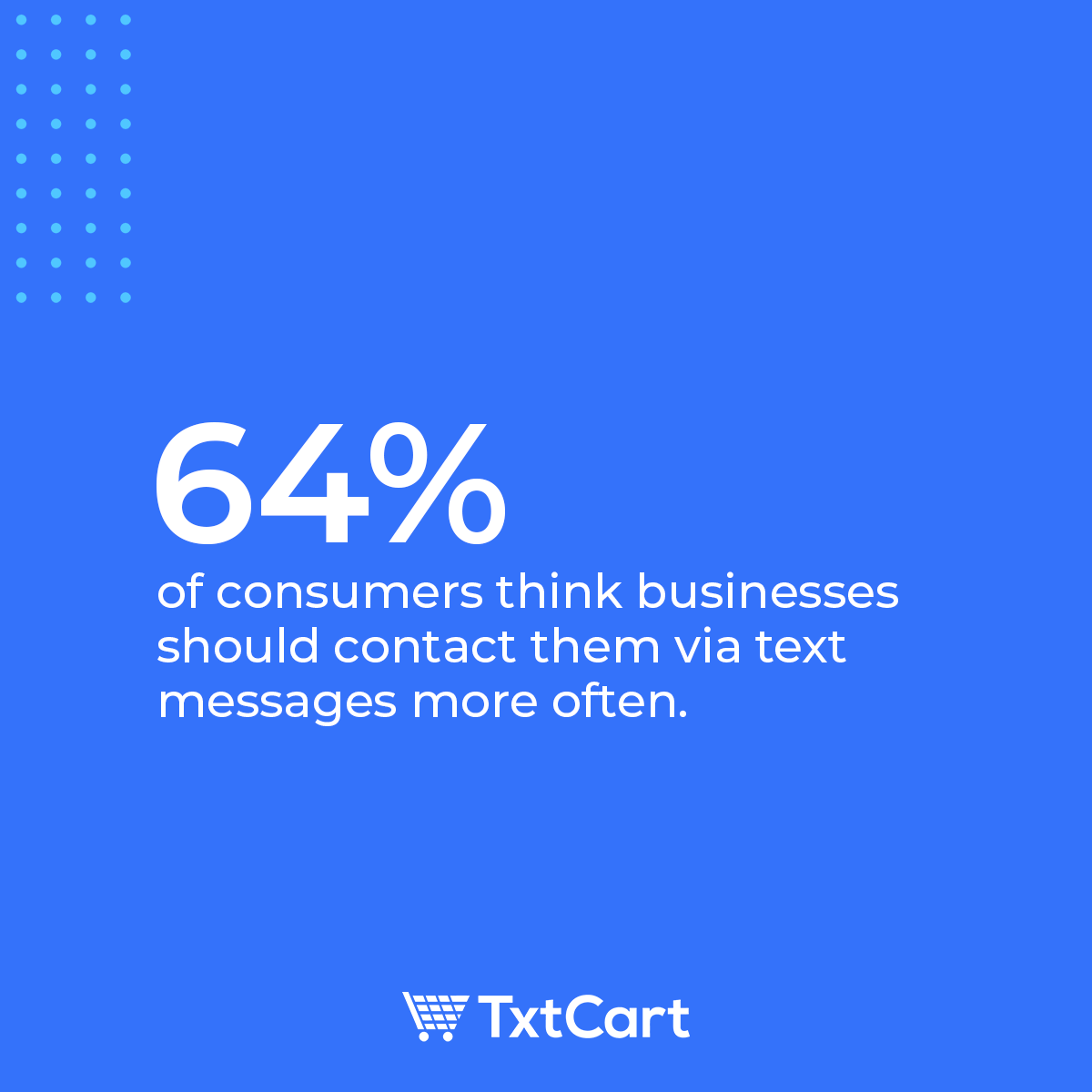 Get started with human-automation in your text marketing by installing TxtCart. 
Consumers redeem SMS-delivered coupons 10 times more than other types of coupons.
If you frequently share discount coupons with your shoppers, your SMS campaigns are sure to have better engagement and usage rates than any other marketing channel. It was found that consumers redeem coupons sent through an SMS campaign 10 times more than any other type of coupon.
This just goes to show how instant and highly-visible SMS campaigns are.
Pro-tip: Use "Shareable Discount Links" from your Shopify dashboard to automatically apply discounts for shoppers who click on the link within your SMS campaign.
91% of consumers say they are more likely to shop with brands that provide offers and recommendations that are relevant to them.
Personalization can increase sales. More importantly, non-personalized messages can cause low engagement and high unsubscribe rates.
91% of consumers say they are more likely to shop with brands that provide offers and recommendations that are relevant to them.
When crafting your SMS campaigns, send messages that upsell and recommend products to shoppers based on their browsing and purchasing behaviour. For instance, if a shopper buys a pair of jeans, you can upsell with your T-shirt collection or if a shopper buys a coffee maker, you can upsell with a packet of coffee beans. This way, you'll see better clicks and conversions rather than through generic sales and product promotions.
Send upsell SMS campaigns using TxtCart and convert shoppers better.
Text message marketing campaigns have performed around 7 times better than email.
Email has spam limitations and requires shoppers to open another app to access. On the other hand, shoppers can read your SMS from the notifications tab and be enticed from the moment they receive it.
This is why text message marketing is the clear winner when compared to email, performing 7 times better. What's more, text marketing has a 209% higher response rate than Facebook, email or voice messages.
Most merchants choose a multi-channel approach to the market, communicating through different channels. If you want to avoid spamming your shoppers and want to reach out to shoppers with just one channel at a time, use SMS to send the most important details like order updates, abandoned recovery, etc.
75% of consumers prefer to receive text messages when it comes to promotions or information related to deliveries.
Shoppers are anxious to get instant updates of their orders once placed. This post-purchase anxiety is best curbed through real-time updates via text messages. 75% of consumers want to receive text messages about their orders.
Set up transactional text messages updating shoppers as soon as their order is confirmed, on the way, and delivered. Make it even easier for shoppers to see where their order is and when it will reach them through a tracking link.
By the end of 2020, 48.7 million consumers will have willingly opted-in to receive SMS communications from their favourite brands.
Consumers are more open to receiving marketing promotions especially when it comes to brands they love. In fact, you don't even have to add an enticing offer to get them to subscribe. By stating your value proposition clearly, you can get more shoppers to subscribe to your SMS promotions.
The increase in SMS subscriptions is vast this year. By the end of 2020, as many as 48.7 million consumers would have opted-in to receive SMS communications.
How can you leverage this eagerness that shoppers have to subscribe to SMS? Here are a few ways to increase subscription:
Set expectations on the kind of messages that shoppers will receive and how frequently they would receive them.
If you also send non-promotional SMS campaigns, let shoppers know about the value you add, whether it's a helpful message or a tip you share every week.
If you have enabled human automation, let shoppers know that they'll be interacting with real humans through your SMS to prompt them to respond.
71% of customers expect companies to communicate with them in real-time.
What would make customers choose to shop from your Shopify store and turn them into loyal shoppers? A premium customer service, of course!
A tailored customer service can make your shoppers feel special and help them find exactly what they need to motivate them to buy from your store. But, customers don't just want a personalized experience. They also want to communicate in real-time.
71% of customers expect companies to communicate with them in real-time. With shoppers preferring instant gratification and even switching brands if their needs aren't met quick enough, brands need to set up real-time and more accessible communication channels for customers to easily reach out to you.
This is where human-automation helps. Human automation lets shoppers respond to your SMS promotions and get instant responses from live agents. These SMS experts will understand your shoppers' needs, solve their queries, and motivate them to successfully make a purchase.
You can set up human-automation within your SMS campaigns using TxtCart.
Best Practices for SMS Marketing in 2021
Now that you know how to maximize engagement and revenue through text marketing in 2021, here are some best practices based on the text marketing statistics that you need to put into action immediately.
1. Sound like your brand
When writing your SMS copy, ensure that the message stays consistent with your brand tone and is interesting enough for shoppers to engage with. Despite being a short promotion, every word counts.
Take time to test different wordings to craft an SMS message that is engaging from the first word and sounds like your brand.
2. Conversation is key
Just sending promotions isn't enough. You also need to ensure that you can cater to your shoppers' immediate needs, provide real-time help, understand their motivations, and incentivize them to buy.
Set up human automated text marketing with TxtCart to create a conversation with shoppers, increase the response rate, and get more purchases through your SMS promotions.
3. Add CTA text to nudge action
Once you've spelt out your offer to your shoppers, you need to guide them to their next steps. Add a line of text as a CTA (Call to Action) at the end of your SMS campaign to guide your shoppers to take action.
This CTA can describe what would happen when shoppers click through. Here are some examples:
Go back to your cart to complete your purchase.
Get 50% off on your order now!
Finish shopping.
4. Make it as easy as possible to redeem a discount code
When setting up your SMS campaigns that include an offer or discount, you have to make it as easy as possible for your shoppers to use that discount. Add shareable discount links within your SMS campaign so that the discount is automatically applied when shoppers head to your Shopify store.
5. Use urgency
One copy tactic that works wonders within marketing messages is urgency. With urgency words, you can elicit faster action from shoppers and get them to buy sooner. You can use urgency phrases like "24 hours left", "Don't miss out!", "Expires soon", and "Limited deal, hurry", to get shoppers to take action.
Frequently asked questions about SMS Marketing for Shopify Stores
What is SMS marketing?
Simply put, SMS marketing is the practice of selling via text. Businesses send these texts to leads and customers that have opted into an SMS service, usually receiving promotional sales campaigns, confirmation messages, direct conversational messages and more.
Learn about SMS marketing in detail.
How do I send SMS from Shopify?
You can send SMS from Shopify using TxtCart. Using the app, you can send campaigns, set up automated cart recovery messages, and engage your SMS subscribers through real-time conversations.
Here's a step by step guide to sending SMS from Shopify.
When should I use SMS marketing?
SMS marketing is commonly used to send shoppers promotions about sales and products as well as for triggered messaging like cart recovery. Merchants use SMS to recover carts since these messages are instantly sent and read as well as because SMS is sent even when shoppers are offline.
Learn more about cart recovery with SMS marketing.
What is the best text message marketing service?
TxtCart is the best text message marketing service for Shopify stores. The app helps you leverage conversational marketing, providing real-time responses to your shoppers and motivating them to shop.
Sell better in 2021 with text marketing!
With its high engagement rates, text marketing is an essential marketing channel for every growing Shopify store. Setting up text marketing, that too with human-powered marketing is easy.
TxtCart is a Shopify SMS marketing app that helps you engage and convert your shoppers with conversational SMS messages. With dedicated human-powered SMS technology and an easy to use dashboard, the app lets you set up high-engaging and human-powered text marketing strategy.
This way, shoppers can get a real-time response from live agents who will help shoppers with doubts and queries they have, understand their needs and preferences, and motivate them to buy.
Install TxtCart to set up human-powered text marketing and sell better in 2021.