A quick online search for the words 'SMS marketing apps' will show you thousands of options as of today. The sheer number of SMS marketing apps out there is going to leave you overwhelmed and confused.
And their number is multiplying like rabbits.
Thanks to the almost magical potential of SMS, everyone wants a bite from the same pie. With a 90% open rate, more than 45% click through rate and almost instant open time of 1 to 3 minutes, it's obvious SMS marketing is one of the most effective communication channels to tap into in 2022.
But that's only happening if you choose the best Shopify SMS marketing app for your store.
Having worked with thousands of online stores in the last year, TxtCart has risen up the ranks of an SMS marketing app that not just 'works' but delivers real results in terms of customer engagement, conversions and sales.
And there's a reason for that. Actually, we'll give you nine!
9 Reasons why TxtCart is the best Shopify SMS marketing app
1. It is designed to ensure cart recovery
Hundreds of online stores. Thousands of products for consumers to choose from. Marketing efforts slipping through the cracks. Increasing number of cart abandonments. (The average rate: 69-80%)
For many online stores, this is a regular story. And it's stressful. It affects revenue generation, profits, and the overall performance.
SMS having the highest open rate, it's no surprise that it has found a key role to play in reviving abandoned cart sales.
As SMS became a must-have for eCommerce, one tool that became synonymous with cart recovery is TxtCart.
The app's features are built keeping in mind cart recovery goals of online stores.
When shoppers abandon carts, TxtCart immediately follows up with them via the contact information they shared
TxtCart live agents reach out to the shoppers to understand the reason they abandoned the cart with two-way SMS marketing
TxtCart agents use the information available on your website and the FAQs section to reply to shoppers
Next, the app lets you offer incentives to entice shoppers back to your site. This incentive is of course based on what you want to offer
TxtCart agents talk to shoppers, convince them and push the shoppers to close the sale all by themselves!
2. Two-way SMS marketing campaigns
A study by Gartner says, "By 2022, 70% of customer interactions will involve technology, apps, chatbots, and mobile messaging."
Now consider this: It's almost 2022. You sent out promotional messages for a new collection you added on your Shopify store. And? That's it. Your marketing strategy ended on that one-way track.
In today's day and age of advanced technology and multiple communication tools, you might come across as arrogant or too salesy if you only speak at your customers and don't allow them to say something back.
That's where TxtCart earns points over other SMS marketing apps. While other apps simply offer automation features, TxtCart helps you engage customers in a human conversation.
Here's what you can do with a two-way campaign with TxtCart:
Work with live TxtCart agents to answer incoming visitor queries
Your potential customers actually get to interact with a human
Customers get to ask questions, clear their doubts, gain more information
More conversations mean more persuasion, conversions and sales
Ta-da!
3. Segmentation
Personalization of SMSes to your customers is important.
Let's back this up: A study conducted by the University of Texas reveals that people prefer personalized marketing messages because it makes them feel more in control. Moreover, in this age of information overload, it means they only receive relevant information. No fluff.
This brings us to one of the first steps to begin personalization – segmentation. And here's where the real beauty of TxtCart lies.
The app lets you upload segmented lists of shoppers based on different factors:
The stage at which they are in their journey with your brand
The interaction they've had with your brand
Their past purchase behavior
Their preferences for personalization
You can then send targeted and personalized messages to the different segments, which increases the chances of conversions on your SMS marketing campaigns.
That said, the app is built with an understanding that marketing SMSes aren't only about conversions as soon as possible; they're equally about communicating more effectively and offering a good customer experience.
4. Powerful analytics
No matter what strategy and method you use for your marketing campaigns, there's one aspect marketers swear by… analytics.
Analytics help you understand what is working for you, and what is not. Based on that, you would either continue with your strategy or make changes.
TxtCart's powerful analytics system makes it easy.
The dashboard is easy to understand
It enables you to keep a tab on customer opt-ins
You can monitor and analyze live agent interactions with customers
Track the orders placed through SMS campaigns
Here's a peek into its minimal, clear design:

5. Generate one-time discounts
So you're all set with your Shopify store SMS marketing campaign? Great!
Customers start trickling in. Add products to their carts. Some buy. Many abandon it. Oops!
What do you do? To entice them, you offer them a discount on the item.
But wait a second…
You forgot to figure out how you'll generate unique promo codes.
Don't fret. TxtCart has you covered. If you have the right tool on your Shopify store, your cart recovery campaigns will never suffer.
Here's what all the app is designed to do for you:
Generates unique one-time promo codes
Maintains branding with custom cart short URLs
Keeps an eye on real-time conversations with the customers
Shares in-depth insights from conversions
The app takes a minute to set up and just a few clicks
Here's how it happens: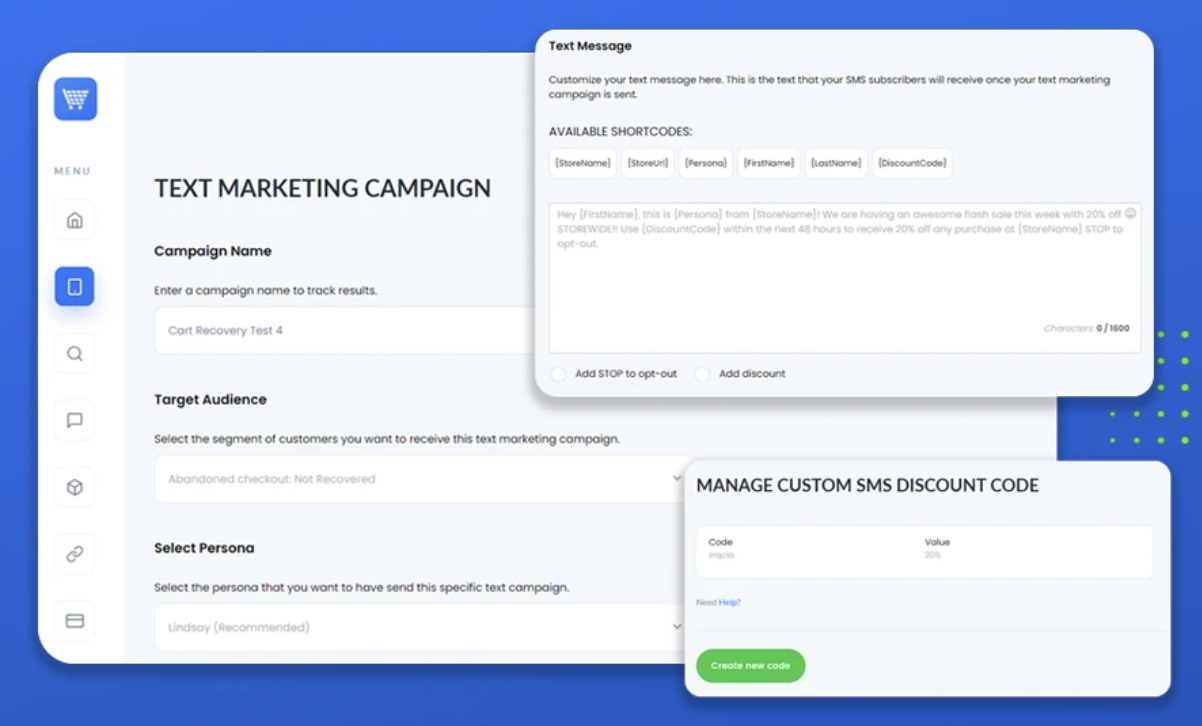 6. It integrates with the best of apps
It goes without saying that none of your marketing campaigns have to work in silos. In this advanced technological age, integration is key. How well your tools and systems integrate can make or break your business. TxtCart has the capability to integrate with all the best of Shopify apps.
The advantages of TxtCart integration are immediate:
The app offers a plug and play solution for SMS marketing for Shopify stores
The app auto-syncs with your existing apps and systems seamlessly. This means it captures customer information in a timely manner
You can do a lot more with TxtCart and its integrations with Shopify apps such as CartHook, ReConvert, Zipify, ReCharge and more.
7. Compliant with all rules and regulations
Here's a scenario – you send out marketing SMSes to a list you "found" somewhere. Next thing you know you're slapped with a hefty fine. Why? Because you can't just send marketing messages to people.
The right method to go about SMS marketing is to comply with privacy and security rules and stay with the legal guidelines laid down to protect customers' data and privacy. SMS marketing compliance is an absolute must. TxtCart is compliant.
The app follows the US TCPA (The Telephone Consumer Protection Act) and GDPR (The General Data Protection Regulation) regulations
TxtCart automates the compliance in the background so that you do not have to reach out to your customers especially
The app ensures your Shopify store SMS marketing is always compliant with the rules and regulations
8. Send reminders and win back texts
If you're a growing Shopify store, you know how stressful growth can get. From just a couple of customers, you now have hundreds, and more. Your work keeps compounding and you need a better system to make it manageable.
If you fail to manage your workstreams, it will directly affect your customers' experience and you might start losing them. Customer retention is important. For every business.
61% of retail companies cite customer retention as their biggest challenge.
How can you boost customer retention for your Shopify store?
In comes TxtCart to change the game for you!
The app sends reminder and win back texts, so you never lose customers
You can set up reminders and win back texts based on different customer segments
The app enables you to send texts instantly or schedule them for later
The all-in-one app means you do not have to use multiple apps
It makes customer retention activities less stressful and more manageable
9. TxtCart is the most reviewed app
"Freakin fantastic… I love the app… Amazing… Super… Great… Perfect…"
When TxtCart customers talk about the app, 99% of the time, they have something positive to say. The 1% of time they don't, TxtCart's customer service teams make sure they address the issues immediately and find a solution.
Businesses across industries are saying positive things about TxtCart. And you can read it for yourself.
Wrap-up
We've just scratched the surface of how TxtCart can help you create a more robust and effective SMS marketing strategy for your Shopify store.
And we're always improving, every day.
Install the TxtCart app for your Shopify store SMS marketing and set the ball rolling for success.