Here's a riddle…
What's an easy way to make more money from your eCom business without putting in much effort?
Nope, we're not talking about abandoned cart emails. Today we're discussing upselling.
Across millions of eCommerce stores, upselling is one of the best ways to increase average order value and pump-up profits.
But the thing is, good upselling is an art. It's pretty easy to go wrong if you don't have the right techniques.
So, here we'll break down five simple up-sell strategies you can implement to sell more and beef up your bottom line today.
Ready to get ahead of the pack? Let's jump in.
What is Upselling?
If you've ever 'gone large' at McDonald's, you already know what upselling is.
It's merely offering a more expensive option to your customer before, during, or after the purchasing process.
Among other things, upselling is incredible because:
It's much easier to sell to people who already have their wallets out
It can enhance your customer experience by introducing them to better products
It can boost your average order value by up to 35%
It allows you to spend more on customer acquisition (and get your competition quaking in their boots)
With the benefits out of the way, let's dive into four ground rules for effective upselling.
4 Basic Rules Of Effective Upselling
No matter what type of upsell strategy you intend to use, there's a few fundamental principles you need to understand first.
1. Don't Be Shady
Upselling has a bad rap for being a sleazy sales tactic. But in reality, it's not, at least if you do it well.
The last thing you want to do is ram repeated upsells down your customer's throats. Remember, upselling is supposed to improve your customers' experience, not detract from it.
So, offer a maximum of just one upsell per sale. Any more will only come across as sleazy, salesy, and pushy.
You don't want customers to finish checkout feeling like they need a shower.
2. Upsell Similar Products
If somebody is in the market for a new laptop, there's no point in trying to upsell them a desktop.
Instead, you'll have better success showing them what they can do with a more powerful version of the laptop they want.
Upselling 'older sibling' versions of products will get much better results than offering distantly related items.
3. Use Small Jumps in Price
The product you're upselling shouldn't be way more expensive than the one your customer is thinking about buying.
If the discrepancy is too large, people will hesitate, take the safe route and go with the cheaper option.
As a rule of thumb, your upsell offer shouldn't increase the cart value by more than about 30%. That's the sweet spot where you'll earn a nice profit and tempt many shoppers to buy.
4. Make Upsells Limited to the Transaction
For really useful upsell offers, make sure customers can't just get the same deal at any time on any day of the week.
Adding urgency and exclusivity to the transaction entices more customers to convert on your offer.
If they can upgrade and get 10% off the more expensive product right now, it makes it feel like they're missing out if they don't jump at the opportunity.
Psst…to learn more about upselling best practices, check out our mega-post on our blog.
5 Powerful Upsell Strategies For More Profit
Now that you're versed in the ground rules of upselling, here's five proven tactics you can try today:
1. UpSell Into A Subscription
Upselling doesn't always have to involve offering a higher-priced product to your customers.
For example, supplement company Huel upsells their customers into a subscription plan with an enticing 10% off. Using this approach, Huel has been able to quickly ramp-up customer retention and lifetime value.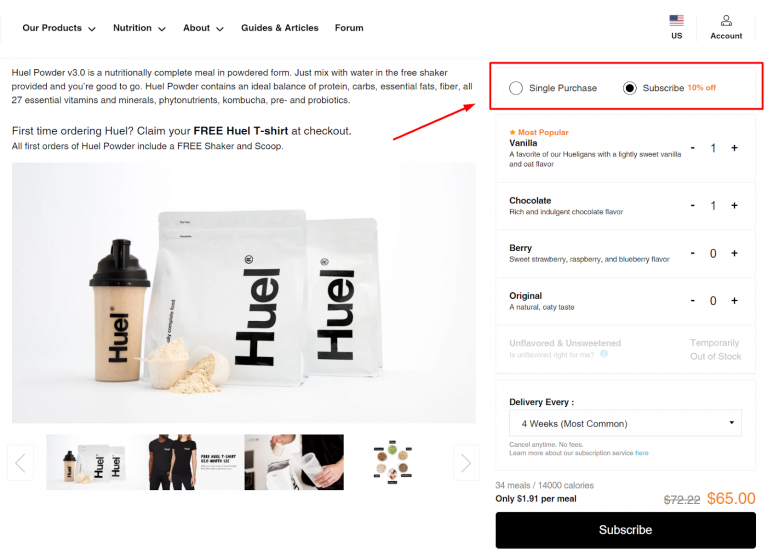 It's not for every eCommerce business, but if you sell replenishable products like coffee, toothbrushes, make-up, and so on, offering customers regular delivery helps both of you get more value.
You get predictable, recurring income, and your customer saves money. Plus, they don't have to worry about running out of their product or going to the store to get more.
2. Upsell Into a Bundle
Okay, to be honest, technically, this is a blend of a cross-sell and an upsell, but it's worth including because it's super effective.
It works by bundling complementary items into a set that helps customers get more value from the product they came to buy.
For example, instead of straight-up cross-selling related items for the DSLR camera above, Canon puts multiple products into a 'Creator Kit' that's cheaper than buying the items separately.
The customer gets more for their money, they enjoy a better product experience, and you get more revenue into your bank account. It's a nice win for everyone involved.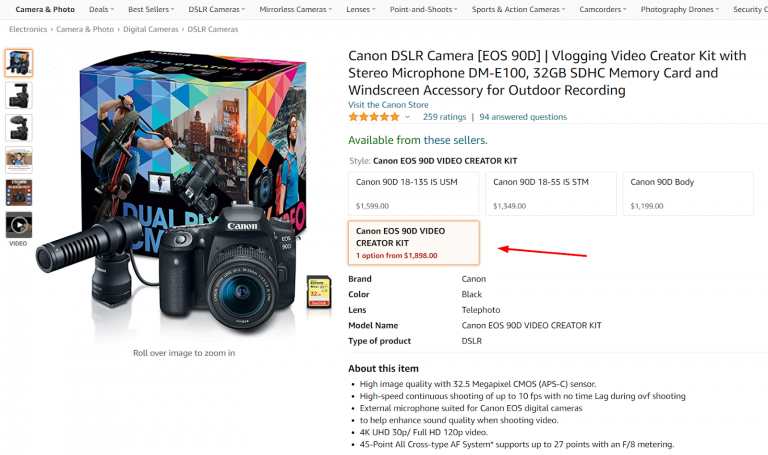 3. Upsell with Incentives
Offering special incentives is a fool-proof way to upsell customers to a higher cart value.
For example, Banana Republic gives shoppers free shipping on orders over $50. It makes sense for customers to buy more products, instead of spending the same money on shipping, right?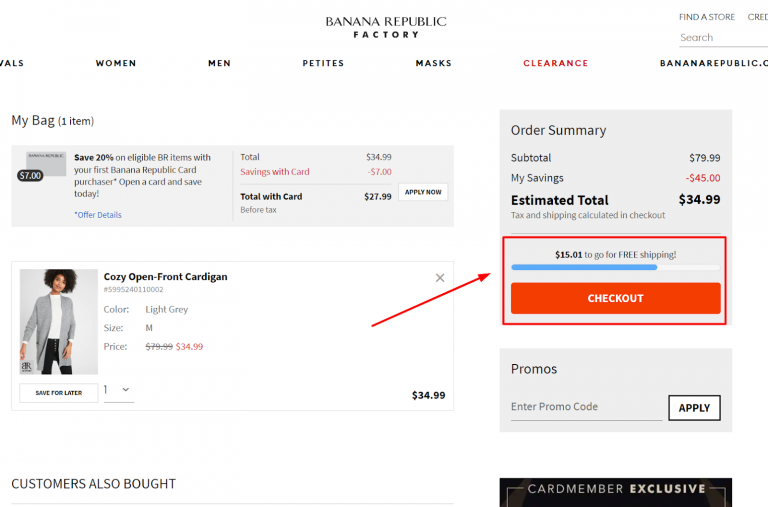 Although it works well, you don't have to offer a free shipping incentive. You can also upsell customers with:
Priority customer support
Expedited shipping
A free gift
Free returns
A discount on the next purchase
A donation to a cause they care about
Finding an upsell incentive that's profitable and appealing to your audience is an effortless way to increase your average order value.
4. Upsell Using Comparisons
While incentives are great, sometimes all you need to upsell is to show product features and benefits side by side.
Laying out precisely what customers get at various price points is a non-shady way to allow customers to make up their minds about which product is right for them and their budget.
Of course, the way you frame each option can influence the customer's decision. International florists FTD to this by titling different sized bouquets as 'good,' 'better' and 'best.'
While I don't specifically recommend this approach, letting your customer know which products other customers love is an excellent way to nudge them towards your best products.
5. Upsell on The Thank you Page
The thank-you page (also called the order confirmation page) presents a unique opportunity for upselling to your customers.
Why? Well, customers typically visit your thank you page multiple times during their post-purchase journey.
Once immediately after buying, again to check their order shipment status, and then also for any tracking updates.
This means optimizing your thank you page & adding upsells, lets your re-engage customers who recently completed a purchase and catch them when they are highly likely to buy again.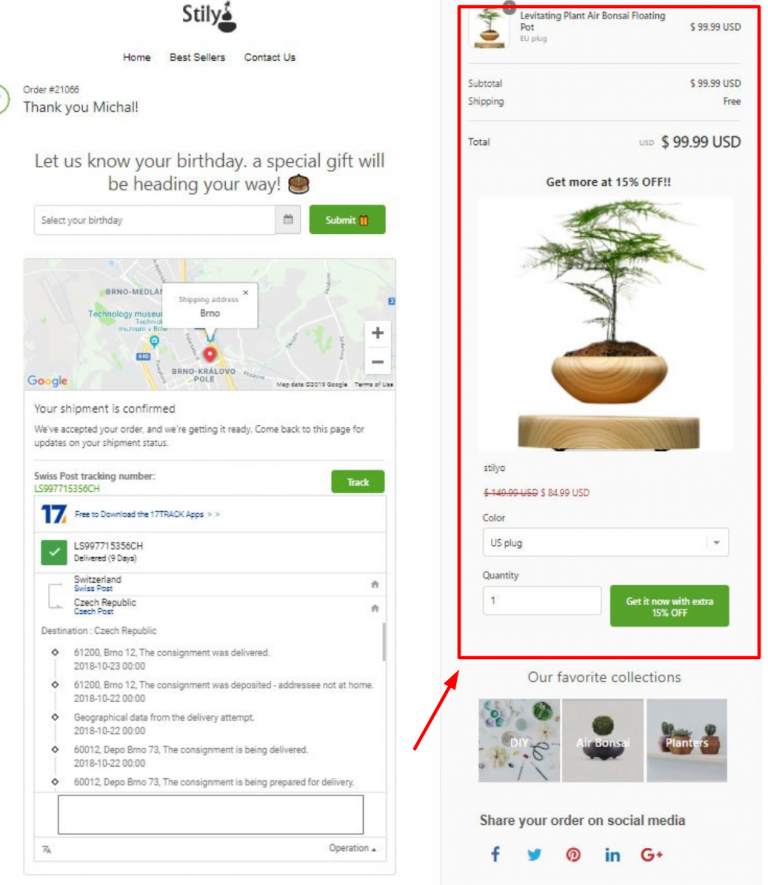 What's more, adding this functionality to your Shopify store is dead easy if you use our app ReConvert. ReConvert lets you build a native-looking thank you page in 15 minutes or less.
It's free, doesn't require any code, and pretty much everyone that uses it loves it.
Check it out here if you're interested.
6. Upsell on the cart page
Another way to upsell to visitors on your store is to show products in the cart page. This is when they are closer to making a purchase, and hence more likely as well to interact with the upsell campaign or offer you display.
iCart allows you to design your side cart and show upsells and cross-sells in the side cart/cart drawer with time-sensitive offers, progress bar, product collection recommendation, discounts, warranties, gift wrapping, order noted, images, text, and much more. So you can upsell before the visitor completes a purchase, bagging an order of a higher average cart value.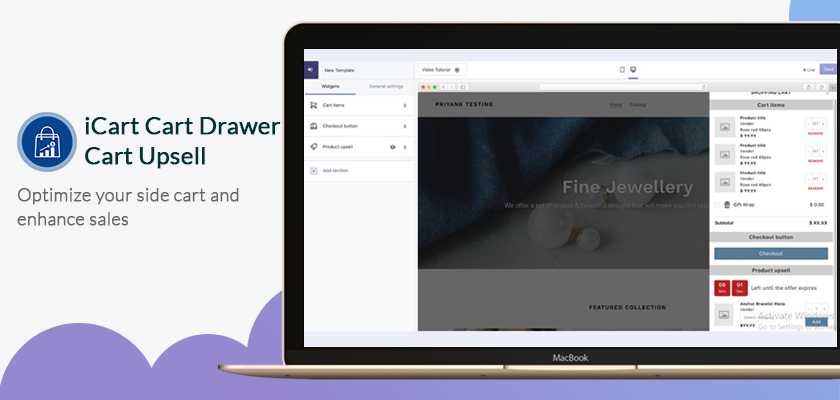 Go Forth & Upsell
And that's a wrap!
Hopefully, now you know what upselling is and have a good idea about how to use it in your eCommerce marketing strategy.
No matter which approach you choose when creating upsell offers, remember the ground rules:
Never be shady or pushy
Only promote relevant products that can enhance your customer experience
Limit your upsell offer to 30% of your customer cart value
Use scarcity & exclusivity to achieve a higher conversion rate
Above all else, remember that your business exists to serve your customer's needs and desires.
As eCom mogul Jeff Bezos said:
"We've had three big ideas at Amazon that we've stuck with for 18 years, and they're the reason we're successful: Put the customer first. Invent. Be Patient."
When it comes to upselling, be like Jeff. Put the customer first.
---
This is a guest post from Fintan Meagher & the team at StilyoApps. StilyoApps is a boutique development agency that gives eCommerce entrepreneurs the tools they need to grow their business and achieve success.