The Short Answer: When a customer doesn't complete a purchase.
Cart abandonment occurs when customers add items to their shopping cart and don't complete the check-out process nor purchase the items in their cart.
Information from the Baymard Institute has complied statistics from over 40 different websites talking about this issue. From those 40 sites, they have calculated that an average of 69.57% of customers abandon their cart.
Statistics compiled from 13 years' worth of data, dating back to 2006 when marketing publisher, MarketingSherpa, first came out with an initial statistic compiled from 1,100 online shoppers, which back then, calculated that 59.8% of consumers aren't fulfilling their orders. This highlights the growing issue e-commerce vendors are facing. Cart abandonment is a rising cause for concern as it highlights consumers' increasing expectations when shopping online.
Why aren't people checking out?
This is the million-dollar question. Research conducted by the Baymard Institute has found that many online retail shoppers abandon their carts for reasons more than "I was just browsing".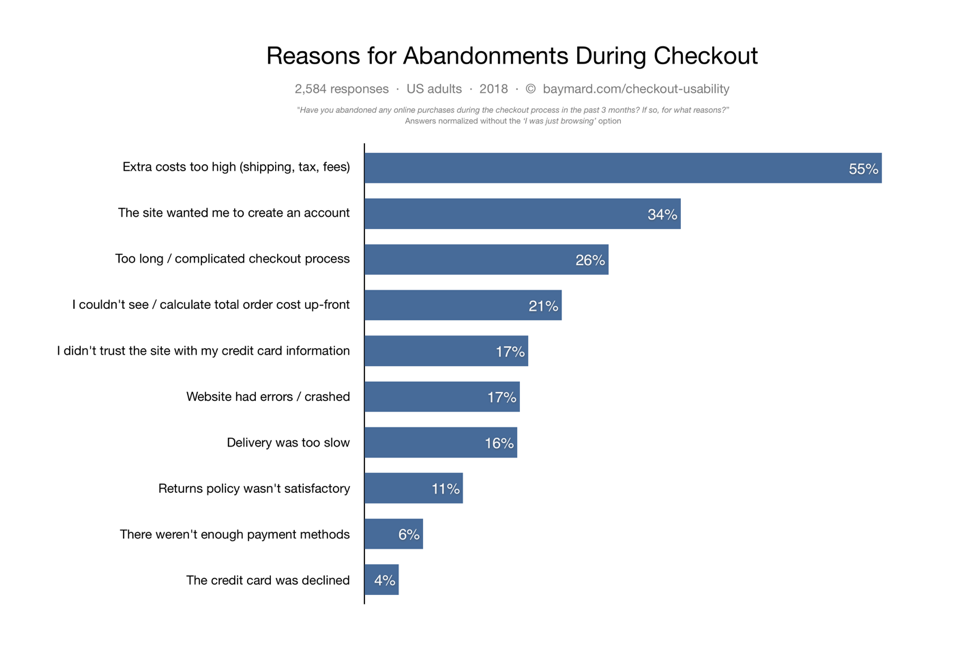 As you can see, over half of the 2,500 responses received, all agree that the extra fees (essential but pesky) are where sellers are losing their customers. Other issues culminate in the entire buying and checking out experience that many consumers did not feel satisfied with.
An SMS Solution For Ecommerce Businesses
Sellers are losing ~70% of their revenue to abandoned carts. TxtCart engages consumers with the most responsive platform today, SMS. Using SMS or text messaging TxtCart will communicate, engage and convert abandoned carts into completed transactions. Using strategic communication with clients we see if they are still interested, answer any questions they may have, thus facilitating the checkout process and their overall experience with the vender.
Ecommerce is dominating the retail industry as technology becomes more integrated into our daily lives, more transactions are occurring online and consumer are trusting the digital space as an effective medium of exchange. In fact, in 2018 online shopping has grown 15% according to historical figures from the U.S. Commerce Department.
Texting is the modern-day customers' preferred mode of communication. Something unique stores can offer that others, like Amazon, cannot – is a personalized experience. While Amazon uses AI to learn and recommend products based on what customers are interested in, while smaller digital storefronts must offer customers the opportunity for an intimate and engaging shopping experience from beginning to end.
Traditionally storefronts have focused the majority of marketing efforts to attract customers to their website i.e. Facebook, Instagram, Google. Use methods to organize the website and checkout process to be seamless yet 70% of users abandon the cart before checking out. TxtCart is the last step in converting active browsers and interested buyers into reoccurring customers.
Texting is fast and reliable. It stands out from emails, which are protected by filters, so texts are more likely to be seen in comparison to an email.
Here are some stats compiled from around the web that show customer conversion rates increase when SMS campaigns are introduced into a vendor's marketplace.
96% of Americans own a cellphone. (PewResearch)
Traditional SMS verification conversion rates hover around 65% globally. (Nexmo)
Texting a prospect after initial contact can increase conversion rates by 112.6%. (Leads360, Crazy Egg)
Sending 3 or more follow-up text messages to prospects increases conversions by as much as 328%. (Leads360, Crazy Egg)
The average SMS campaign conversion rate is 45%. (Salesforce)
SMS verification conversion rates can be as high as 85%. (Salesforce)
SMS verification conversion rates are 250% higher than email verification. (Salesforce)
Text message response rates are 209% higher than phone call response rates. (FranchiseHelp, Text Request)
Text message confirmations convert 295% more than phone call confirmations. (FranchiseHelp, Text Request)
For information about TxtCart, check out our this helpful video.