If you're a marketer, you know how tough it is to get people to subscribe to your email list. Right? Now imagine getting people to sign up to your SMS list? Oh boy! You've got your work cut out for you.
To most people, mobile phones are extremely personal, and so, they might not want to receive promotional messages from brands on their phones. Chances are, they already receive SMSes from hundreds of stores and don't want to be part of more lists. Further, they might be worried about privacy issues – making your task of getting them to share their mobile number next to impossible!
But if you're reading this, you're in luck! We've put together tried and tested hacks that can help you get more SMS subscribers for your Shopify store.
14 hacks to get more SMS subscribers for your Shopify store
1. Create a shortcode
Remember coming across messages that said, "Text 56345 to gain exclusive access." In SMS marketing, that five-digit number is what is called a shortcode. It makes opting in to SMS lists faster and easier. Shortcodes make it easy for shoppers to remember the number. And so, they can simply text the shortcode number and join your list.
You can use shortcode for different purposes and increase SMS list sign ups:
Use shortcodes to offer discounts
To share one-time passwords
To reset links
To allow users to vote with their phones
To win giveaways
To collect feedback via SMSes
These are some ways in which you can subtly engage consumers to share their phone numbers.
2. Create a keyword
Similar to a shortcode, is a keyword. Do you recall reading messages that say, "Text PROMO to avail 10% discount." That's a keyword. It makes it easier for shoppers to subscribe and for you to collect their phone numbers.
Just like the shortcode, you can create keywords for different marketing messages and subtly collect shoppers' phone numbers. This is an especially effective growth hack if you have a physical store as well.
3. Implement a pop-up
Pop-ups have an 80% reach when it comes to getting your message across! And we're guessing you already use them for sharing offers and updates with your online subscribers. How about you use pop-ups to collect phone numbers?
There are many ways in which you can use pop-ups to collect mobile numbers:
Share an offer or a discount with an SMS opt-in invitation
Ask your site visitors to subscribe to your SMS list through a pop-up
Show pop-ups to shoppers who visit your website on mobile phones. That way you'd be targeting shoppers who are more likely to shop on their phone!
4. Promote SMS-only discount on social media
You can put your social media platforms to use to promote SMS sign-ups. Run special campaigns that promote SMS-only discounts – meaning, offers discounts in exchange for phone numbers to get shoppers to join your list.
When you want to launch or promote new touchpoints, make use of all your existing channels. Cross-promotion can help you increase your SMS list. For example, use social media and email to improve your SMS sign-ups. Your call to action should clearly lead readers to share their phone numbers.
5. Collect phone numbers via different communication messages
You must be sending communications such as order confirmation, thank you emails, thank you pop-ups when customers sign up or make a purchase. Use this opportunity to collect their phone numbers.
For example, when a customer buys something from your store, you can request for their phone number to send updates on their recent purchase. Or, when shoppers are browning your store, send them pop-ups in real time to share discounts and offers.
Here's an example: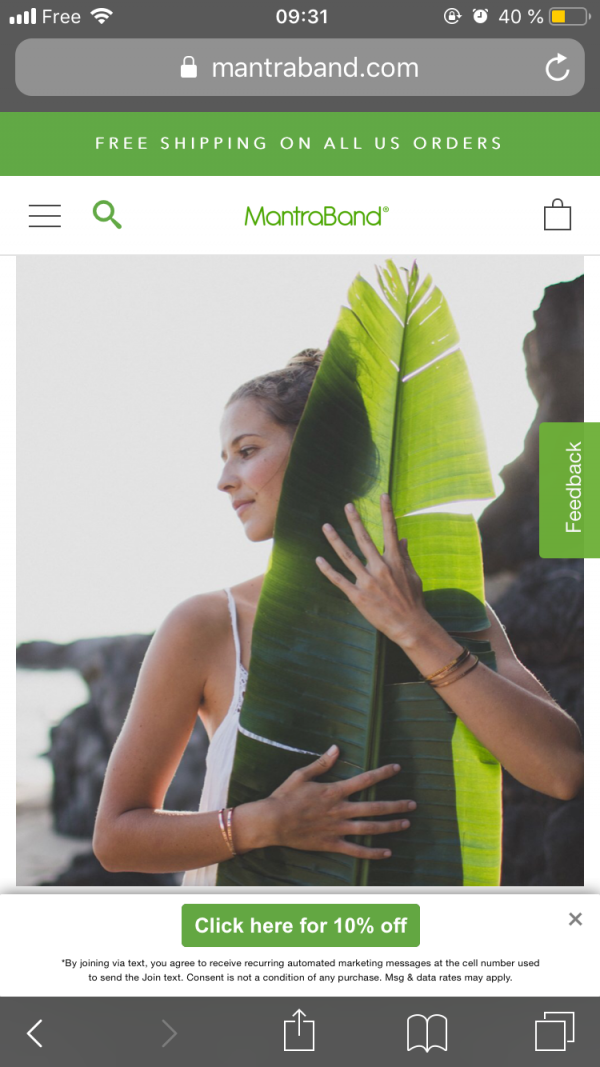 6. Grow your SMS list through email campaigns
Email marketing is still the channel that drives top performance. Why not use it to increase your SMS subscribers?
Those who have joined your mailing list have done so because they like your brand or products. You can encourage them to share their phone numbers through your email marketing campaigns.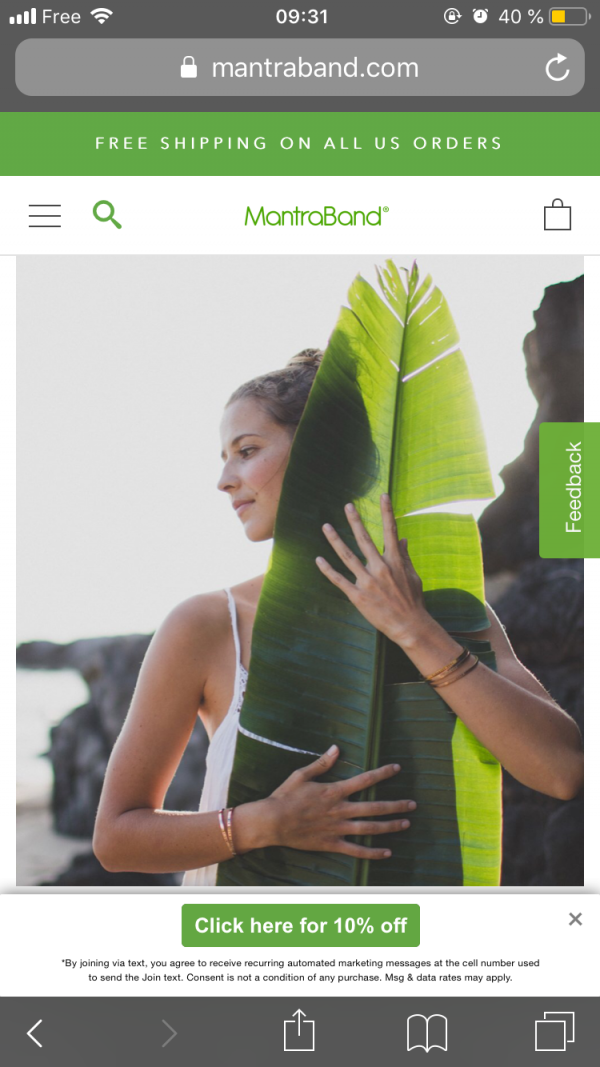 7. Allow shoppers to subscribe to restock alerts
It's possible that some items in your store have stocked out or will get stocked out. Allow shoppers to subscribe to restock alerts, but via SMS only. Most shoppers prefer email, but you could try out only SMS. See if it works. Or else, give them options of email and SMS, both.
And you don't have to do it manually. You can use a restock alert app to automate the process. As soon as an item goes out of stock on your site, your 'Buy Now' button should turn to 'Notify Me Via SMS'. Shoppers that are genuinely interested in the product, will definitely share their phone numbers. Besides, you will be sure you're adding authentic subscribers to your SMS list.
Here's an example: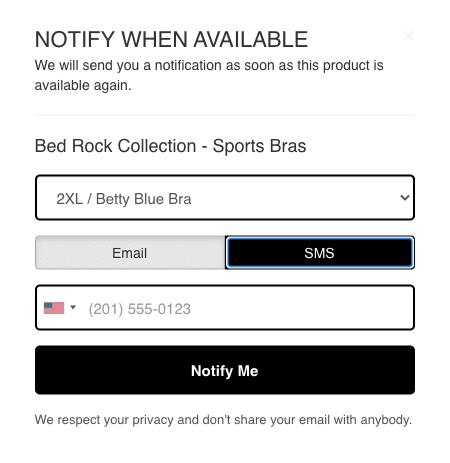 8. Offer something exclusive to SMS subscribers
Human beings are wired to get excited when made to feel special. To make your SMS subscribers feel special, offer them something exclusive. It could be VIP access to some event, discounts on your store or first access to an upcoming collection on your store.
For marketers, offering something exclusive is a powerful way to tap into the psychology of shoppers. You can engage shoppers by sending timely SMS-only offers. Mobile phones are an intimate channel as people have their devices with them 24/7. You can make use of this circumstance to add more subscribers to your SMS list.
9. Invite contest participation only via SMS
If you're a marketer, you'd know the power of contests to engage consumers. Contests have a 3.7% higher conversion rate compared to other engagement methods. So, it's time to get smart – use contests as a way to grow your list.
What should you do?
Run contests, giveaways, polls, and other interactive activities that can be joined only via SMS
Invite shoppers to participate, but exclusively through their phone numbers
For example, "Enter your phone number to win a voucher worth $100."
Here's another example: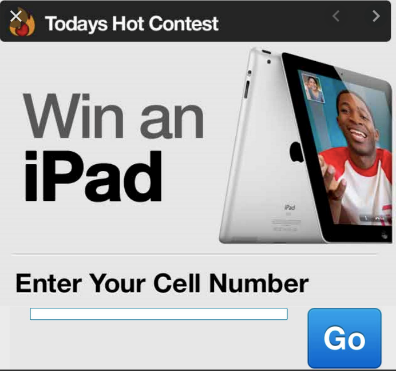 10. Through Facebook and Instagram ads
When Redbox, an online DVD rental store, ran a promotional campaign that asked their Facebook followers to text a shortcode for a discount, they received over a million text messages from their customers.
The above case study is a great example of the potential of social media ads to increase your SMS list. You too, can increase your SMS list through your social media channels.
How?
You can make use of your social media channels to run ads that help collect phone numbers
You can power your ad with a chatbot with automatic SMS opt-in
Here's an example of a Facebook ad that uses click-to-call ads:
11. Create opt-ins for mobile devices
Here's a great strategy to increase your SMS subscriber list through customers' mobile devices. Whenever a visitor accesses your store on mobile, show them a pop up inviting them to subscribe to your SMS alerts.
This way, you're also likely to improve your conversion rate because you're adding people who already use their mobile devices to shop. A large number of consumers still prefer to shop online via computers. And so, those who shop via mobiles are more likely to make purchases on your store via mobile. This will improve your sales.
A pro tip: Set them as one-click-to-opt-in so that the process of sharing their phone numbers becomes much easier for them.
For example, your mobile pop up could read: "Hi there! If you'd like to receive updates on exciting discount offers and sales, text 'YESME' to 72213."
12. During live customer support chats
At times, shoppers have a hard time shopping online. They might have many questions about a product and might be looking for instant help. For online stores, customer support chat, chatbots and live chat apps are a good way to be there for your customers when they want you.
And while you're chatting with them, you can use the opportunity to subtly nudge them to share their phone number.
Say, for example, a shopper is curious to know about any upcoming promotions and sales in your store. You could have an automated response that requests the customer to share their phone number so that you can send them an update about the upcoming sale. They'll most likely share their contact number and join your SMS list.
Here's an example of such a chat:
Hi! Got any queries related to our product?
Yes. I am looking for a pair of shoes that are out of stock.
Sure. We're going to restock all the out-of-stock items soon. Could you please share your contact number so that I can intimate you once the items are restocked?
Sure. Here's my contact number: 683927293
13. When shoppers buy from your brick-and-mortar store
If you have a brick-and-mortar store, you have a great opportunity to grow your SMS list. Because here, unlike online stores, you can engage with your customers one-on-one.
You can ask them personally to share their contact number for updates and offers from your store. Conversely, you can even display posters on your payment counter that invite them to text a shortcode to subscribe to the SMS list.
Here's an example: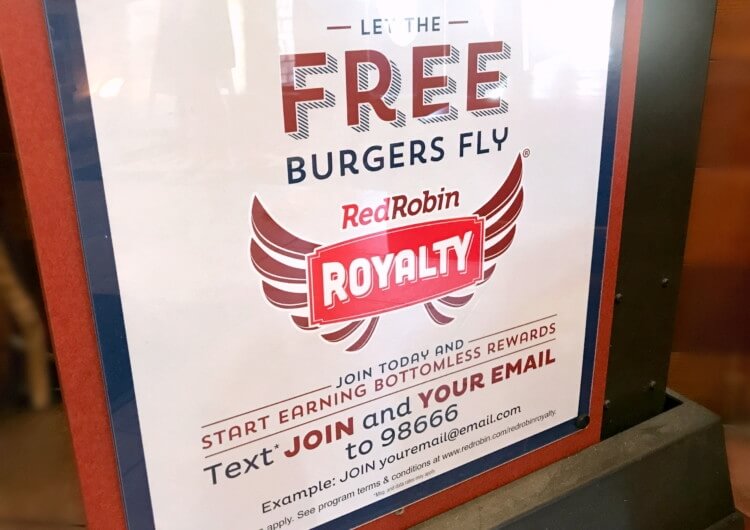 14. Ask for referrals
92% consumers trust referrals from people they know. What if you tapped into these referrals — your loyal customers — to gain more SMS subscribers?
How do you do that?
Ask your most loyal customers to refer your store to their friends and family in exchange for reward points. Conversely, you can ask your new subscribers to share referrals in exchange for gifts and discounts.
And once you have a large enough SMS list, your referral program could function on an auto mode that keeps increasing your SMS subscriber list.
As you keep increasing your SMS list through referrals, also remember to segment your new subscribers so as to make their subscription more meaningful and valuable to them. Otherwise, you might lose them sooner than you got them on our list.
Here's an example:
Hey Ryan, thanks for being a loyal customer to <brand name>. We'd love for you to join our referral program. Invite a friend to subscribe to our SMS list and win 10% off!
How are you going to gain more SMS subscribers for your Shopify store?
Now you can use a few of these hacks first, see how they perform, and then try more hacks. But as you start to get subscribers, you must also start segmenting them. That way you'll know which shopper is at which stage in their customer journey.
So that you can send specific and more relevant SMSes to them. And you can do this easily if you have an app like TxtCart on your Shopify store.