Your BFCM sale just ended! Phew, what a relief from all that frenzy. Isn't it? But wait, the holiday season is coming up next.
Your site is bound to experience a lot of traffic from people wanting to buy gifts and goodies for Christmas and New Year.
It is projected that this holiday season, digital sales will increase by almost 10% from 2020 to 2021.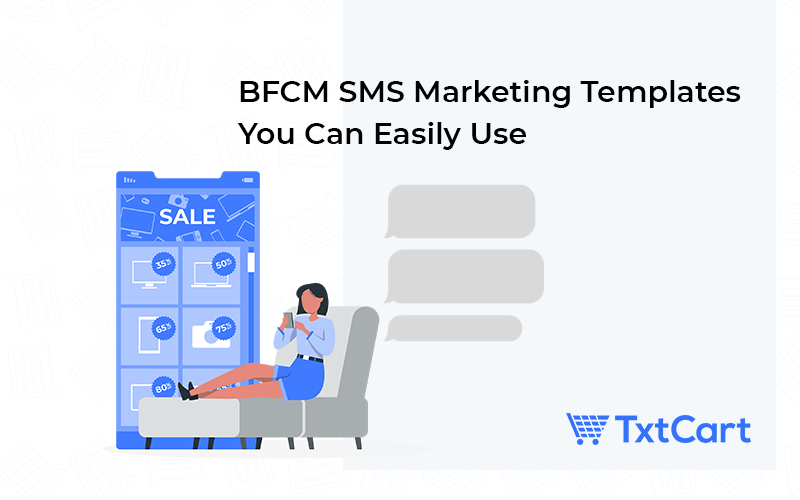 Source: Digital Commerce 360
But even though online shopping is gaining preference, 90% of the shoppers feel anxious when shopping online. Especially those buying from a site for the first time.
You shouldn't leave these shoppers high and dry.
So what can you do to address their purchase anxiety?
Have a conversation with them. In simple terms, instead of one-way communication, enable a two-way communication channel. Two-way SMS.
You can set up a two-way SMS marketing campaign on your Shopify store with the help of the Txtcart app.
What's a two-way SMS marketing campaign?
A two-way SMS marketing campaign enables outbound and inbound text messaging. Meaning, you can message your customers and they can reply as well. It allows your customers and you to have a conversation.
Say for example, you send an SMS with a sale announcement to your SMS list. Your subscribers can reply to the SMS, ask questions and get more information from you. This entire process of back and forth messaging can be automated with the help of TxtCart.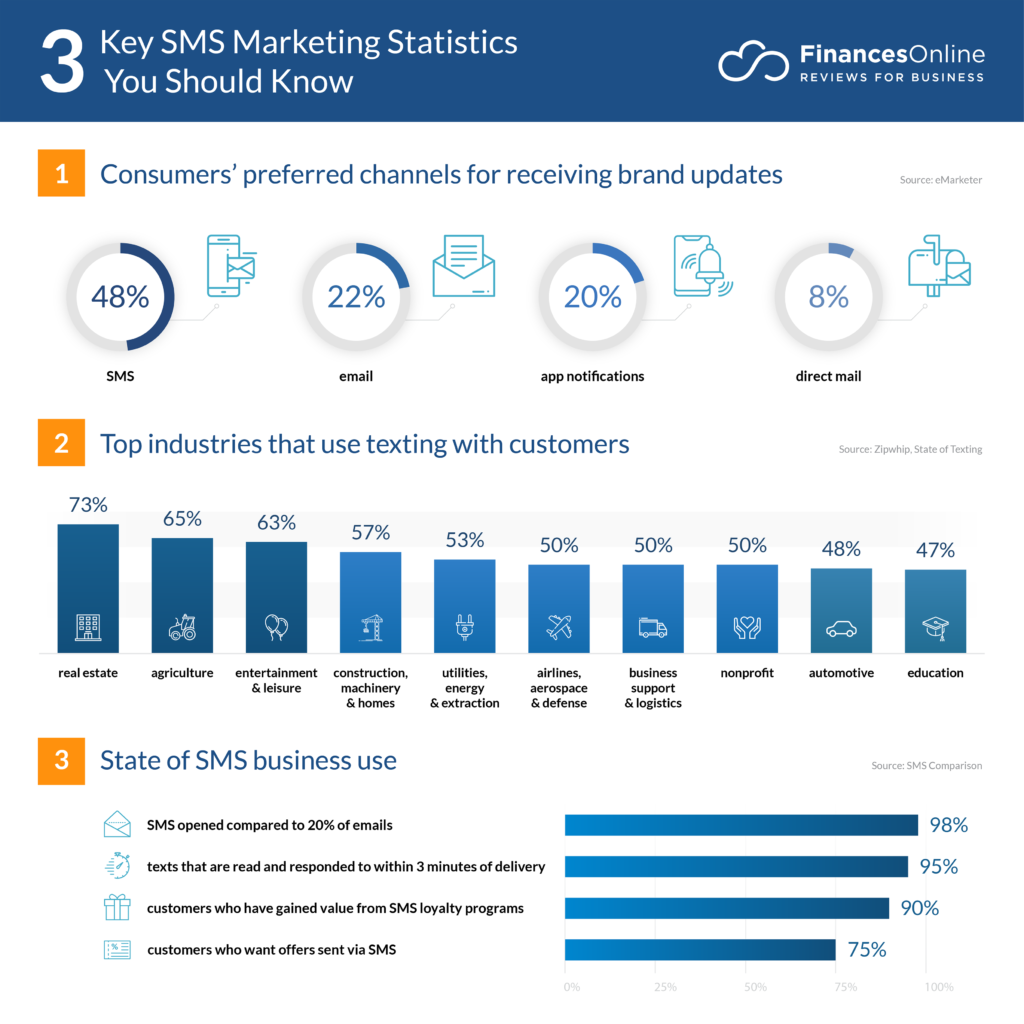 Source: Finance Online
How two-way SMS marketing helps businesses address purchase anxiety?
Help customers pick the right product variant
Here's the thing – it's never easy to buy things online. We, as shoppers, can never be sure about an item's color, size, quality, and other such factors. Shoppers always have a doubt in their minds that leads to purchase anxiety. But these simple factors shouldn't be conversion killers for your site.
Let's understand the difference that a two-way conversation can have on the customers with the below example: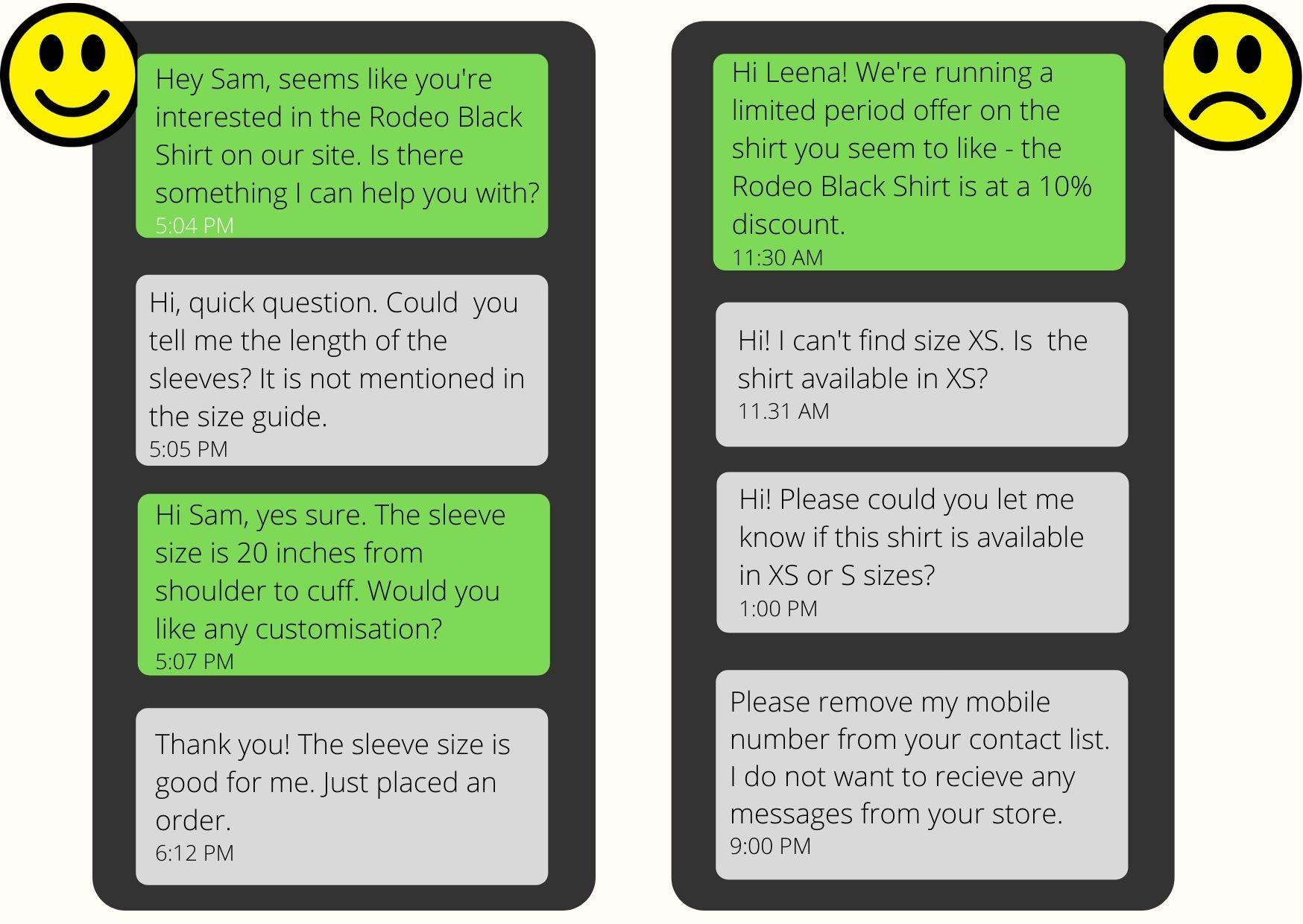 Example 1 – positive experience
www.shop.com: Hey Sam, interested in the Rodeo Black Shirt? Is there something we can help you with?
Sam: Hi, quick question. Could you tell me the length of the sleeves? It's not mentioned in the size guide.
www.shop.com: Hey Sam, the sleeve size is 20 inches from shoulder to cuff. Would you like us to customize the size for you?
Sam: Thank you. The size is good for me. Just placed my order.
www.shop.com: That's great, Sam. We hope you like the shirt.
Example 2 – negative experience
www.shop.com: Hi Leena, we're running a special 10% discount on the Rodeo Black Shirt. Buy it now before it gets sold out.
Leena: Hi, I can't find size XS. Is this shirt available in XS?
Leena: Hi, can you please let me know?
Leena: Please remove my contact number from your list. I do not want to be contacted further.
While the above example talks about size, there are other aspects that shoppers might want to discuss or know more about before they make a purchase. For example, the color, quality, return policy, etc.
When you have a two-way conversation with your shoppers, you can not only help them with answers to their questions, but also nudge them to take desirable actions.
Here are some ways to reduce their purchase anxiety:
Give them assurance and build trust
Offer discounts if they are concerned about the price
Show them social proof if they aren't convinced about the product
Ensure them you're there to help them even after they make the purchase
Help customers understand product details
It's possible that even if you write a detailed product description, customers might not understand it. It may leave them confused. Or they might want to know more details. This is when a two-way SMS strategy can be a gamechanger.
Here's an example:
Store: Hey Jay, the Kia lamp is still in your cart. It's selling out fast. Buy it before it's gone forever. If there's anything I can help you with, please let me know.
Customer: Hi, does the lamp come with the bulb and the batteries?
Store: Hi Jay, the Kia lamp comes with one bulb but no batteries. You can buy the batteries from our site here: (link)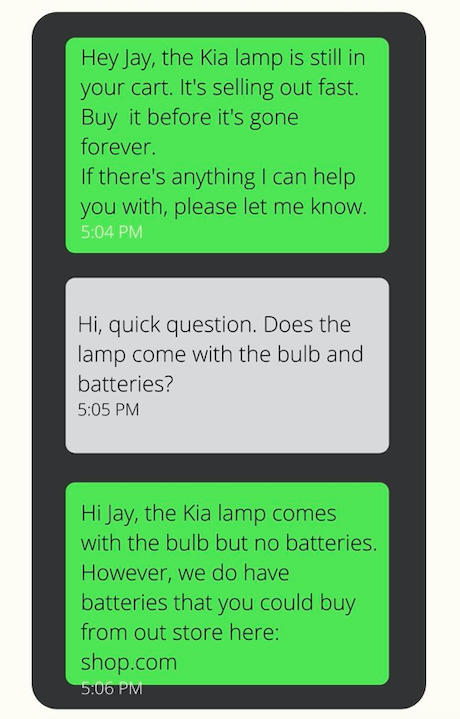 In the above example, you can see how the store not only answers the customer's question, but also cross-sells a related product. In the process, improving the potential to increase the average order value.
Help customers understand return/exchange policies
30% of products bought online are returned. In comparison, only 8.9% of those bought from brick and mortar stores are returned.
And one thing that impacts purchase decisions of shoppers is the return & exchange policy of an online store. Take a look at the numbers in the below illustration: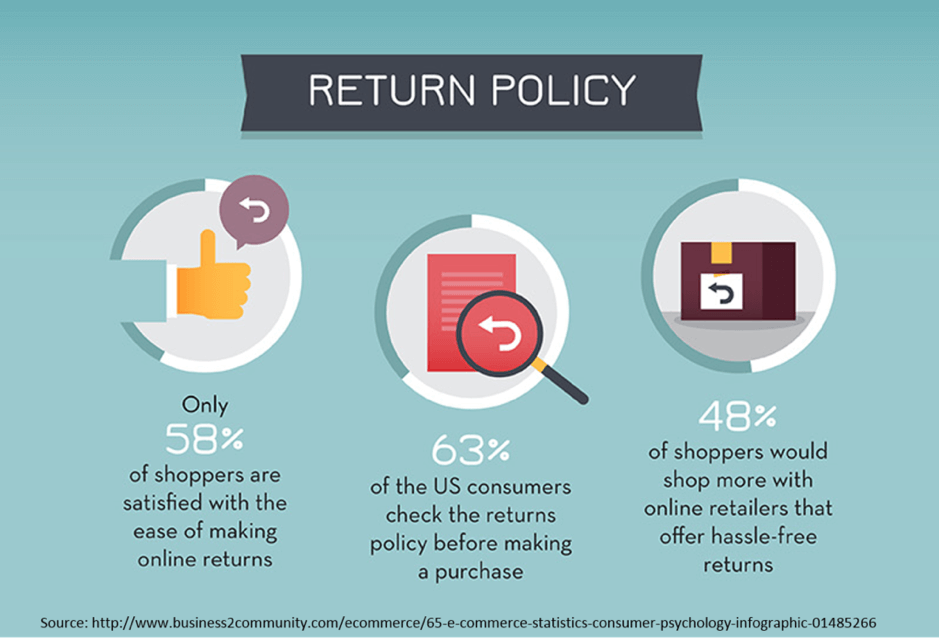 So, if you want to ensure that shoppers do not abandon products because of any confusion with your return & exchange policy, you must clear their confusion.
How? Put your automated two-way SMS strategy to work.
Let's look at the below example of how you could use two-way SMS to not just help shoppers understand your return/exchange policies, but also nudge them to make a purchase.
Example
Customer: Hello, I want to buy this dress but what if I don't like it and want to return it? Is it possible?
Brand: Hi, yes, you can return the dress if you do not like it. In case you do not purchase another product, we will convert the amount to store credits, which you may use to purchase another item from our store in the future. For more details please read our return/exchange policy here: www.shop.com/returnpolicy
Brand: Were we able to answer your question? Is there anything else we may help you with?
Customer: No, this is fine. Thank you.
Brand: You're welcome.
Answer shipping and delivery related queries
Imagine this — you browse a new website to buy products. You add a few items to your cart. It is only during the last steps of checkout that you realize the shipping cost is way too high and the delivery of all the items cannot happen together. What do you do? You abandon your cart and leave.
However, if instead, you had an option to chat with someone from the brand who could answer your queries instantly, your actions would have been different. Isn't it?
The below graph shows that shipping and delivery are among the key reasons for cart abandonment. For example, 28% of shoppers abandon carts because of the shipping time.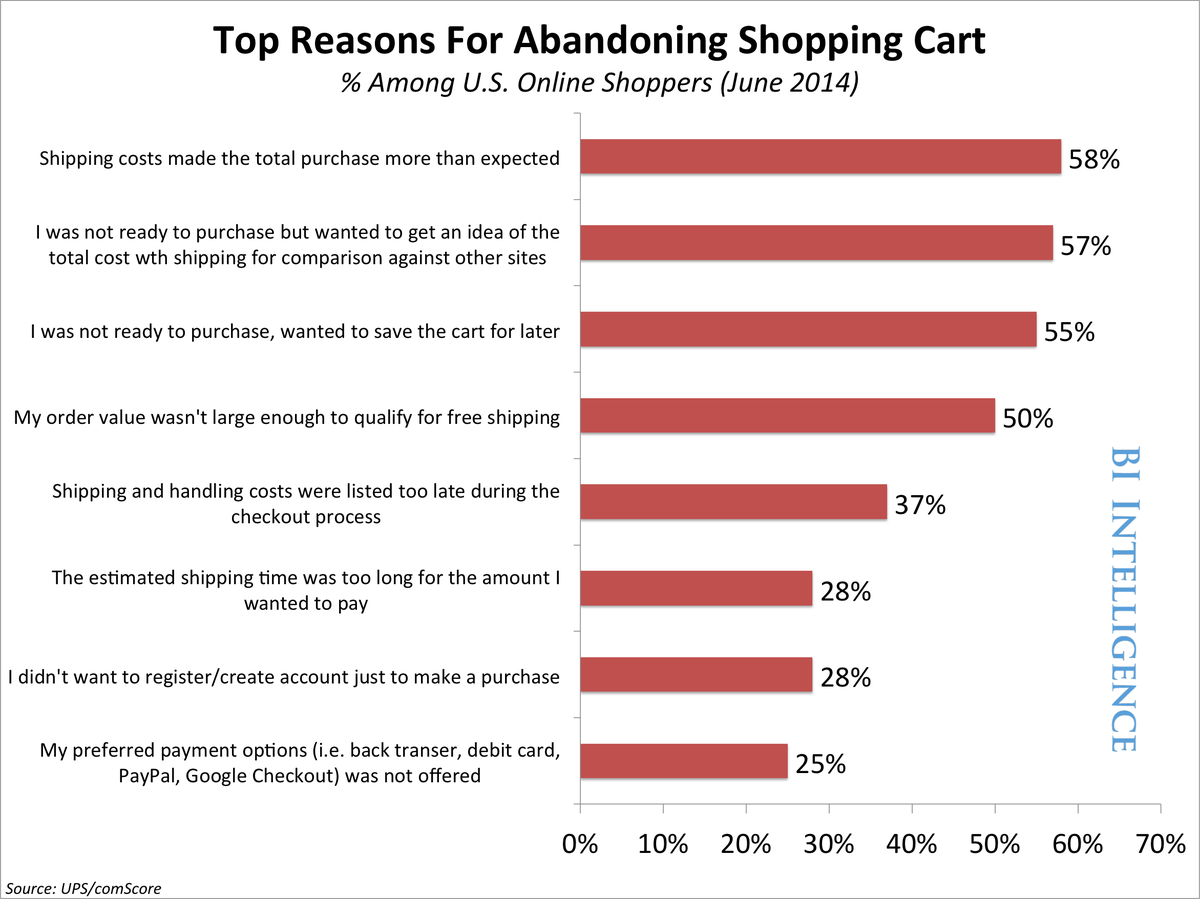 Source: Business Insider
This is where a two-way SMS strategy can help you and your customers. Let's look at an example to understand how it can help.
Example
Hi Tom, your order no. 5467653 is confirmed. We will send you an update when it's ready to be shipped. Thank you for shopping from www.shop.com.
Hi, just checking, will I receive my order before the 7th of Dec?
Hi Tom, your order will be dispatched within 3 days and should reach you before the 7th Dec.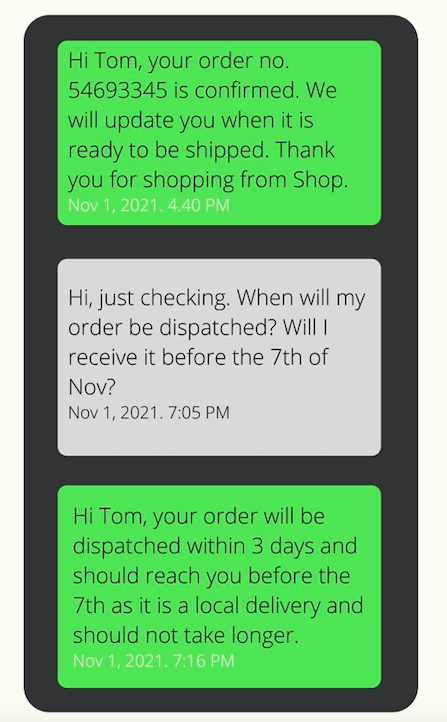 Reduce customers' post-purchase anxiety
What is post-purchase anxiety? Customers can feel anxious for many reasons after they've made an online purchase.
Will they receive the product? When will the product get shipped? How can they track the product? Where has the product reached? What if the package gets lost on the way?
The above are among the most common reasons for post-purchase anxiety. In fact, studies conducted by psychologists reveal that each individual customer's personality characteristics related to confidence and anxiety have a direct relation to the level of their post-purchase anxiety.
And you can help address their anxiety with the help of a two-way SMS strategy. Here's an example to help us understand this.
Example
Store: Hi Sheeba, we have received your order. Order no. 450859 is confirmed and will be shipped shortly.
Customer: Hi, I haven't got my order yet. Could you please share an update?
Store: Hi Sheeba, sorry for the inconvenience. Please click this link (link) to track your order. If you have any queries please let us know.
Customer: Hi, the tracking link shows the order is dispatched but I don't know where it is at the moment.
Store: Hi Sheeba, don't worry. Your package is in good hands. You will receive an intimation of the delivery date from our shipping partners soon.
Here are the different kinds of SMS text messages that you can send to help keep your customers' post-purchase anxiety issues at bay.
Send these texts:
Order placed. Thank you
Order confirmation
Order packed and ready
Order shipped
Tracking details
Order in transit
Order out for delivery
Order delivered
Order delivery delays
Help shoppers find more products
People look for the best gifts for the holiday season. And it's possible they aren't convinced about products on your site and hence end up not buying them.
But, remember how in brick and mortar stores, sales persons show more products to shoppers. As a store owner or marketer of an online store, the onus to recommend more products to your shoppers is on you.
That brings us to product recommendations. Statistics show that product recommendations have a huge success rate, as seen in the below illustration: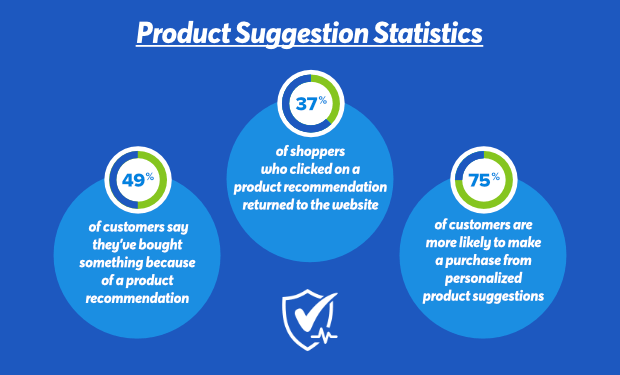 Source: Trust Pulse
A smartly used two-way SMS strategy can help you reduce purchase anxiety with the help of product recommendations and turn it into sales, too. What is more, you can upsell and cross-sell products and increase your sales.
Let's look at an example.
Example
Store: Hi Maya, looks like you're looking for a dog bed. We've found some that you might like. Click here to explore now: www.shop.com
Customer: Hi, is the Waggy Bed available in XXL? And in black color?
Store: Hi Maya, unfortunately the Waggy Bed is not available in XXL and in black. But we have the WoofMaster Bed black in XXL, here: (link)
Customer: Okay thank you.
Store: We have a special offer for you, Maya. The WoofMaster Bed is available at a 15% discount. Buy it here: www.shop.com
Customer: Thank you. Just placed my order.
Store: Thank you for placing the order, Maya.
Help shoppers discover discounts on your site
Customers are in a frenzy during their holiday shopping. With so many options for gifts and goodies, they can feel overwhelmed and miss out on good products and deals.
Moreover, today, consumers receive an extraordinary number of messages from different brands. And they're smart enough to identify marketing messages and delete them.
And so, instead of a one-way marketing message, take a two-way SMS approach. Help customers discover better products and deals.
Let's see the below example to understand how this happens.
Example
Store: Hi Max, while you're looking at blazers and suits, we have some great discounts going on. Check them out here so you don't miss out on all the good stuff at a lesser price. (link)
Customer: Hi, can I return or exchange an item bought from the discounts section?
Store: Yes, Max, you absolutely can return or exchange anything you buy from the discounted section.
Store: Hey Max, we have added some more discounted items for your Christmas and New Year shopping. You can avail up to 40% off on orders above $1000. Explore discounts here: (link)
Use two-way SMS strategy to build trust
A study backed by the Harvard Business Review emphasizes on the fact that a human touch enhances customers' experiences. It has a positive effect on customers' overall perception of the brand and the products.
Customers want to interact with a human rather than an automated machine. This is where you can use a two-way SMS strategy to build trust with your customers.
When customers can get their doubts cleared by someone from your brand instantly, they experience immediate gratification
A human, two-way conversation can help customers get deeper insights into their questions
When there's someone from your brand to help customers instantly, they do not have to go out of their way to find the information they're looking for
When there's a real person involved, customers feel greater assurance, which helps reduce their anxiety
Best practices for a two-way SMS strategy on your Shopify store
Optimize your product pages with a textable number
Respond to customers within minutes
Personalize your messages
Use their past data to offer relevant information
Sent text messages through the purchase funnel
Offer exclusive incentives to SMS subscribers
Wrap-up
Since you're with us so far, you definitely agree that a two-way SMS marketing strategy has many benefits for your site. Besides, with TxtCart, you don't have to put in too much effort. When executed well, this strategy can help take your holiday season sale through the roof.
Build your own two-way SMS strategy with the help of TxtCart.