As unbelievable as that sounds in 2020, a marketing channel as conventional as SMS still boasts an average open and click-through rates of 98% and 19% respectively. Considering email open and click-through rates stand at merely 20% and 3.2%, you're probably missing out on a ginormous conversion opportunity if you think SMSes are a thing of the past. SMS is an irreplaceable marketing and retargeting channel as it facilitates quick, short, simple, and effective communication with customers and is also completely inexpensive.
However, since SMSes are so easy to set up and shoot, businesses seldom focus on the quality aspect and tend to automate or broadcast them in bulk. While that does a decent job of putting across the promotional message or grabbing receivers' attention, you cannot expect them to effectively drive conversions, bring back lost customers, or increase your average order value for your Shopify store.
Therefore, to make SMS marketing fun for your customers and fruitful for your business in today's day and age, you need to make it conversational so that they feel a lot more personal and a lot less robotic. Apart from helping uplift conversion rates, conversational SMS marketing improves your customers' overall shopping experience, which can positively impact your eCommerce store in the long-term.
First things first: What is conversational marketing?
Conversational marketing is essentially the practice of having real-time conversations with your customers and engaging them with a human-powered shopping and support experience via SMS (or text). When it comes to SMS marketing, taking the conversational route entails leveraging AI to allow your sales and support reps to reach out to your customers via text messages with targeted communication around abandoned carts, promotions and coupon codes, or upsell opportunities. If your customers receive messages from real people in your teams, they are more likely to engage and take the desired action as opposed to standardized messages that seem to be generated by a bot and lack any personal touch.
The difference between broadcast SMS marketing and conversational texting
Unwavering focus on the customer
Each customer is unique and so are their preferences and pain points. Now, in today's era of customer-centricity, it doesn't really make sense to treat all of them as one, does it? With conversational texting, the focus remains on understanding each unique customer and their needs, and then reaching out to them with the most relevant messaging. Therefore, broadcast SMS has got nothing on conversational texting as it merely gets your message across quite blatantly and builds only transactional relationships with customers at best.
Conversational SMS marketing uses powerful tools to use customer data to tailor communication for each receiver, which is a much smarter way to reach out to buyers. Your chances of converting them are going to increase multifold if you contextualize your messages and tailor them for the recipient.
Driven by customers' motivations and preferences
As a Shopify store owner, you're probably guilty of distributing the same coupon code to every customer on your list, irrespective of their stage in the conversion funnel or preferences. While you might have gotten lucky in a few instances, it's obviously not the best strategy to rely on.
Opting for conversational SMS marketing instead, ensures that each promotional or retargeting message you send out is tailored for the receiver, thereby improving the likelihood of them converting. For example, if a shopper had abandoned their cart last week, they might probably be looking for a price drop on the same item rather than a range of similar items they can add to their order. Therefore, trying to upsell in this scenario might not be the best move.
Similarly, if you are cognizant of your shoppers' motivations and pain points and base your SMS marketing strategy purely around them, you are more likely to hit the jackpot and drive higher conversions as opposed to shooting in the dark with the same old broadcast messages.
Helps build human to human relationships
If you wish to build deeper, more meaningful relationships with your customers, you are going to have to convey to them that you care about them making the right purchase and not just making any purchase. Therefore, if you take the conversational SMS route, your reps can actually get to learn about your customers' apprehensions before pushing them to buy the product. This will help them place more trust in your brand, leading them to turn into returning customers.
For example, let's assume that a customer abandoned a pair of black boots in their cart. Now, you could either send them an SMS that resembles – "Hey, Linda. We noticed you left a pair of dazzling boots in your cart. Checkout now and get an additional 20% off."
Or you could have one of your reps reach out to them with a message along the lines of – "Hey, Linda. I am Karen. We noticed you left a pair of dazzling boots in your cart. Would you be willing to share the reason for the same and maybe I can help you out? Also, let me know if you'd like me to fetch you a discount code."
See the difference? The second one almost instantly feels more personal and makes you feel like the brand cares. Also, in the first one, we are assuming that a discount code is the reason for abandonment, while in the second scenario, we ask them the issue while accounting for the fact that maybe they were looking for a different size or color.
Also, one of the biggest drawbacks of online shopping is the lack of interaction with an actual human salesperson. This sort of translates into customers finding it hard to trust online stores with their personal and payment information. The best way to bridge that gap and build a trustworthy relationship with customers is by reaching out to them as real people and not bots. You will see shockingly positive responses and reactions that humans receive as opposed to mostly ignored automated messages.
Take a look at another stellar example highlighting how conversational SMS contribute towards exceptional customer service: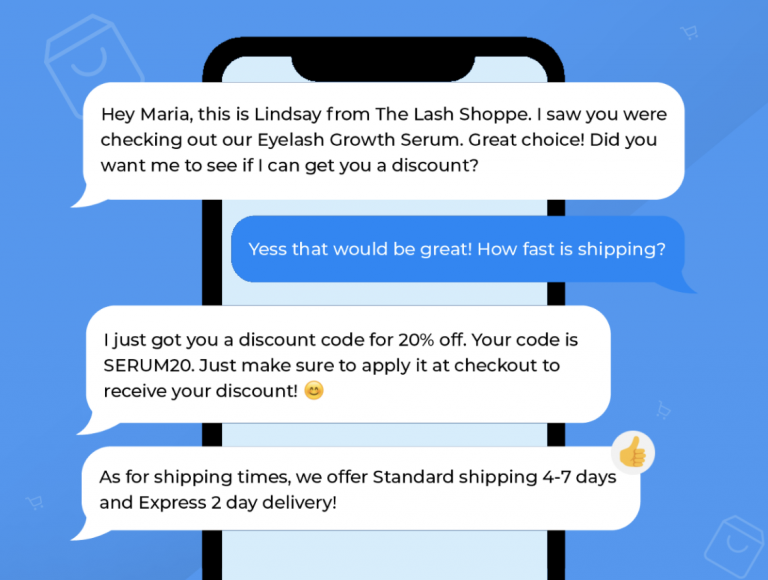 Helps you cut through the clutter
As a marketer or business owner, you probably come across at least 20 blog posts a month centered around how personalization is the future. One very important reason being that personalized content helps businesses cut through the clutter and receive better responses from customers. The same is true for conversational texting as well.
Your customers probably shop from 25 different eCommerce stores in a month, each bombarding them with hundreds of text messages that are competing for the same, limited mind space. If your messages read just like everyone else's, it's most likely going to get deleted before opened. To grab attention, you need to offer value and promise in those limited characters. Therefore, an SMS that talks to the customer directly, addresses their pain point, answers their query, or offers a solution to their unique problem, is easily going to cut through all that clutter of redundant, similar-sounding, broadcast messages.
Also, these little nuances add up to build customer experience and your buyers are smarter than you think. You might think that they don't notice which category a particular SMS falls into, but they almost compulsively do. So, if you are going to send them the same message you sent the other thousand customers, they might just switch to your competitor who offers a better customer experience.
Helps you sell more, faster
If you're using SMSes to retarget or upsell/cross-sell, there is always a fair chance that the incoming messages are only going to frustrate your customers and might even push them further away from making a purchase. This is because they've probably made a calculated decision to walk away from their cart or not add extra items to it and you need to respect that. Bombarding them with broadcast messages doesn't really say that you either respect or care about them.
Therefore, to sell better, you need to be smarter with your SMS strategy. Having a real human reach out to your customers shows to them that you are putting in the extra effort to get them to consider buying from you. It makes them feel that they might be missing out by ignoring your messages and that they probably deserve a reply. Naturally, once your text has caught their attention, its job is done.
You can also look at it this way. When shoppers abandon their carts, it's mostly because they have a doubt or are unsure about a certain aspect. If you try to assist them in completing their purchase, they are way more likely to do so successfully as opposed to going through all the trouble themselves. Offering help without them having to reach out to your support team can help you win them over and make customers for life.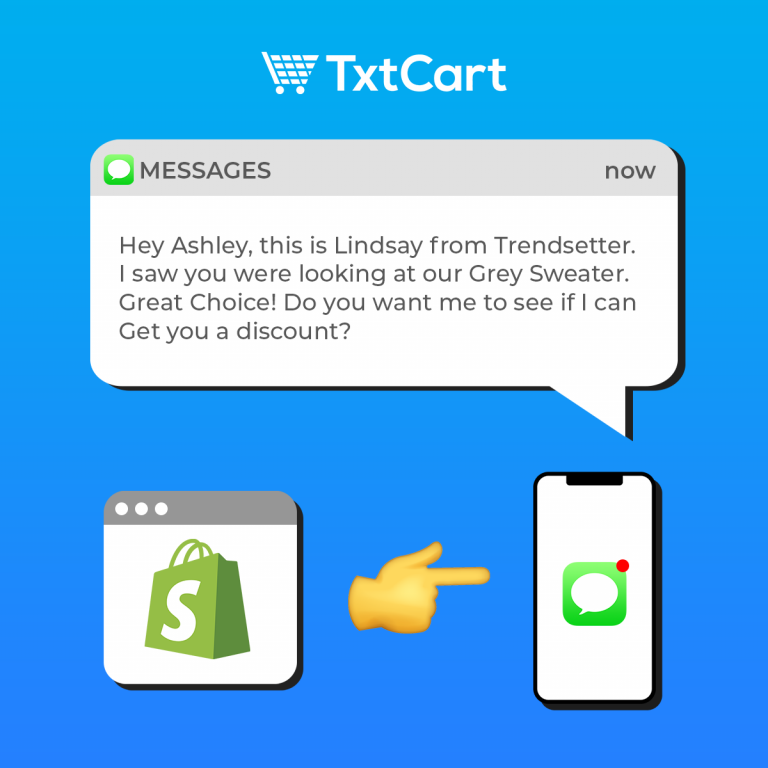 Should you care about conversational SMS marketing?
In 2020, it's not really a question of whether you should put the customer first. Rather, the entire deal is about how you can make your buyers' shopping experience more comfortable and enjoyable. To that end, standing out is all the more essential so you can drive customers to your store and have them experience what you have to offer.
Conversational texting is just one of the many ways to build stronger bonds with your customers, beyond just transactional ones. Given SMSes are not really an unconventional marketing channel, the need to go out of your way to deliver a better experience for the receiver cannot be stressed enough.
If you're just getting started with conversational SMS marketing, take TxtCart for a spin and you won't be disappointed. Powered by AI, TxtCart offers you the convenience of SMS automation coupled with the exceptional experience delivery by live agents. Whether it is reaching out to customers on your behalf, closing the deal with a discount code, or answering their queries, TxtCart's got you covered on all fronts.
With advanced segmentation and targeting capabilities, they make sure to leverage all previously tracked data to send custom, highly personalized messages that are hard to ignore. The best part? You get all of this with a simple one-click setup by installing the app for Shopify in less than 5 minutes.
With such a robust tool at your disposal, you can rest assured that your customers are only going to look forward to engaging with you and your SMS marketing strategy is going to reach new heights. So don't just have an SMS marketing automation going for your brand; have a real conversation with your customers!