Remember being thrilled and relieved at the same time upon receiving a promotional SMS from your favorite brand regarding a time-sensitive sale you had been looking forward to? That's the power of SMS marketing in a nutshell. An eCommerce marketing strategy is incomplete without an SMS marketing plan, to say the very least.
Studies have repeatedly highlighted that SMS marketing has the potential to outperform almost all other marketing avenues. eCommerce businesses have been leveraging SMS marketing to boost engagement, conversions, as well as retention on their online stores for the longest time. However, to truly make the most of this channel, one must understand the nitty-gritty of SMS marketing so as to devise a strategy that works for their unique business and target audience.
So, in this guide, we'll walk you through everything you need to know about SMS marketing and how to get started with it. So, let's dive right into it.
What is SMS Marketing for Shopify stores?
SMS (short for Short Message Service) marketing is an age-old marketing channel that simply refers to the practice of businesses sending promotional, marketing, or transactional messages to their customers or potential customers. SMS marketing is usually leveraged to share personalized and time-sensitive updates, alerts, and promotions with customers or prospects who have opted to regularly receive them. There are multiple forms of SMS marketing, which we shall discuss later in this guide.
Ready to get started with SMS marketing on your Shopify store? Install the TxtCart app today. 
Why Should You Opt For SMS Marketing?
There are multiple reasons to opt for SMS marketing. Some of the most promising ones include:
Instant delivery
No matter which part of the world the receiver is in, an SMS can reach them within seconds, thus giving businesses the competitive advantage of connecting with customers in real-time to promote time-sensitive offers and send instantaneous alerts. What's more, since we are living in the age of mobile-first and your audience is never too far from their mobile devices, SMS has the benefit of reaching consumers in the blink of an eye as opposed to other channels.
Better performance than most marketing channels
When it comes to performance, SMS boasts open rates, engagement rates, click through rates, response time, and response rates better than all other marketing channels including email, push notifications, paid ads, and so on. Given its impressive performance, SMS has an edge over all other channels, thus making it ideal to be included in every eCommerce marketing playbook.
Facilitates direct, 1:1, and personalized communication
SMS allows you to facilitate direct and personalized communication with a customer, unlike other channels where the messaging has the risk of coming across as rather robotic or automated. With SMS, you can target and tailor your communication for each and every end receiver so that your message is a pleasant surprise in their already busy day and not an annoying disturbance.
In fact, thanks to powerful features offered by conversational SMS marketing platforms, you can further uplift your engagement and conversion rates by crafting SMSes based on specifically shoppers' previous search or buying history, purchase or browsing behavior.
SMS marketing is inexpensive
Of all traditional marketing channels as well as newer ones, SMS stands out to be the most cost-effective. Therefore, whether you are looking to cut down on your marketing budget or simply get started with SMS marketing, affordability is not at all going to be an issue.
Most importantly, if you have just set up your online store, you can leverage SMS marketing to engage your customers just like any other big player in the industry. There are different kinds of plans offered by various SMS marketing tools and platforms you can choose from. These could either be 'pay as you go' or a monthly subscription where you are charged for bulk SMSes.
Ready to get started with SMS marketing on your Shopify store? Install the TxtCart app today. 
Statistics that prove SMS Marketing Works for Shopify stores
Upwards of 65% of the world's population uses SMS
As many as 5 billion people in the world have access to sending and receiving SMS. Given the ease of accessibility of smartphones in every corner of the world, that number isn't really that shocking.
What's more, SMS has an edge over other marketing channels because it doesn't require any app to be downloaded to facilitate communication, nor is an active internet connection required for a simple text message to be sent or received.
Leveraging SMS marketing, therefore, allows you to reach two-thirds of the global population and engage them with your enticing offers and timely updates in real-time.
Get more text marketing statistics here. 
90% of text messages are read within 3 minutes of receiving them
Owing to the ease of usage, SMSes are opened and read almost as soon as they are received. With 90% of SMS being read within the first 3 minutes, it's safe to assume that your audience is never too far from their cell phones, thereby making SMS the ideal channel to reach out to them with a critical message.
Compare this to email, where the receiver needs to be online to read your message and in some cases, might not even have the access to it over their mobile devices.
The average open rate of SMS is 98% and click through rate is 19%
The fact that SMS has far higher open and click through rates than email only goes on to show that customers are way more trusting and welcoming of receiving promotional messages and updates via text.
Ease and accessibility also play an important role in consumers' positive response towards SMS marketing.
Conversational SMS marketing has a return on investment of 2,482%
Human-automated or conversational SMS marketing allows eCommerce owners to set up a live chat powered by SMS wherein agents can engage with shoppers in a personalized manner as per their previous browsing behavior or purchase history. This not only makes your brand more human, but also makes your customer communication far more relevant.
Since conversational SMS marketing has a significant edge over regular SMS marketing, the return on investment it offers is also massive (2.482%).
The average response rate of SMS is 45%
Since consumers are way more connected through their mobile phones and probably use them every few minutes, text messages are way more attention grabbing and hence tend to be far more successful in yielding a response from the receiver. With an average response rate of 45%, SMS beats all channels when it comes to customers proactively acting on the marketing message.
71% of customers expect businesses to engage them in real-time
As much as you would expect customers to get frustrated or annoyed with real time offers or updates from business, it's not always the case. Today's ever-dynamic customers demand everything to be delivered to them in real time.
They want to know the status of their order as soon as they've placed it. They want to hear about an ongoing sale as and when it is live on your store. They want to be associated with a brand that understands their needs and delivers personalized marketing communication, in real time.
SMS delivered coupons are redeemed 10 times more than others
Given the convenience that SMS offers to the receiver, shoppers are way more likely to redeem coupon codes. Also, now that mobile commerce is on a rapid rise and the use of smartphones to browse online stores has taken precedence over the usage of desktop, coupons shared via SMS have a higher chance of being redeemed.
Moreover, some coupons shared with specific customers are also exclusive or personalized and only applicable for a certain time period. Sharing them over email or Facebook Messenger wouldn't make much sense if the customer only views it once the offer becomes invalid.
SMS marketing performs 7 times better than email
Email has certain limitations when compared to SMS. Not only is an active internet connection required to access it, but you also require a separate app and then you need to switch on notifications for that app to view emails as and when you receive them. After all that, there's literally no guarantee that the marketing emails from your favorite online store won't land in the "Promotions" or spam folder. SMS on the other hand, can be received whenever and wherever, without any hassle – no wonder it performs 7 times better than email!
59% of consumers visited an online or offline store after receiving a promotional SMS
If this figure doesn't validate the power of SMS marketing, nothing else can. More than 50% of consumers have admitted to actively visiting an online or offline store after having received a promotional SMS. The fact that recipients are willing to visit a store to claim the particular offer mentioned simply goes on to confirm the efficacy of SMS marketing in driving action.
Types of SMS Marketing Campaigns your Shopify store should be running
Abandoned cart recovery
Being the foremost reason for lost sales, cart abandonment is a huge challenge for Shopify marketers to solve. Although it can never completely be mitigated, cart abandonment can be systematically reduced by powerful recovery campaigns, and that's where SMS can play a pivotal role. Cart recovery SMS campaigns are, therefore, the most popular of all text marketing campaigns.
Personalized cart recovery text messages sent via human automation can do wonders in reminding shoppers of the specific product(s) they had abandoned so they can immediately go back and complete their purchase. What's more, you can also share exclusive, time sensitive coupon codes in your cart recovery SMS campaigns to further nudge the receiver to go back to their cart.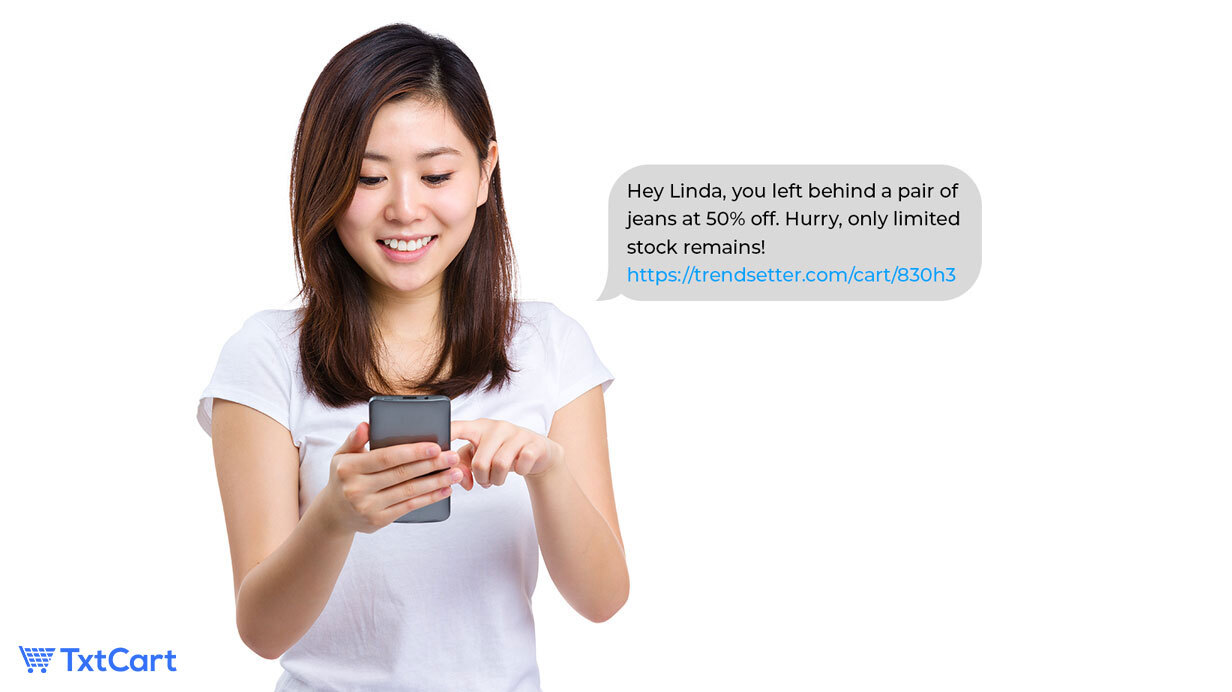 Here's a look at a couple of examples of cart recovery SMS marketing done right:
Copy 1 –
Hey Dave, we noticed you've left behind shiny black boots in your cart. We wouldn't want you to miss out on them. Use code FIRST10 at checkout to avail a 10% discount if you place an order within the next hour. 
Copy 2 – 
Hey Sarah, looks like you've left some stuff in your cart. Don't worry, we've saved your cart for you. Checkout now so you don't miss out. https://prettyu.com/5gb62
Welcome offers
Welcome offers weren't always this popular, but have slowly become a norm as more and more businesses have started offering a welcome discount code to their customers valid for their first purchase. These SMSes are sent out to welcome customers and offer them an exclusive coupon code. More often than not, such coupon codes are also time sensitive.
Here's a look at an example of the same:
Hey Jas, welcome to ShoppersClub! Since you're a part of our fam now, we're giving you a 25% off on your first order. Use code FIRST25 at checkout to avail the discount. 
Exclusive offers for special occasions
Most online stores these days offer exclusive coupons to shoppers on special occasions like birthdays and anniversaries as a caring and thoughtful gesture. Such SMS campaigns can be extremely helpful in getting customers to make a purchase as they tend to appreciate brands who go out of their way and add a human touch to their marketing efforts.
Here's an example of the same: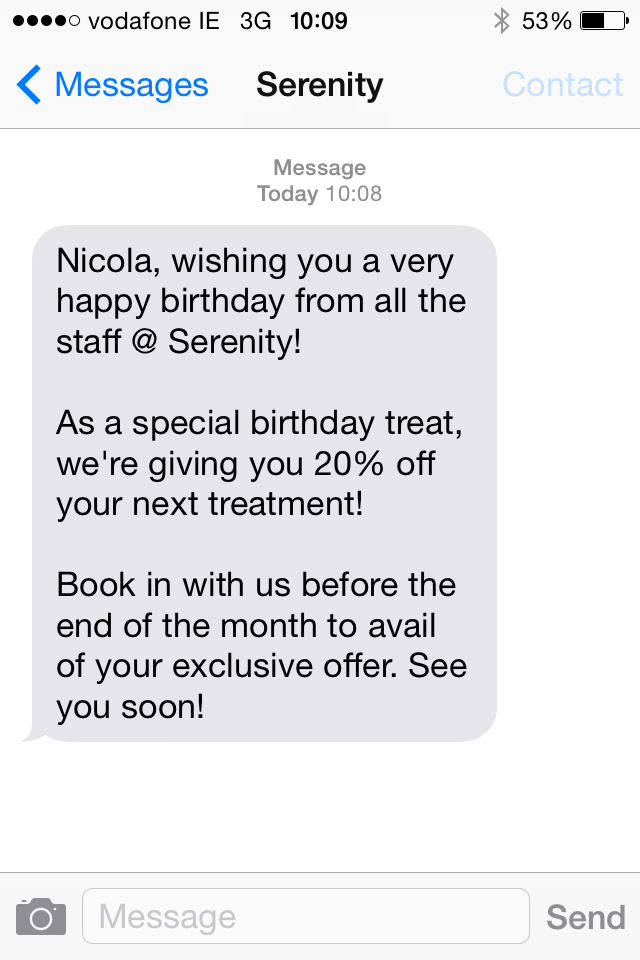 Updates/alerts
Another important segment, updates or alerts are messages sent to literally update customers about their orders or anything in general. These could be sent out to remind them of a sale, as a confirmation of their order placement, once their order is shipped, once it is out for delivery, or even if there is any change in any store policy.
Since these are supercritical and absolutely no-nonsense, updates or alerts are usually crisp and succinct so as to convey the necessary information as clearly as possible.
Let's take a look at a couple of examples of the same:
Copy 1 – 
Hooray!! Your bag containing Adidas Black Hoodie has been shipped and will be delivered to you by 10th August. You can track your shipment via the app. 
Copy 2 – 
Hey Jesse, we've delivered your order containing the American Tourister Blue Backpack. Hope it brought a smile on your face 🙂 
Time sensitive offers
These are the SMSes sent out to alert customers about a flash sale on your online store. Since these are only valid for a set time period, SMS is the ideal channel to share such time sensitive offers or alerts. Take a look at one such example: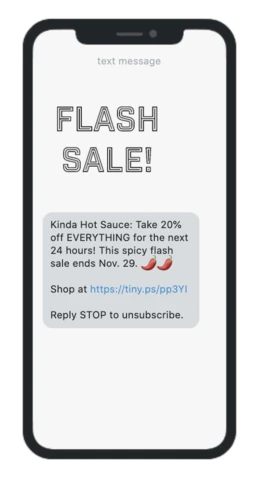 Offers for inactive users
Periodically reaching out to dormant customers via SMS with attractive offers can help win them back. Such campaigns are used to share exclusive codes with the select group of inactive customers so as to entice them to get back and consider making a purchase.
Moreover, over time, there could be a change in your shipping or other policies, and keeping your inactive customers informed would be of great help in case they decide to shop from your store in the future.
Here's an example of the same:
Hey Danny, it's been a while since you visited our store. We've been missing you. Here a 30% discount coupon code exclusively for your next purchase. Use code WELCOMEBACK30 at checkout to avail it. 
SMS Marketing Best Practices
Personalize your text messages
In today's day and age, personalization is a necessity if you expect to grab attention. Adding a human touch to your messages by utilizing customers' purchase history on your store, their behavioral attributes, demographic attributes, etc. will help make your texts more compelling and unmissable.
If you are running a cart recovery campaign, instead of simply saying "Hey shopper, your cart is waiting for you. Go and complete your purchase now", personalize your text by using the shopper's first name and the actual name of the product they have abandoned. Now when the customer receives the SMS, it will take only a second for them to realize the context, which store the message is from, and which product is being referred.
Always be compliant
Always, always, always follow the rules and regulations set forth by the TCPA, the CTIA, and CCPA to ensure your SMS campaign is well within the legal guidelines laid down to protect consumers' data and privacy. If you are just getting started, our guide on SMS marketing compliance will come in handy to get you up to speed with complying with all such laws.
Keep it short, simple, and crisp
This may sound obvious, but is often ignored by marketers in order to share too much information at once. Try not to overdo the information. You can use email for longer communication. SMS is supposed to be succinct and should be consumable within seconds. If not, you are running the risk of it getting ignored or worse, read and deleted!
Always be responsive
If you are offering a two-way communication via your SMS campaign, ensure your agents have the shortest possible response time so as to ensure a smooth experience for the recipients. If you respond to a customer after a day or so, they would most likely have lost interest by then. Also, it might help to mention your average response time upfront so that customers know what to expect.
Invest in a robust SMS marketing app
There are a plethora of SMS marketing tools available out there. However, you want to choose a robust one that is most suited for your diverse and unique requirements. Make sure the tool you opt for offers conversational SMS marketing, personalization, data-driven performance analysis, granular targeting, and all other features that would help set you apart from your competitors and truly supercharge your SMS marketing efforts.
Ready to implement SMS marketing on your Shopify store? Install the TxtCart app today.
SMS Marketing Mistakes To Avoid
Sending unsolicited texts
This one cannot be stressed enough. Consent is primary to send promotional text messages. Your customers must explicitly opt to receive marketing communication from your brand before you can add them to your text lists. As per the TCPA, you need written consent from customers to be a recipient on your list.
You can utilize your thank you or checkout pages to ask shoppers to sign up for your SMS promotions so they can stay updated with the latest offers and deals. Since they have just made a purchase from your store, they are more likely to trust you and offer their consent.
Sending too many messages over a short period
This is one common mistake most marketers fall prey to. Overdoing SMS marketing is always a bad idea. Too many texts are more than likely to frustrate your customers, thus increasing your opt out rate. Either that, or your texts could be blocked or end up in the spam folder. To avoid all such risks, be sure to time your messages smartly so that each and every one of your texts adds value and none of them are repeated, unnecessary, or extra.
Not shortening URLs
Given the limited digital real estate and character count, you wouldn't want to waste it on long URLs. Therefore, always use a URL shortener to create crisper versions of your URLs and save up on that precious screen space. Shorter URLs not only make your texts look far succinct, but also have a higher click through rate.
Also, if your URLs are not branded, you can be sure they think of you as spam.
Sending the same offer across channels
Each marketing channel in your strategy must have a unique purpose, including SMS. Sending the same message on email, push notification, and SMS defeats the purpose of having three individual modes of communication. This will only end up annoying the customer and take away from your credibility. Use SMS exclusively for time-sensitive, short, and real-time messages that need immediate attention. Moreover, if you absolutely must send the same messaging across channels, be sure to at least tweak the copy and supply a unique insight in each of them.
Being spammy
When it comes to SMS marketing, there are certain words or phrases that constitute as "spam" and by using them you are risking your text landing in the spam folder. Avoid them at all costs. Some of these words include – "earn money", "get paid", "guaranteed", "free gift", "increase sales","cash bonus", "act today, "limited time", "congratulations".
SMS Marketing Metrics You Should Track
When it comes to analytics, there are always tonnes of metrics you can measure, regardless of the nature of your marketing campaign. But, doing so can be quite daunting and in some cases, even futile. To streamline the process of measuring the performance and efficacy of your SMS marketing campaigns, you must understand which critical metrics you need to track and monitor.
Here's a download of the key metrics to get you started:
Open rate
The open rate of your SMS marketing is simply a representation of the percentage of recipients of an SMS who end up opening it. While it may not tell you much about the message per se, it is definitely an indicator of whether or not your subscribers were excited about receiving the message or if it annoyed them, whether or not the timing and frequency on point, other critical factors based on which receivers either instantaneously open an SMS or ignore it.
Click through rate
The click through rate tells you the number of recipients who clicked on the particular hyperlink in the SMS out of all those who received it. For example, if 100 of your subscribers were sent an SMS, and 20 of them clicked on the link it featured, your click through rate for the campaign would be 20%.
Conversion rate
While the click through rate gives you the percentage of receivers who clicked on the link in your text and got redirected to your online store, the conversion rate is the percentage of receivers who actually went ahead and converted. This helps you determine the ROI of your SMS marketing efforts and get down to measuring the actual dollar value each SMS campaign generated.
Opt out rate
The opt out rate is the measurement of how many subscribers unsubscribed from your texting list over a given period. Constantly tracking your monthly, quarterly, and annual opt out rate will give you a fair understanding of the cumulative performance of that period's SMS marketing campaigns. It will also give you a general idea of whether or not a certain type of message is annoying subscribers.
Coupon redemption rate
If you are utilizing SMS marketing to share coupon codes (which you most likely should be), tracking how many of those coupon codes shared are actually being redeemed is a great way to measure the efficacy of your campaign. However, do make sure you use exclusive coupon codes for your text messages so you can easily determine the percentage of redeemed coupons among those shared via SMS.
Percentage of carts recovered
Another critical use case of leveraging SMS marketing (especially conversational SMS marketing), is to recover those abandoned carts. Therefore, tracking the percentage of carts recovered would be a great way to measure how effectively you can win back lost customers and sales using SMS marketing. Once you have those numbers, you can always draw insights to further optimize the messaging, timing, frequency, or other aspects of your texts.
Subscriber growth rate
While the opt out rate represents the value you are offering customers via your text messages, the subscriber growth rate is an indicator of how many new additions are made to your text list over a particular period. It symbolizes whether or not customers want to receive regular updates and promotional messages from your online store. It's super critical to track because you must ensure that your subscriber growth rate is greater than your opt out rate at all times.
Wrapping Up
Getting started with SMS marketing or scaling your efforts can seem like an uphill task, and understandably so. However, it doesn't have to be. TxtCart is a one-of-its-kind conversational SMS marketing platform powered by real humans who engage your subscribers in real-time and offer personalized experiences, thus ensuring you drive a significant ROI from each campaign.
TxtCart does the heavy lifting for you by automating the entire process so you can set up your campaigns in one single click, create custom segments, schedule your messages, keep a tab of all ongoing conversations over a centralized dashboard, receive granular insights on the performance of each campaign, and even use templates for setting up cart recovery or promotional text messages.
Take TxtCart for a spin to assess it for your Shopify store and you might just be surprised by how much more it has to offer.